It's that time of year again—time to get ready for the holidays! And that means The Container Store is now looking for GREAT PEOPLE to work with us during the holiday season. Recently, we asked a few of our seasonal employees to share why they love working here…
Alex Craig: graphic designer, former cow mascot and seasonal employee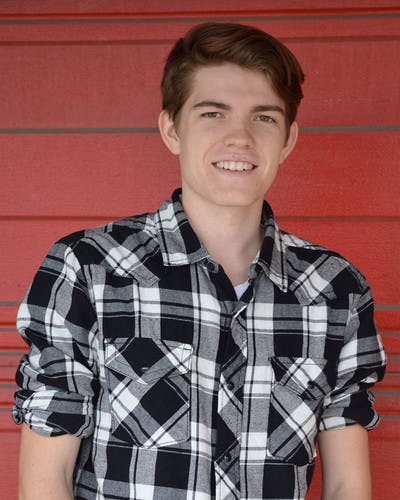 Alex is a college student who has spent the last three holiday seasons working with us at our Houston Galleria store.
"I go the University of North Texas in Denton, Texas, where I'm in my junior year studying Interdisciplinary Art and Design Studies, so I work seasonally at The Container Store while I'm home in Houston on breaks. I initially had a desire to work at The Container Store because I remembered my mom taking me in there as a kid, and I really enjoy the brand. I haven't always been the most organized person, so I figured getting to work at a store that specializes in being organized would help me learn a thing or two!
Honestly, the people really drew me back. I worked with some amazing coworkers that really added a lot of excitement and good energy to every shift. After my first semester of being away from The Container Store, I was a little homesick for the place!
My favorite product is the Elfa Start-A-Stack. I bought it for my art supplies, and it has been amazing. It's durable and really practical for pretty much anything. I know I'll be using it for years to come, and it's a great introduction to what Elfa can do."
Rose Gremillion: geosciences student, Excel wizard and seasonal employee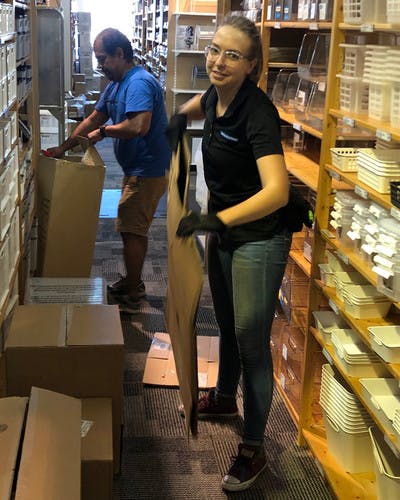 Rose started working seasonally in our Houston Galleria store and is now working in our San Antonio location!
"I first started working for The Container Store the summer before I left Houston for college. I really wanted a part-time job that would be rewarding and didn't know if there would be a way to incorporate my love for tidiness into such a job. My mom suggested I apply at The Container Store because a close family friend had worked there seasonally while he was in college and had loved it. I looked into the company, applied, and I was honestly shocked by how much I loved the work. It was an excellent seasonal job, with enjoyable shifts and awesome coworkers!
I formed some really great frienships with my coworkers and enjoyed my summer with the company so much that I couldn't wait to get back! Now that I'm beginning my junior year at Trinity University, I've decided to continue working part-time at our San Antonio store. It has been such a positive experience working for The Container Store that making the jump from seasonal to part-time was an easy decision.
As for my favorite product, it might be odd, but I love the Rustic Driftwood Nantucket Triple Bin Bench. I live in a dorm where space is limited, so this bench is both practical and makes the room look more homey. It pokes out from under my bed and holds a collection of blankets, and when I have friends over I also pull it out to serve as extra seating. If it's from The Container Store, is cute, and serves more than one purpose, there's a good chance I have it in my dorm room!"
Andy Muncy: Puppy lover, newlywed and former seasonal employee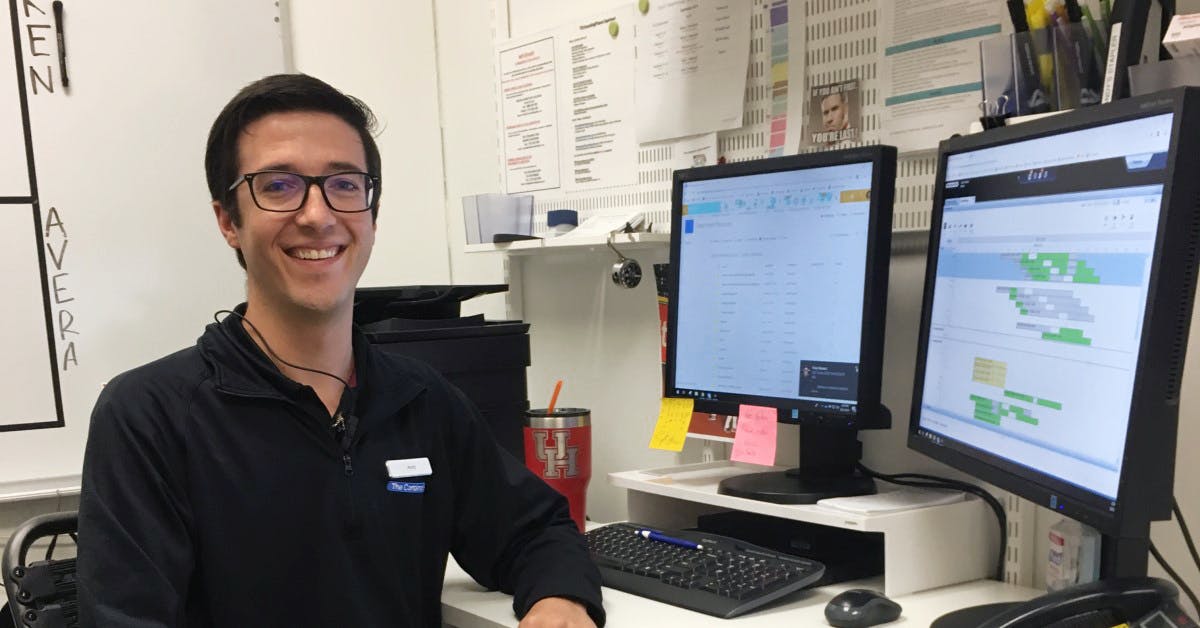 Andy came to us as a seasonal team member, stayed on part-time during his college years, and decided to make a career with us after graduating. He started as a Full-Time Visual Sales employee, then Inventory Coordinator, and is now the Houston Galleria store's Operations Manager.
"I originally got started working seasonally at The Container Store thanks to friends of mine who worked there at the time and told me about the great work atmosphere and pay. Knowing that these people were able to effectively balance their work, school, and social life, that was also a big draw.
When I went back to school after that first season, many of my other friends told me about terrible experiences they had at their seasonal jobs, but I could not relate AT ALL—I loved working at The Container Store. I'd built a great bond with my team and really enjoyed the work environment. I stayed on after graduating from the University of Houston, have been promoted a few times, and I am currently the Operations Manager for the Houston Galleria store. My wife and I got married last year so we are having fun and living life with our puppy Rufus.
If I had to pick ONE product I couldn't live without, it would be our Velvet Hangers. It was one of the first things I bought when my wife and I moved into our home together. I knew during our move that we had to do something about all of our mismatched and flimsy hangers, so I bought several cases of the Velvet hangers and it has made a huge difference in our closet. Having matching hangers may be a small change, but it has a huge impact!"
Want to come work seasonally with us? Be sure to check out our job openings here!