In our blog series "Organized Employee Spotlight" we're taking a look behind the curtain at some of our employees' favorite organized spaces, some of which they've even shared on Instagram and on our website to inspire others.
Lisa Kehrer is one of our Visual Merchandisers, and she's well-known around our company not only for her sweet personality, but also her sweet cookies! In the spirit of the holidays, we discussed some of her favorite things to bake, as well as her favorite ways to organize her baking supplies.
Let's start at the beginning. How did you end up working for The Container Store?
I started out part-time in Visual Sales at our 58th & Lexington store. It was June 2008, and I had just moved to New York City. By September I was promoted to full-time, and I spent three years at that location. During that time, I worked on all kinds of things, such as unloading trucks and setting up our sales campaigns. Then, in 2011 I accepted at job at our Home Office as a Visual Merchandiser, and I've been here in Texas ever since.
What does a Visual Merchandiser do?
I partner with our buying teams to introduce new products—including the seasonal ones—to our stores. My team takes photos of the shelves with the new products on them and then writes the directions for the stores instructing how the products are to be displayed. For the past two years my focus has been on our "Tower" products (think of our cool "gadget" items), gift packaging, stocking stuffers, as well as our Gift Wrap Wonderland holiday campaign.
Very cool! Switching gears for a moment, how did you first get into baking?
My first real baking experience came when I made cupcakes for a co-worker's birthday party. I loved decorating the cupcakes, and in doing so I found a new medium into which I could channel my creativity. After that I watched many instructional videos on YouTube and had lots of trial-and-error experiences, but they were all delicious!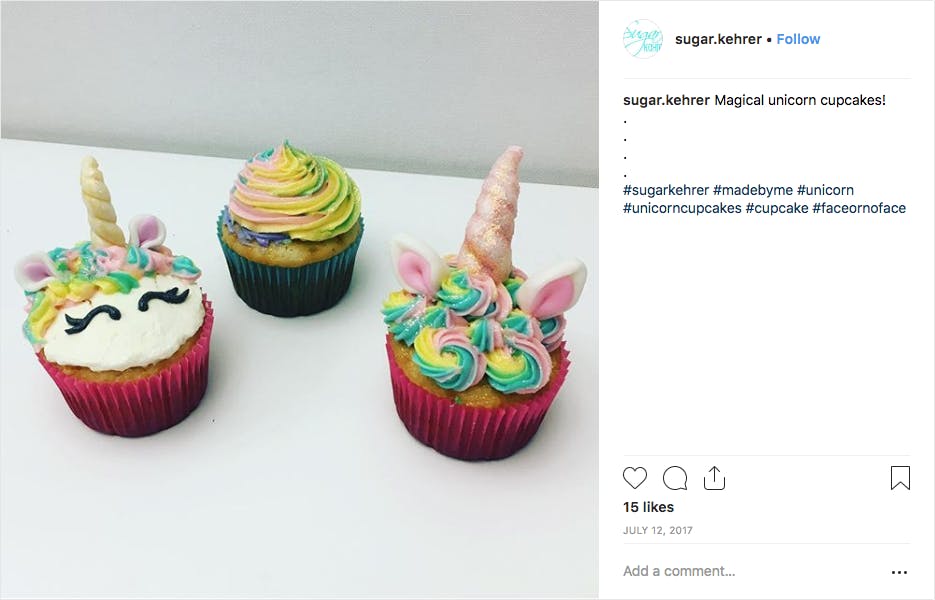 What's your favorite thing to bake?
Either cupcakes or sugar cookies. If I want a challenge, sugar cookies are my go-to since you can do so many different shapes and designs. But if I need a quick dessert that will still impress, my triple chocolate cupcake with peanut butter buttercream is always a crowd favorite.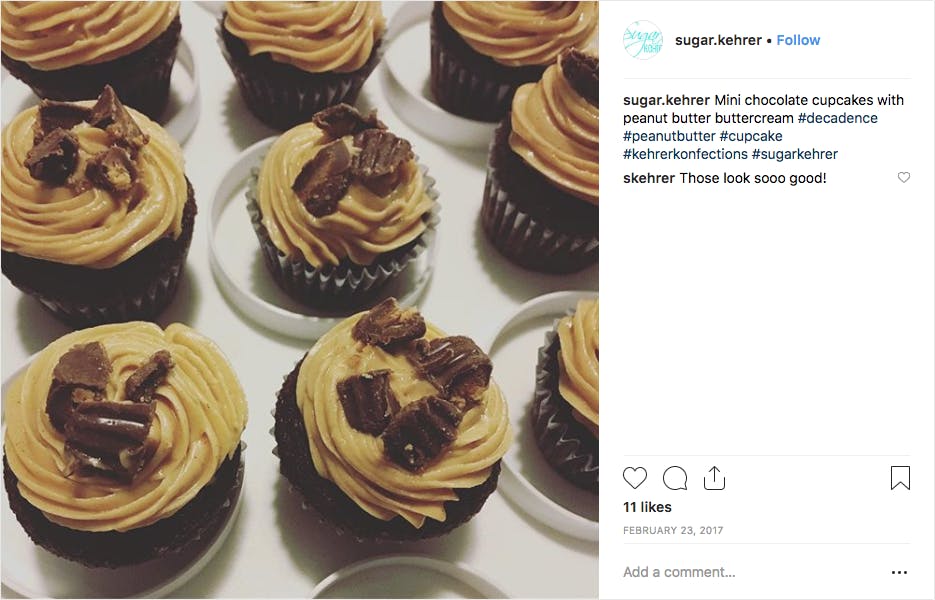 Those both sound amazing! Are there any secrets to being a good baker?
Patience and practice, especially when it comes to decorating. I always get a kick out of looking at my past creations and thinking how much better they would look if I tried the same designs now, but that skill doesn't happen overnight. I still watch tutorial videos and sometimes end up with one or two cupcakes or cookies in each batch that didn't turn out quite right, and those are just for me.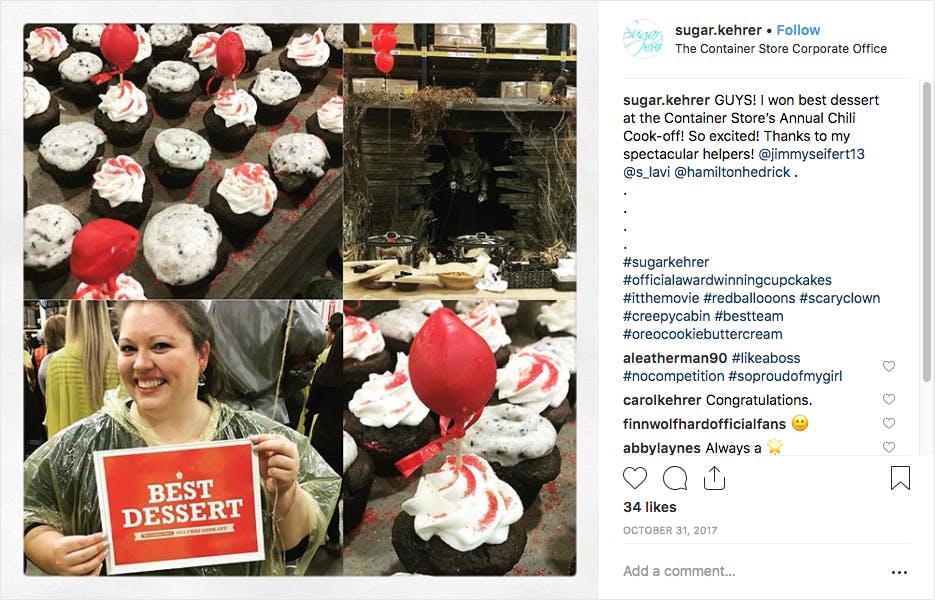 What kinds of events and special occasions have you baked for?
I've baked cookies and cupcakes for baby showers, birthdays, engagement parties, Christmas parties, and even our Chili Cook-Off, where I won Best Dessert! I was also able to make some special sneaker cookies for Mark Bostic, one of our popular social media influencers. That was fun because I was trying to model the cookies on a specific type of sneaker and our Drop-Front Shoe Boxes.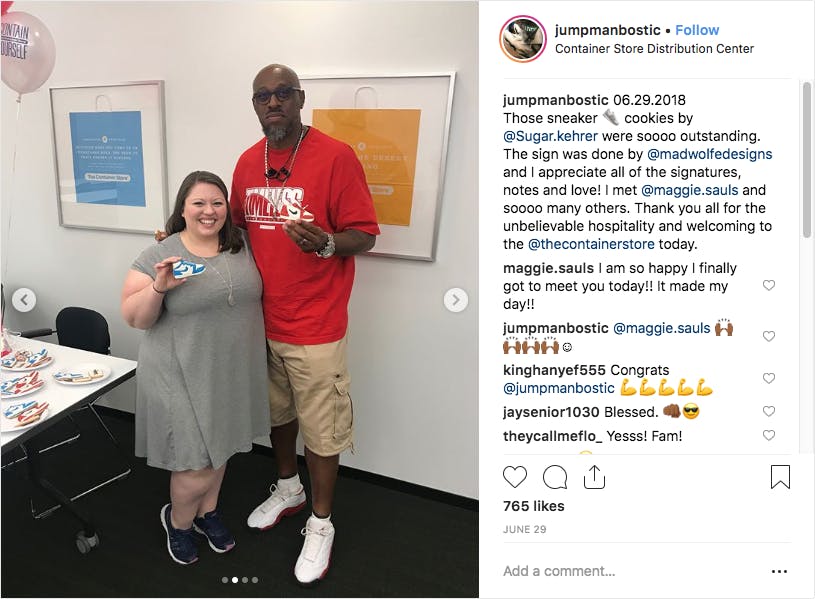 What are some of your favorite TCS products for organizing your baking supplies?
I love our POP Canisters for all my dry baking supplies, such as flour and sugar. They are so easy to get in and out of my apartment cabinets, and they stack on top of each other so they don't take up a lot of room.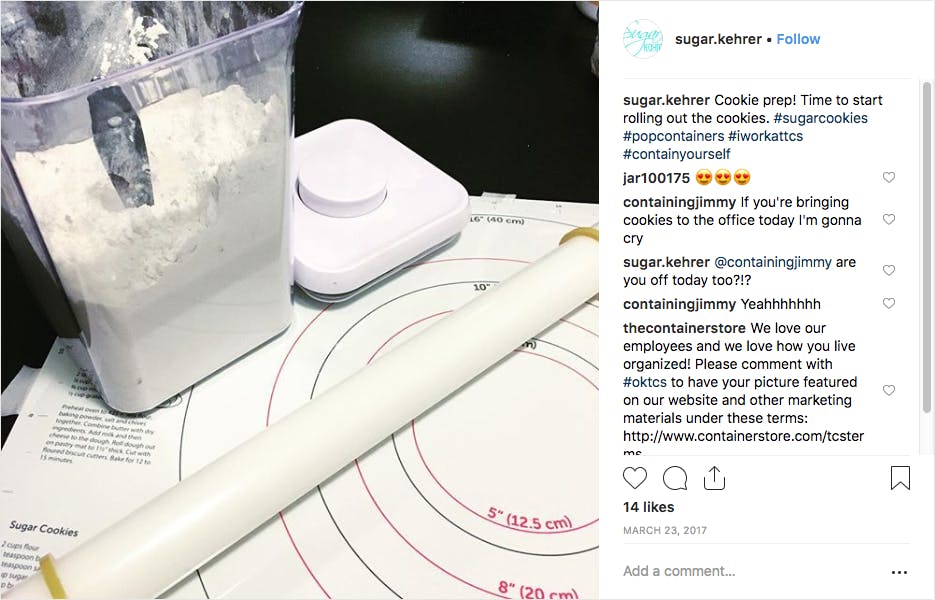 Then, for all my cookie cutters and decorating tools I use Our Shoe Boxes and Erasable Labels. My cookie cutter collection keeps growing and growing with each new order I receive, so it's easy to just add another box and separate them by theme. And the Erasable Labels are great because I can write on them with a Sharpie to notate what's inside the box for quick access. Plus, if I need to reorganize the contents later on, I can easily erase the current label on the box and rename it.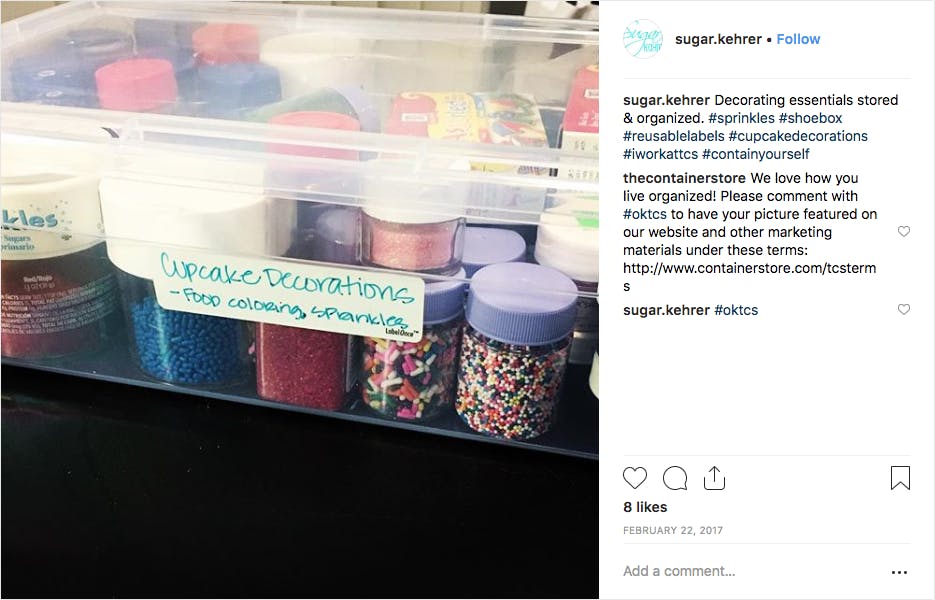 That's a really good idea. What about for gift packaging? Any favorite TCS products for that as well?
I've used a lot of the Small Treat Sacks for my sugar cookies since they really show off the cookies' appearance – but my new favorite is our Clear Treat Sack with Adhesive Closure that we introduced during Gift Wrap Wonderland. They are the same concept as the treat sacks ones, but they have an easy adhesive closure so I don't have to worry about twisting the ties on the bags.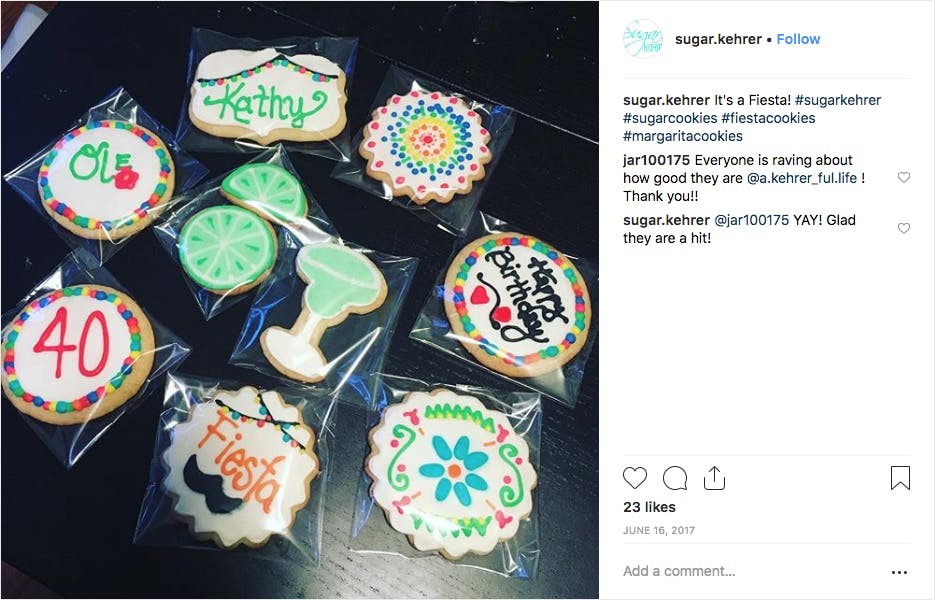 What do you like to do when you're not working or baking?
If I'm not doing either of those things, I'm usually on Pinterest or YouTube learning new tips and tricks or getting ideas for future creations. Other than that, I keep it pretty low-key and can usually be found watching a movie or reading a book.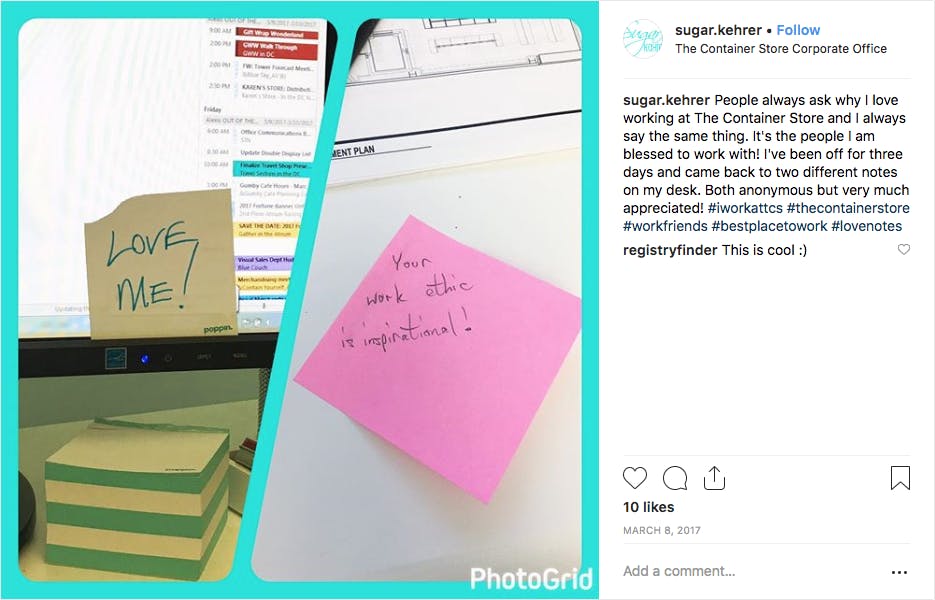 Why do you love working at TCS? And are your co-workers supportive of your passion for baking?
Our team is second to none! Whether it's here at the office or in our stores, we have the sweetest people that we get to call co-workers and friends. They are the reason I do most of my baking! Whether it's a birthday lunch, baby or wedding shower, they keep me on my toes with different themes they want and challenge me to continually step-up my baking and decorating game. They're also always willing to taste-test any new ideas I have, or eat the mistakes!