When we tell people that we work for The Container Store, one of the most common replies we hear is "Wow—how fun! You must be SO organized!" And, of course, we agree that we absolutely are! Our generous 40% discount on general merchandise and 50% discount on elfa makes it really easy for us to stay organized at home, while also providing us with first-hand knowledge of our products so that we can better help our customers solve their organizational challenges. It's a win-win!
In our new blog series, "Organized Employee Spotlights," we'll take a look behind the curtain at some of our employees' favorite organized spaces, which they've shared on Instagram and our website to inspire others.  
Our first interview subject is our Product Resource Assistant Rene St. Clair, who has one of the most beautiful craft rooms we've ever seen!
How long have you worked at The Container Store? 
I just celebrated my 15th anniversary this month. Yay!!
What's your current role? And what other roles have you held within the company? 
For the past five years I have been a Product Resource Assistant in the Buying department. I help keep track of all the new product samples that come in and make sure they get delivered to photo and catalog shoots on time. One of the most fun parts of my job is getting to be among the first to see what our latest cool new products are!  
I first started out part-time in our Distribution Center (DC) in the Special Processing department, and then I was the first Administrative Assistant in our DC, sometimes affectionately referred to as the "DC Mom." I've also worked in other DC departments, including Store Replenishment and Fulfillment (which ships directly to our customers), and I've held roles in our Visual Sales department as well.
What's your favorite organized space in your home?
My craft room! It started out as a guest room that wasn't utilized much, so we decided to turn it into something special! We painted the room and installed the first elfa components four years ago, and then kept adding more and more as I added to my inventory of crafting tools.
For those who don't know, elfa is our wonderfully flexible and customizable shelving and storage system. It allows me to use shelves, trays, hooks, and magnets to keep everything neat and easily accessible, and it doesn't take up much space in the room. And, as a bonus, it looks really beautiful! I could talk about my room all day long - it really makes me THAT happy!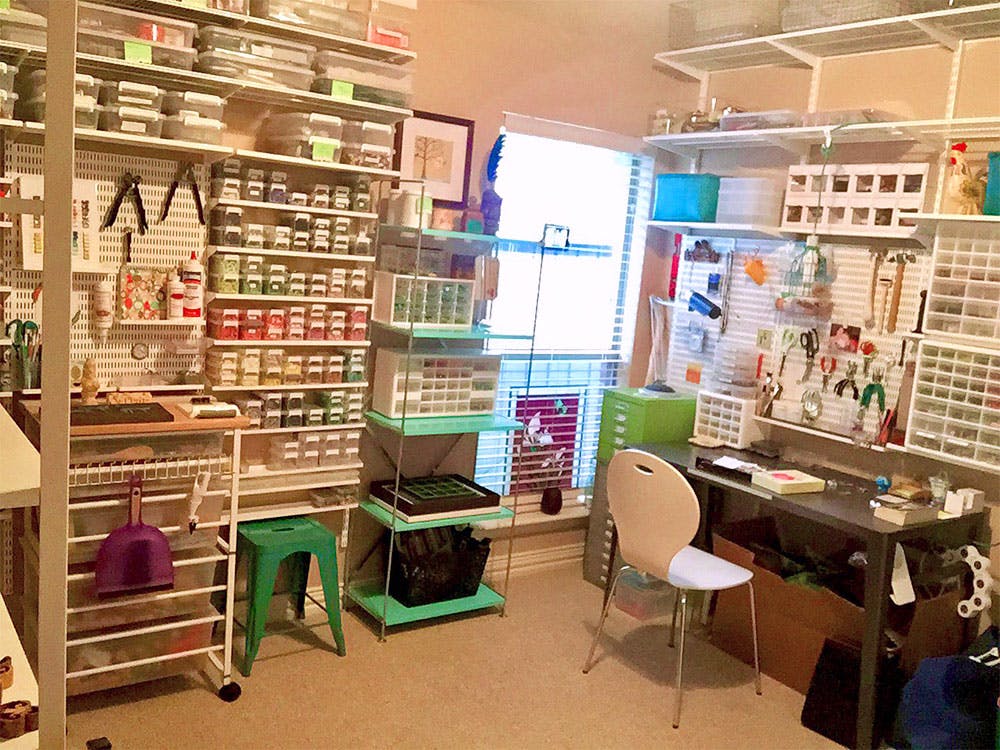 Wow, you're quite the crafting connoisseur! Why is this a passion for you? 
I love the creative process, especially learning something new. It's challenging, rewarding, and a place I can go where I can get in a flow and time doesn't matter.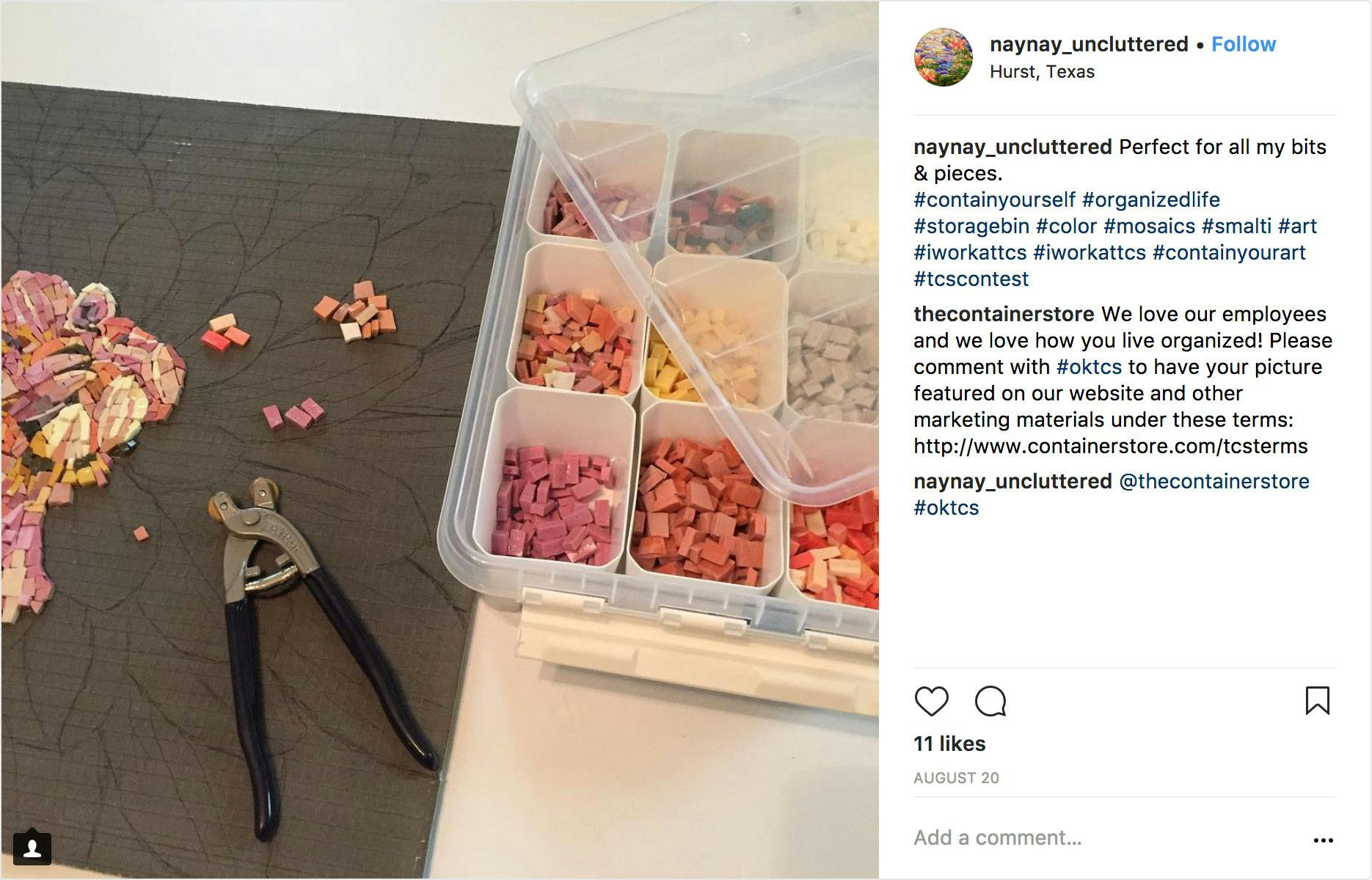 What sorts of craft projects do you enjoy working on the most?  
Right now my focus is on designing jewelry pieces with precious metals such as fine silver, bronze, and copper, but I also enjoy creating mosaics using Italian Smalti glass tiles (chunky tiles that add an interesting texture) and Scandinavian flatplane woodcarving. Since my hobbies involve lots of small pieces and tools, elfa has been the perfect solution!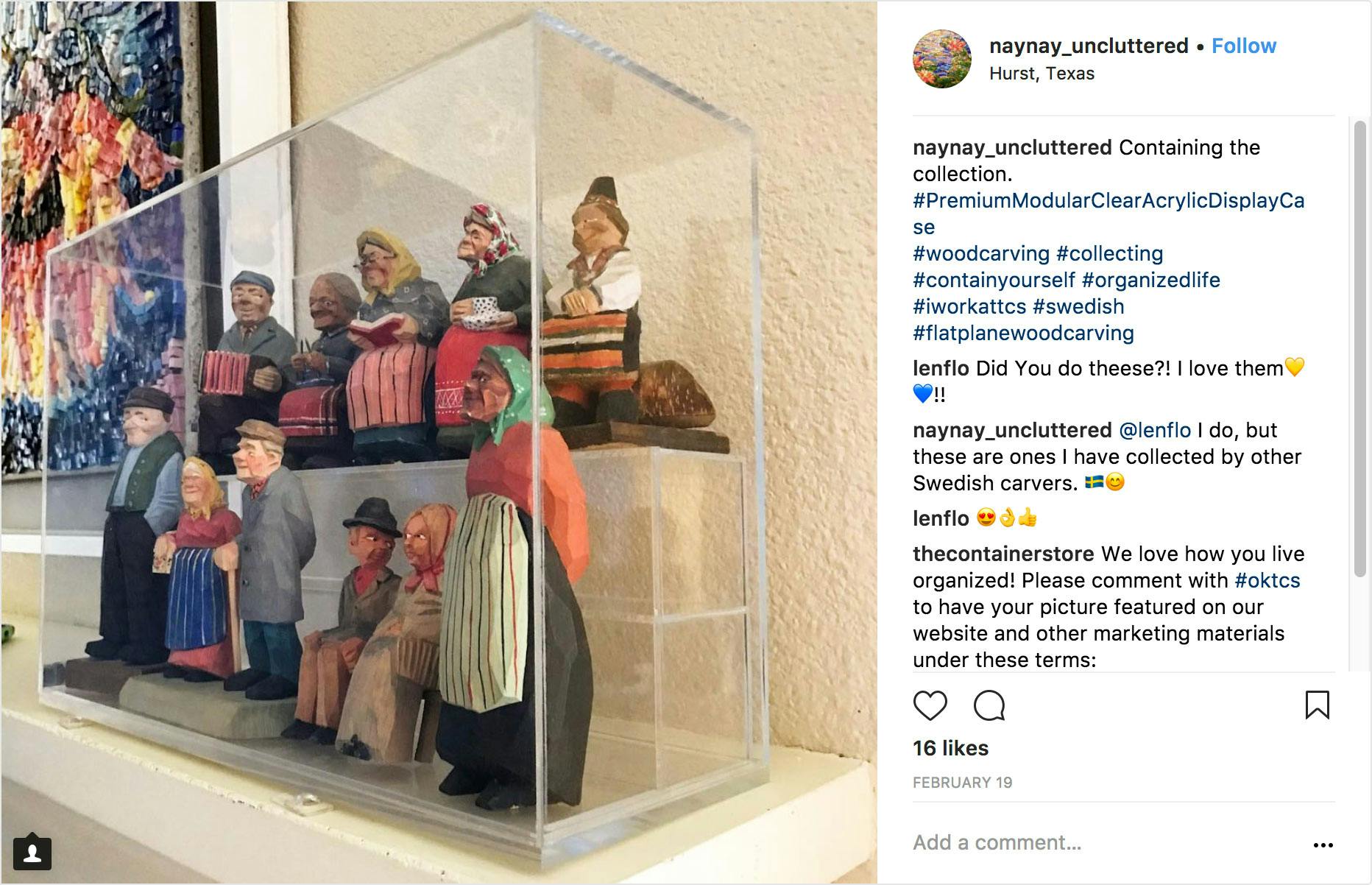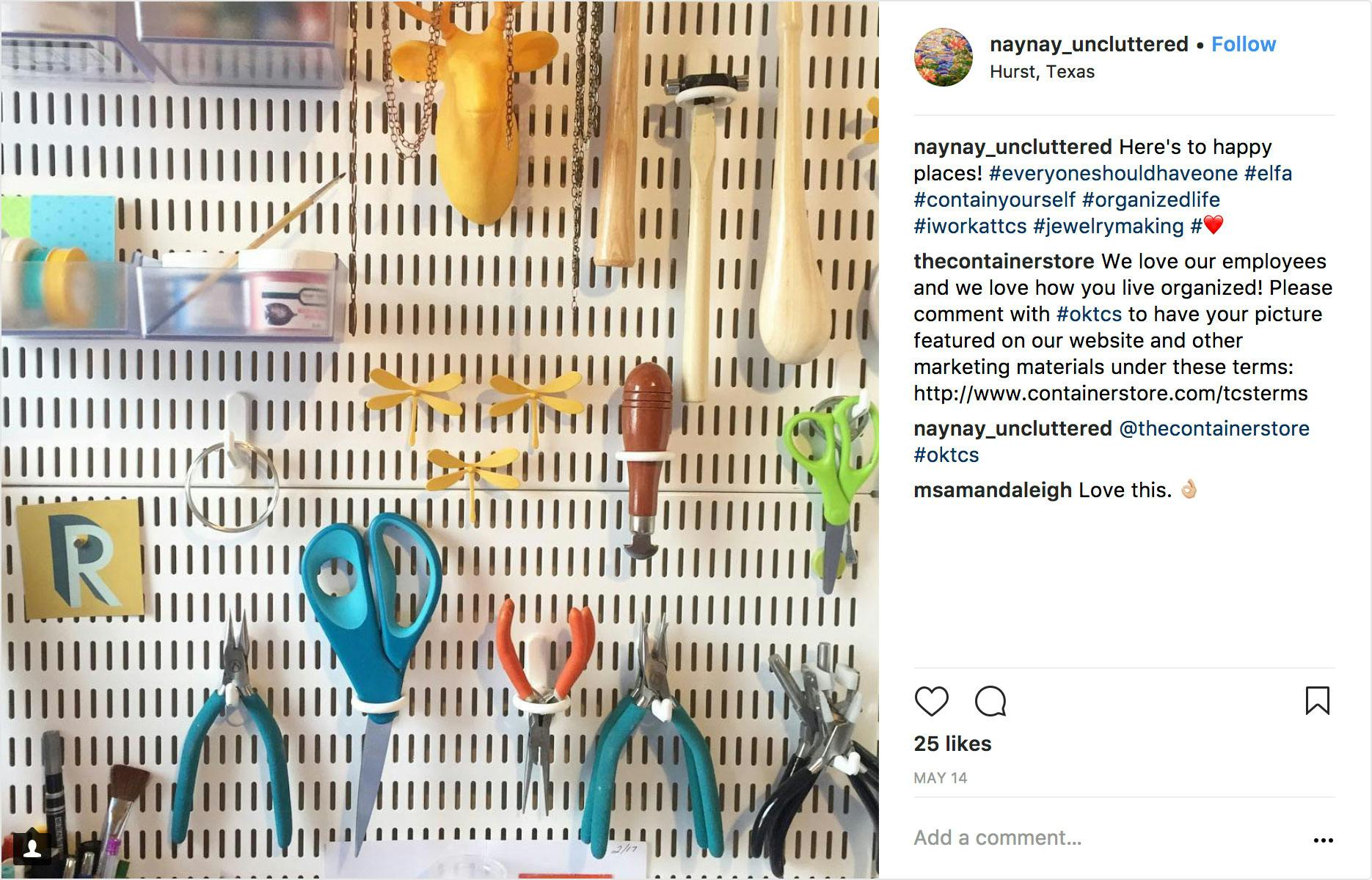 What are some of your favorite TCS products?
I have a lot of favorites, but I would probably pick our Iris Mini Latch Boxes since I have so many of them. I love how they close tightly, which is very important when you have hundreds of small pieces! They're also stackable, translucent, and safe to bring with me to a crafting class or a friend's house, and they fit perfectly on our elfa Utility Shelf/Trays!
I love how we work with our vendors to tailor items to work together with our elfa system. And it's great to have access to SO many wonderful products at every price level!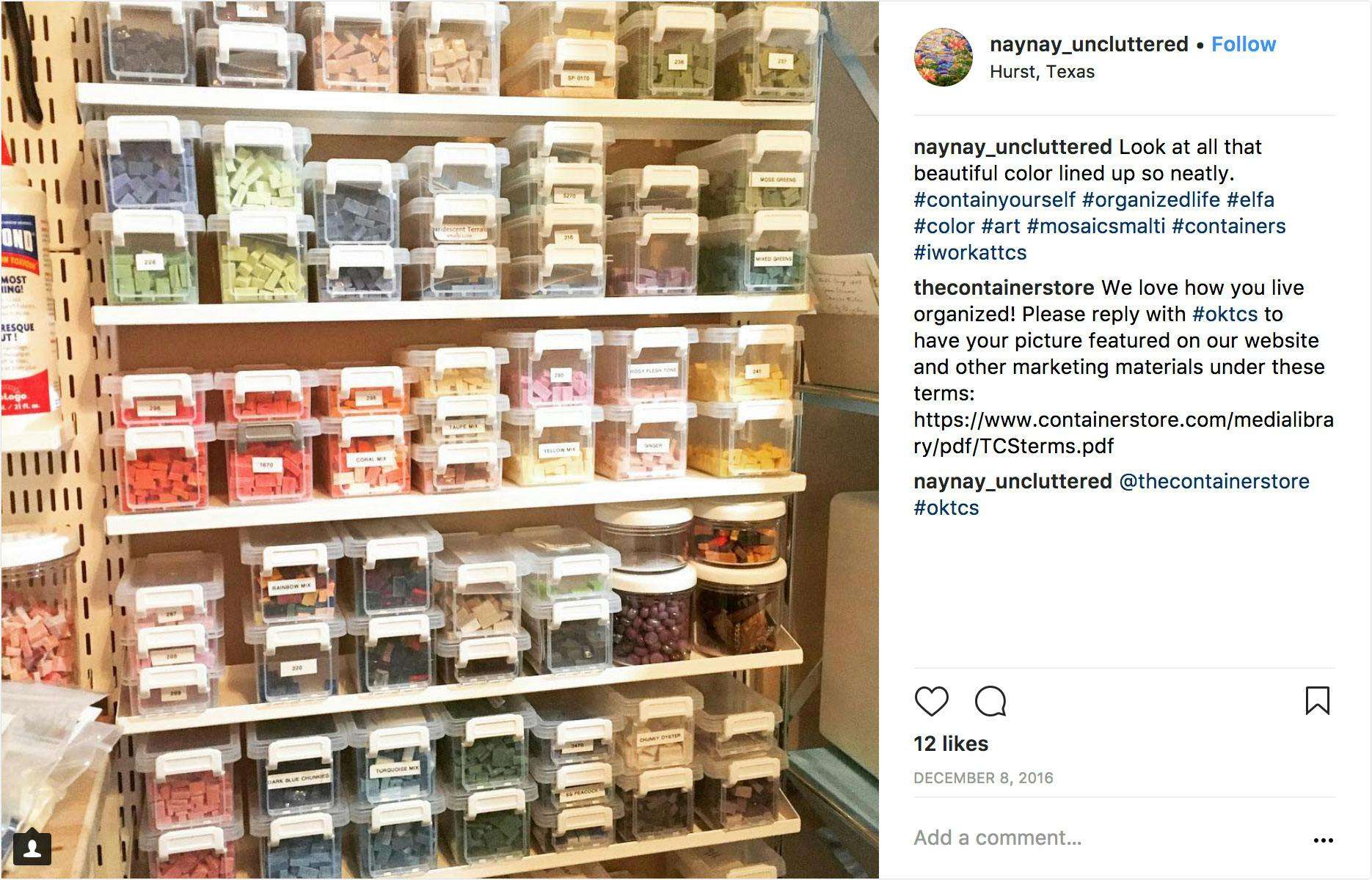 Are a lot of your friends jealous of your organized craft space? 
Yes—but in a good way! They get totally inspired by it! Whenever we have a group of friends over they always want to see my craft room. I love seeing their faces and how excited they get—lots of wide eyes and smiles!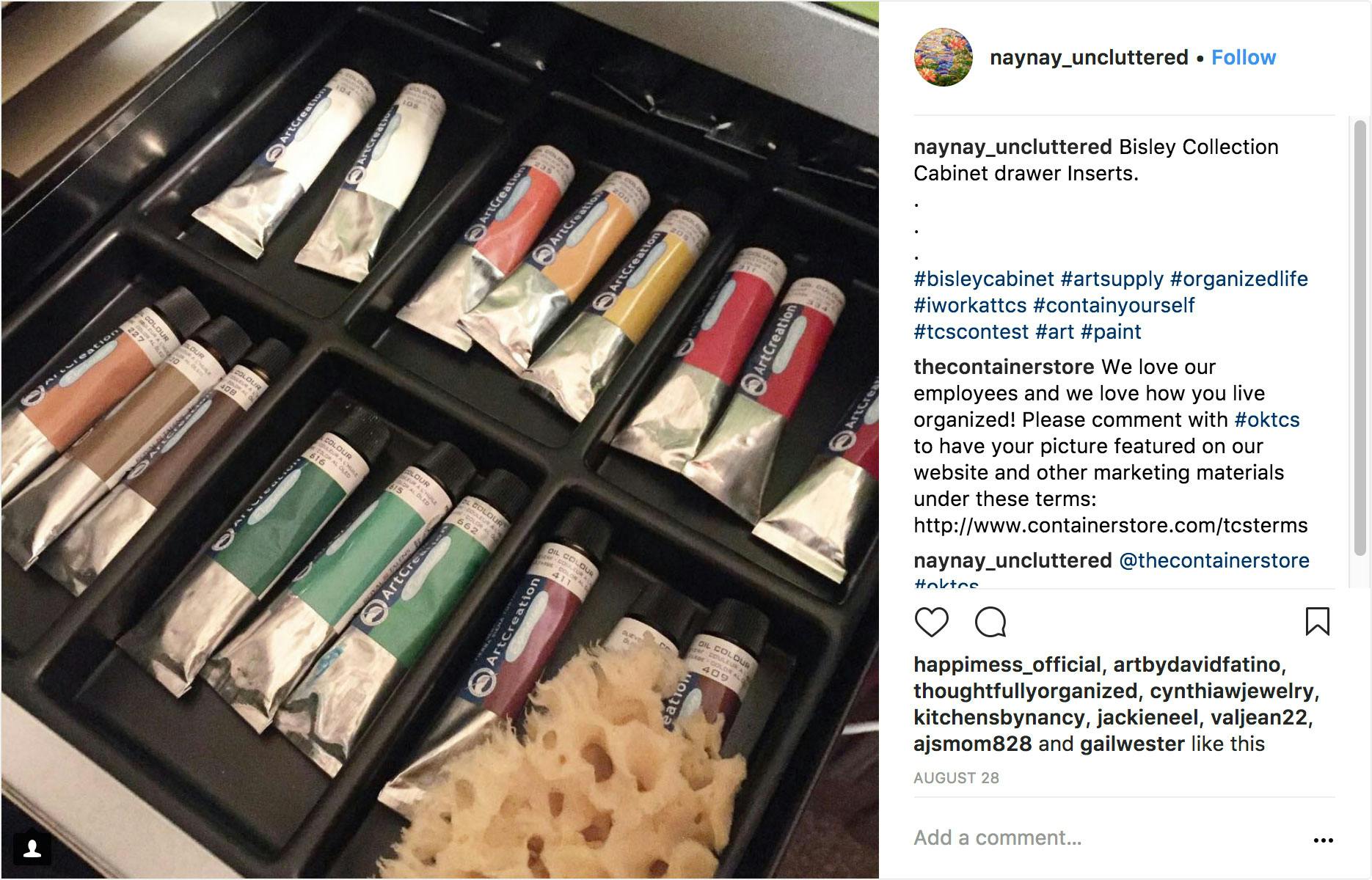 What's your favorite thing about working for The Container Store? 
I love our culture and feel proud to represent such a great company. I work with such amazing people, and they make me feel valued every day. Those relationships extend beyond the work week and have really brought my family and I a much better quality of life. I can't imagine being anywhere else!
To see more beautifully organized real-life spaces (or to join in the fun and upload photos of your own), visit www.containerstore.com/my-organized-life.