In our new blog series, "Organized Employee Spotlights," we're taking a look behind the curtain at some of our employees' favorite organized spaces, which they've shared on Instagram and our website to inspire others. This week, we had a conversation with Casey Rehling, our Vendor Compliance Coordinator, about the importance of being an organized dad. We also discuss whiskey, woodworking, and other Swanson-esque topics.
First of all, what does a "Vendor Compliance Coordinator" do?
It's my job to work with our receiving team (who handle our inbound shipments), our product merchandisers, and our Distribution Center's management team to find improvements to help increase and maintain productivity. I also help maintain our Labor Management System that measures the efficiency of our employees. It's a lot of nerdy number crunching, but it allows us to see how well we're doing as a team. What's also fun is that it helps us to determine if some fancy new machine or a new process that will help us work faster could be worth the investment!
What made you want to work for The Container Store? And was your "neat freak" wife excited by that (your words, not mine)?
I grew up in Coppell, so I always knew that The Container Store's home office was located here; in fact, I actually used to play baseball in the park across the street! So because of that, I was always aware that it was a great place to work. And when the opportunity to work in a world-class facility for such a tremendous company opened up in my home town, it was too good to pass up!
And yes, my wife (my fiancé at the time) was so excited! I think she began planning out our future closets, living spaces, classrooms, and kid's rooms before my first day on the job!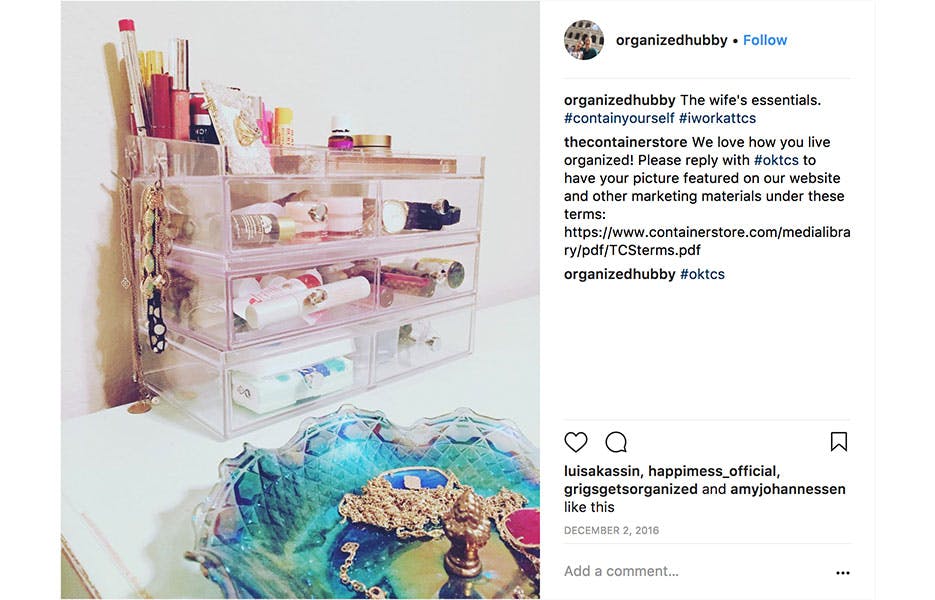 How has your employee discount made it easier for you to stay organized?
It's not only helped us to organize our first house, but also to stock up on travel essentials for our honeymoon in Italy, and then to re-organize and convert different rooms after our son Joel was born! He's now going to be turning one-year old this month. It's certainly helped us stay sane during some crazy (but fun) times!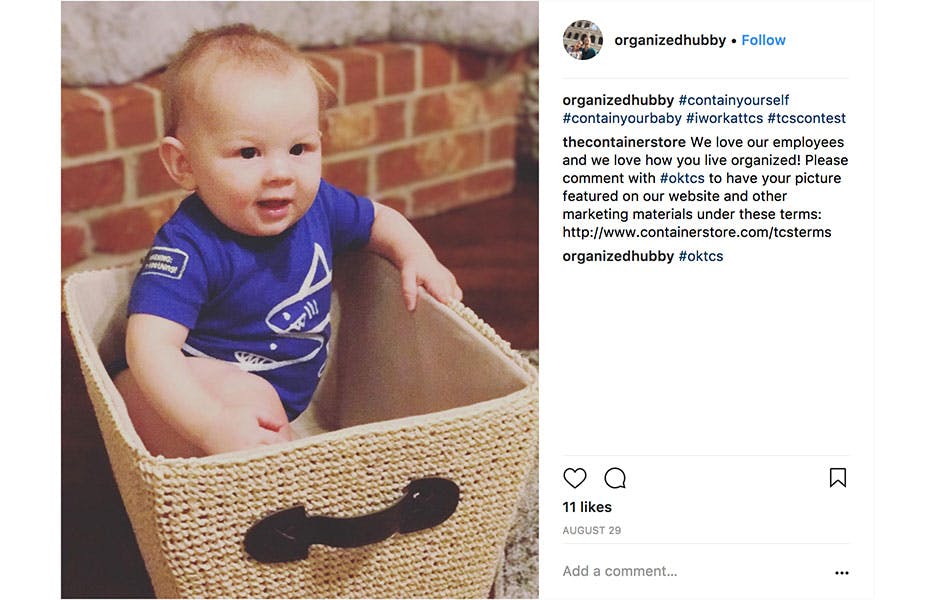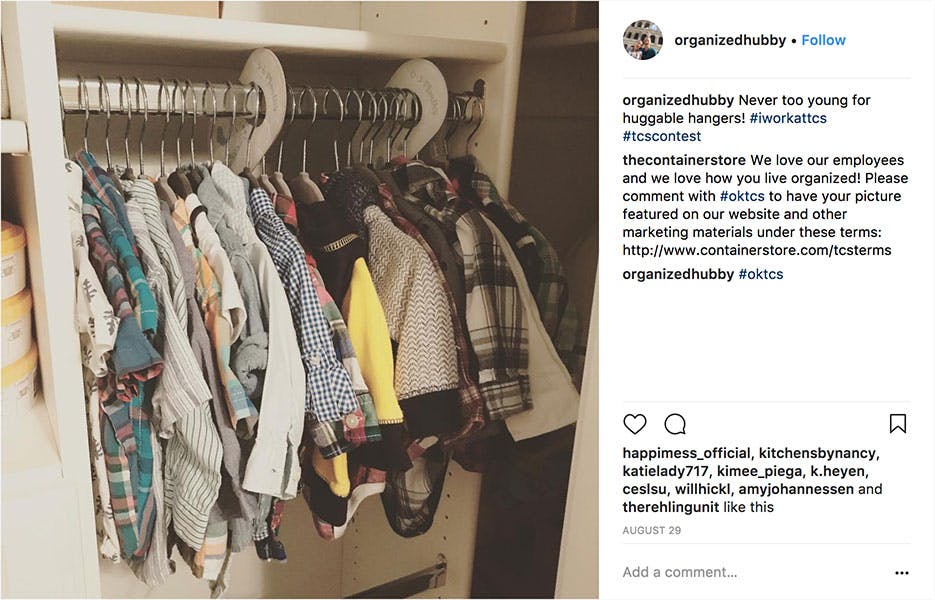 Why do you feel it's important for dads to be organized?
I get stressed out when the time required to complete my "honey-do" list gets longer than the time that I have available, so staying organized helps me to get things done so much faster. When I'm not looking for this tool, or that drill bit, I can spend time on the things that matter! Like playing with Joel, or watching football.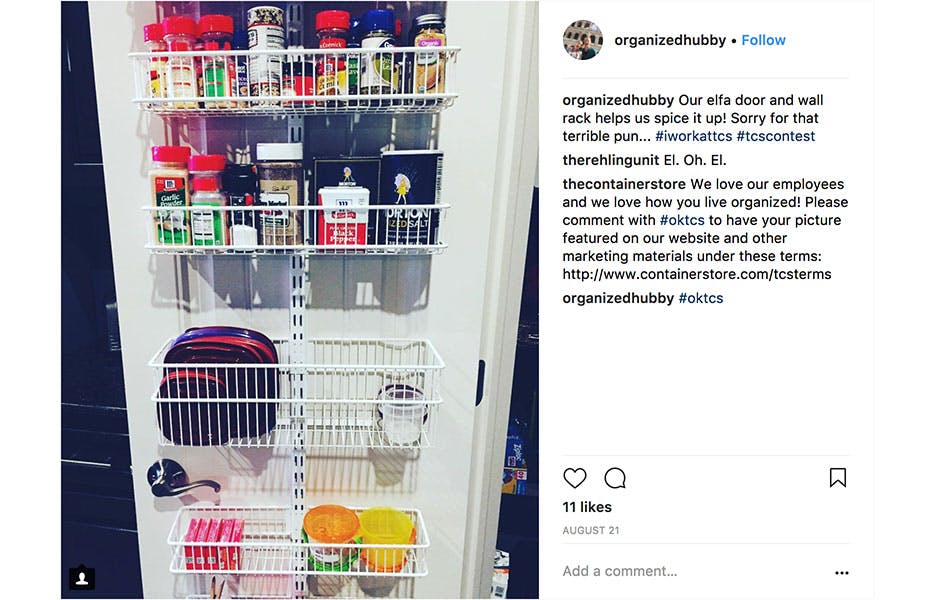 What are some of your favorite organization projects you've been able to tackle?
Most recently we've converted our home office and craft room into our son's play room. It essentially consisted of moving all of my wife's supplies into some open space in our bedroom and closet and adding new toy bins to the shelves that were already there. Since everything was already so organized, it only took my wife an hour or two! She loves lots of organizing and DIY projects, and she has a cool blog called The Rehling Unit where she features a lot of them.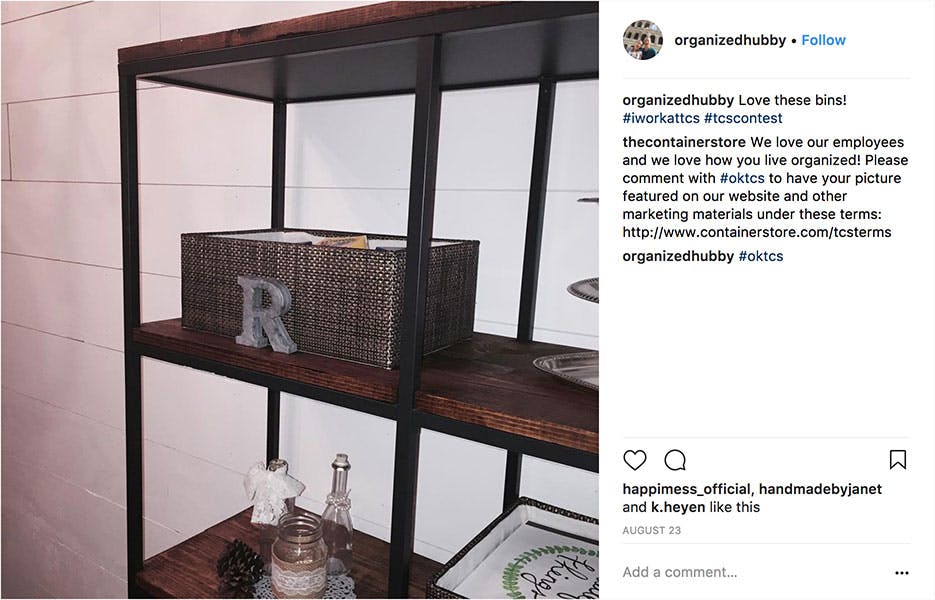 Since it sometimes seems men don't quite value organization as much as women, what do your guy friends think about your new organization hobby?
I can tell you that their wives get jealous, and isn't that what it's really all about? J But really, what I value more than the organization itself is what the organization affords me to do. And I love showing off whatever our latest finished project is. Staying organized saves me time, sanity, and trips to a home improvement store.
We love your home bar area. What makes a good home bar?
Personally, I'm a whiskey man so a good bourbon is always essential. My wife and I love hosting parties and having people over, so I try to have at least a few of the basics on hand to fulfill whatever our guests might be feeling—whether that's a Rum and Coke or a Vodka Sour. And you never know when an impromptu Margarita night might happen, so I just like to be ready!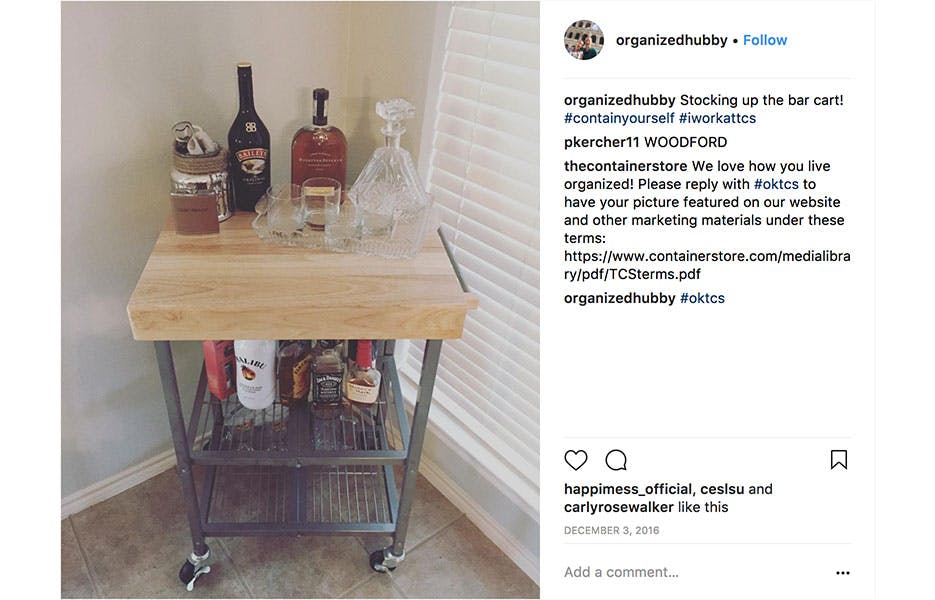 What are some of your favorite TCS products?
As I dive deeper into my organization journey, I'm getting more and more won over by elfa. I'm working on my garage right now and I've recently designed a workspace complete with drawers, shelves, utility boards, and a work surface. I love my new "domain."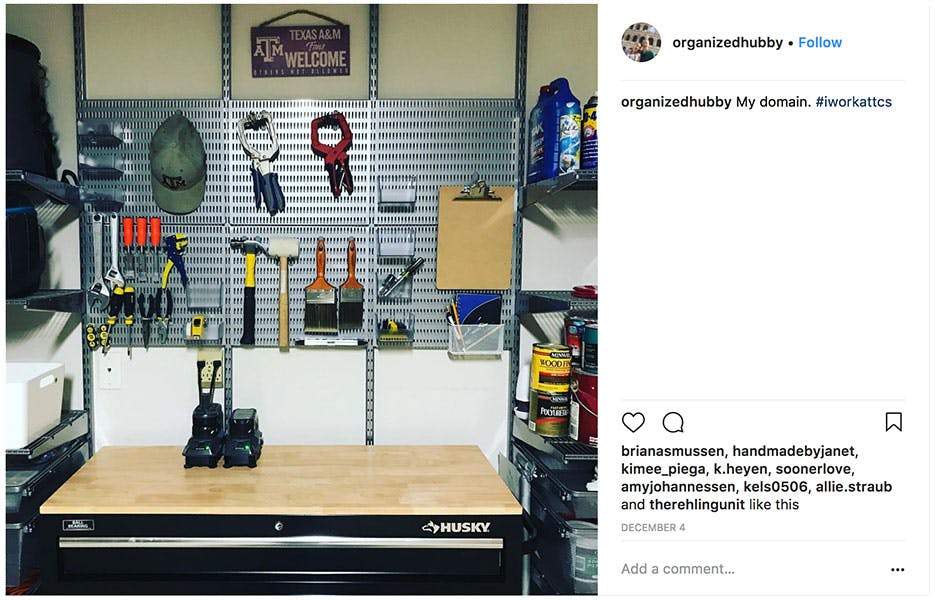 What's your favorite thing about working at The Container Store?
The people! Coming to work with great, intelligent people that you enjoy being around, who push you to be better, and who will bust you about your college football team while still going to incredible lengths to get you out of the office so they can decorate your desk for your birthday is pretty amazing.
To see more beautifully organized real-life spaces (or to join in the fun and upload photos of your own), visit www.containerstore.com/my-organized-life.