In our blog series "Organized Employee Spotlight" we're taking a look behind the curtain at some of our employees' favorite organized spaces, some of which they've even shared on Instagram and on our website to inspire others.
If you ever call into our Customer Solutions Department and Thomas DeAndrea answers, you'll be struck by his ever-present friendliness and positivity. He is truly a bright spot in our company who loves helping our customers, and a good deal of his expertise comes from his love of tinkering in his exceptionally-organized garage. So, in the spirit of spring cleaning, we asked Thomas to share with us how he transformed this particular space.
What did you do before you came to work for The Container Store? And what made you decide to work here?
I used to work for a telecommunications company as a sales consultant, which involved performing in-home demonstrations for their home security systems. But after a while I was looking for a change and, in the midst of trying to help someone else find a job, I stumbled across The Container Store's careers page. I've been a long-time TCS customer, so the idea of working there intrigued me, and pretty soon I applied to the Customer Solutions Department (CSD) to be a Customer Contact Coordinator.
Well, we're so glad you're here now! What does a Customer Contact Coordinator do?
In CSD we perform a wide variety of services, including processing customer orders, providing order status updates, and designing custom closet solutions. I spend a lot of my time designing Elfa Closets for customers over the phone. I have now worked here for over a year and a half, and The Container Store is such a great company!
What's your favorite part of your job?
I LOVE working with our customers! It's so exciting and fulfilling to help them make the most optimal use of their closet space, and it's also neat that I get to speak with people from all over the country.You also love dressing up on Wednesdays. How did "Well-dressed Wednesdays" begin?
That began with my good friend Thomas Ayers, who also works with me in CSD. He started dressing to the nines on Wednesdays and really set the bar high, so when a lot of other people jumped on board, I was all-in too!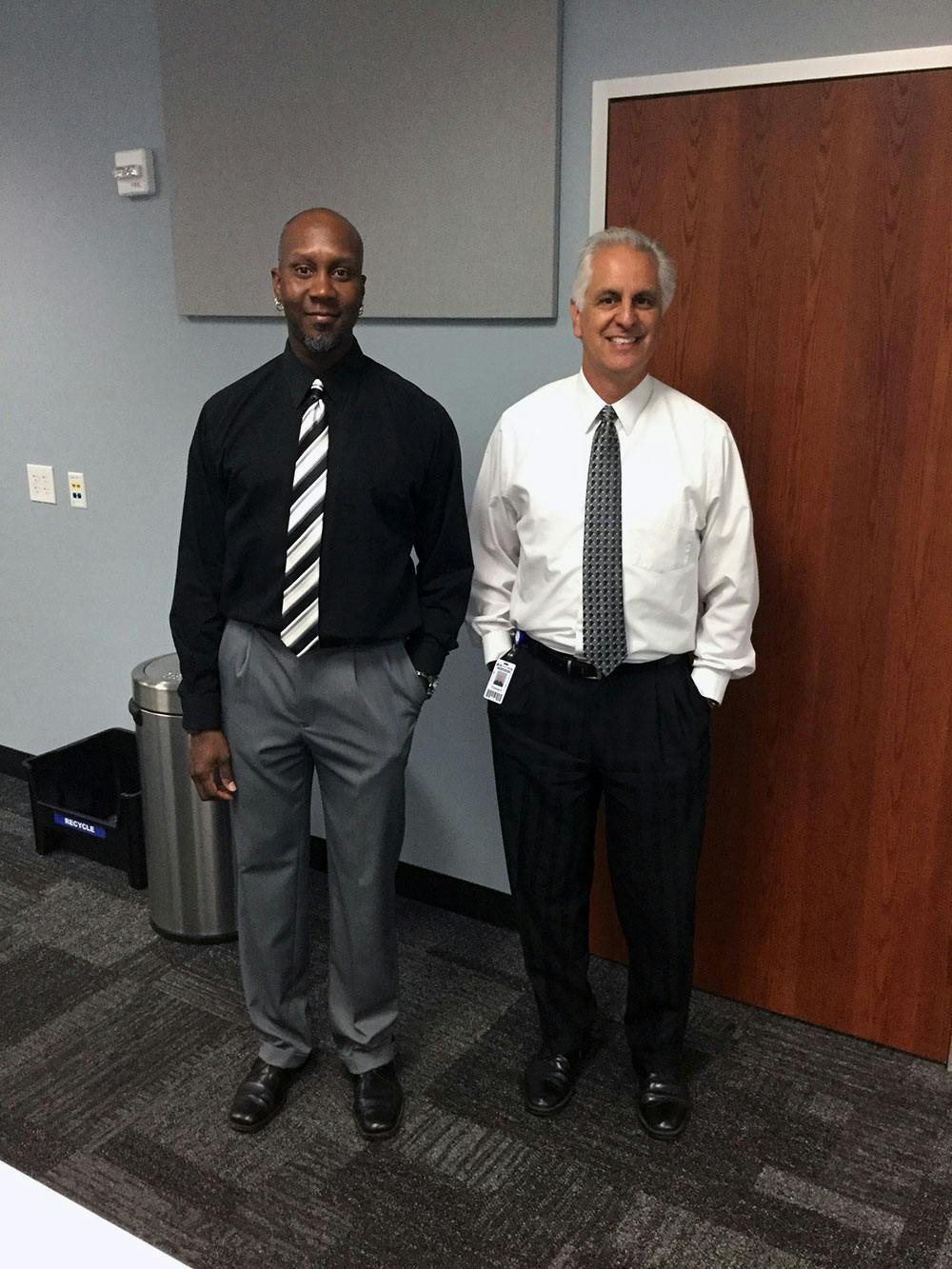 The two well-dressed Thomases. Funnily enough, the name Thomas itself derives from the Aramaic word for "twin."
Ok, let's talk about that awesome garage of yours. It was already a reasonably good space before you installed Elfa, so what inspired you to upgrade?
Well, I spend a lot of time in there doing home repair projects, so I figured it was time to use my employee discount to make it even more organized and efficient. I also loved the contemporary look of the platinum Elfa components, so last year I decided to do it as an early Christmas present to myself.

Thomas's garage before and after installing Elfa.
How was the installation process?
It turned out to be easier than I'd anticipated. I just followed the plans the way it had been designed, and the whole transition was really smooth and seamless.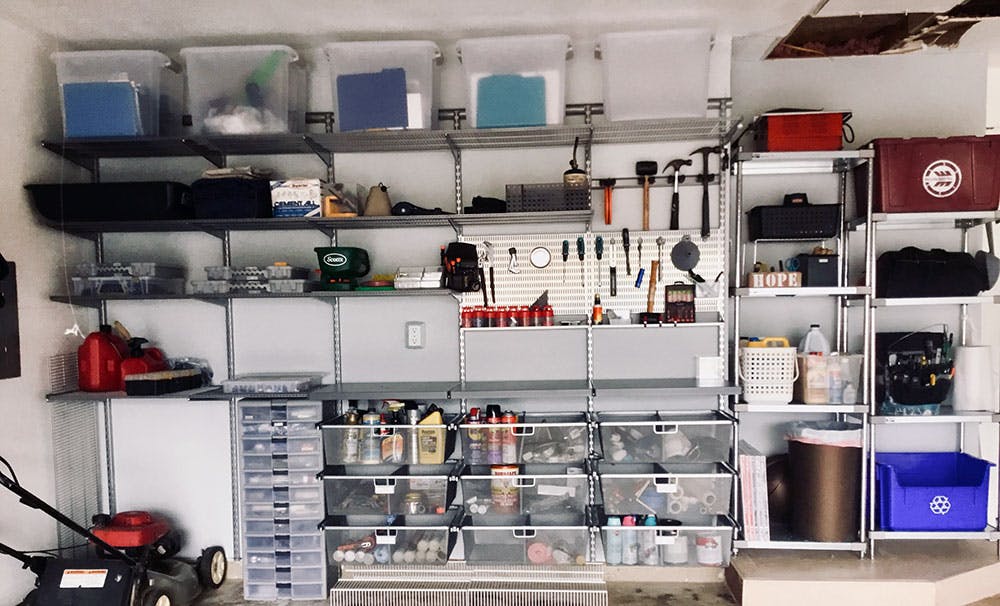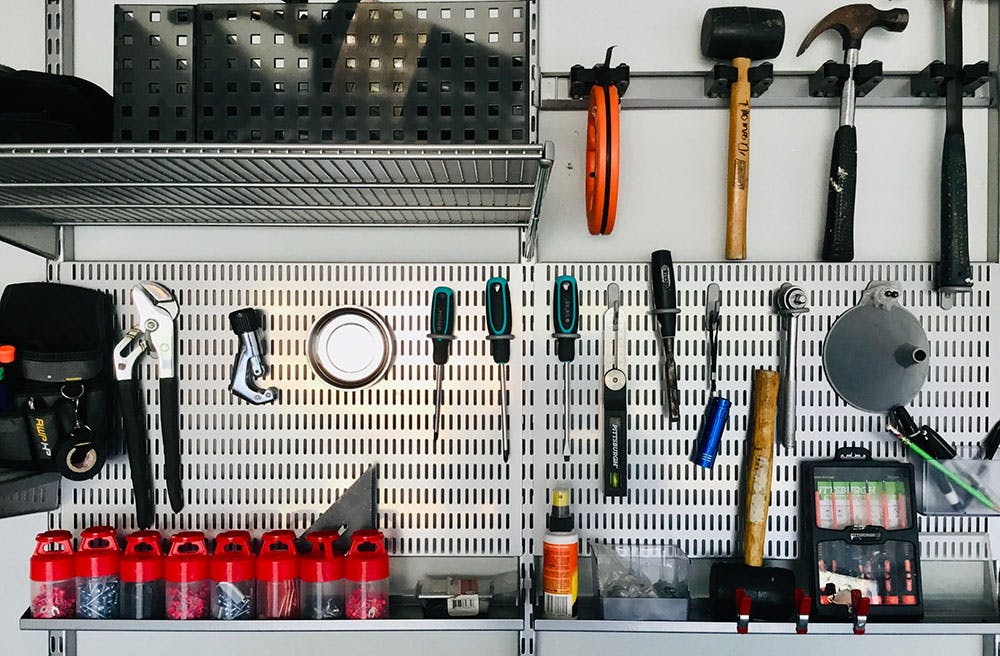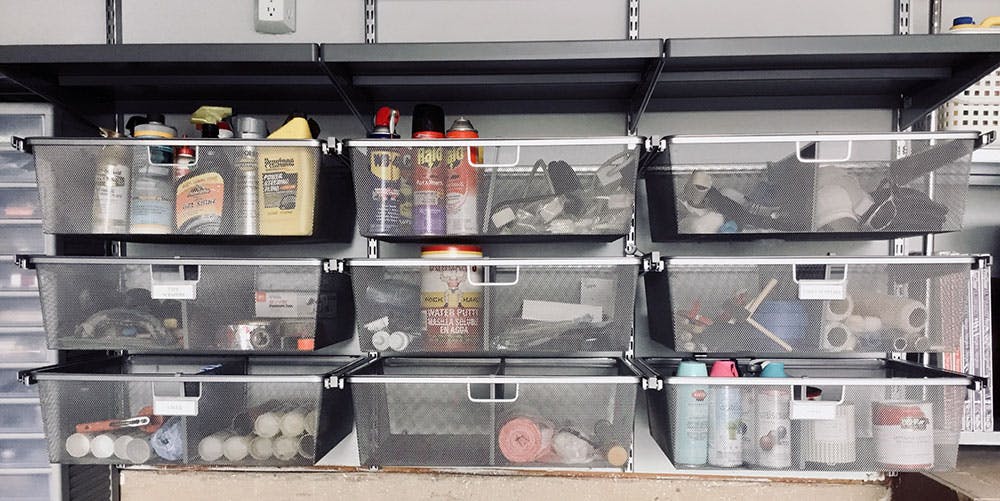 What are some of your other favorite Container Store products?
I've been a Container Store customer for over two decades, so I have our products in just about every room of my home. In addition to Elfa, my garage also has Metro Commercial Shelves and Iron Folding Shelves. And in other parts of my house I use a variety of our acrylic products and storage bins.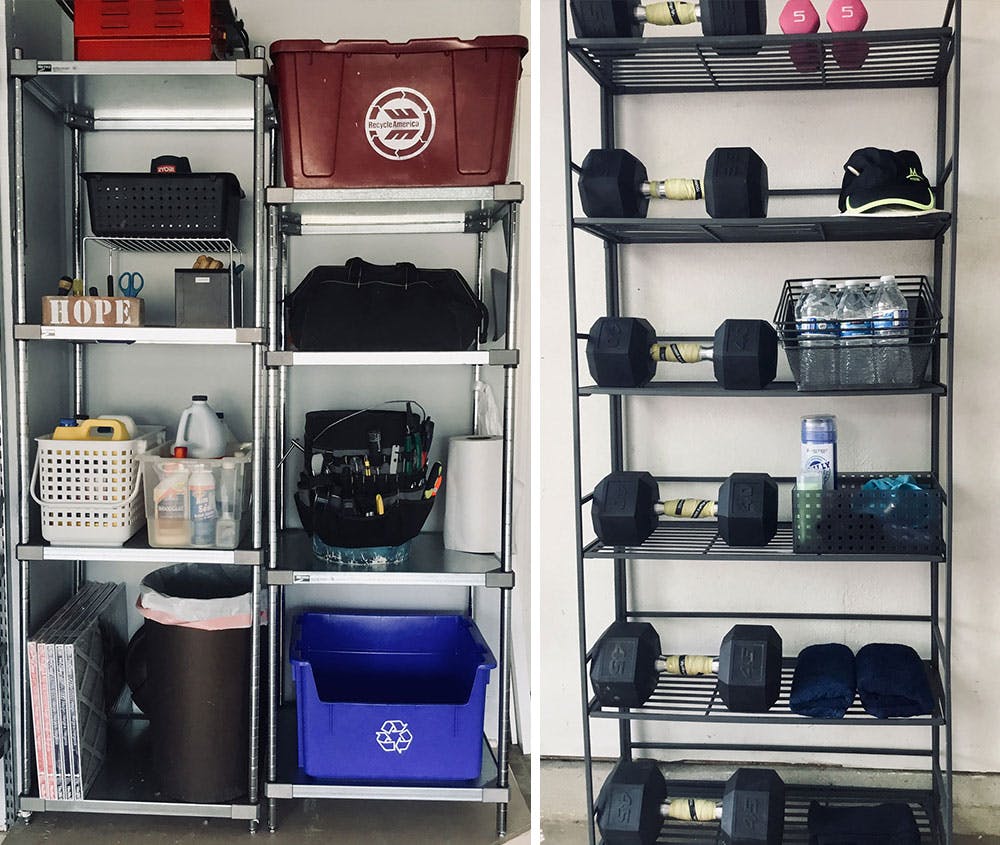 Thomas's Metro Commerical Shelves (left) and Iron Folding Shelves.
Now let's talk about the weather: specifically, your interest in it. How'd you become CSD's resident weather man?
Ha! I've always been fascinated by meteorology. I love it so much, in fact, I installed a weather machine at my house, and I even keep weather records going back four years. And if there's a storm coming, I'll always keep an eye on the local radars. When I was first hired in CSD, I would talk about the weather with my supervisor all the time. Then, one day in our morning huddle, he asked me to give a weather report. Everyone clapped and really seemed to enjoy it, so the rest is history!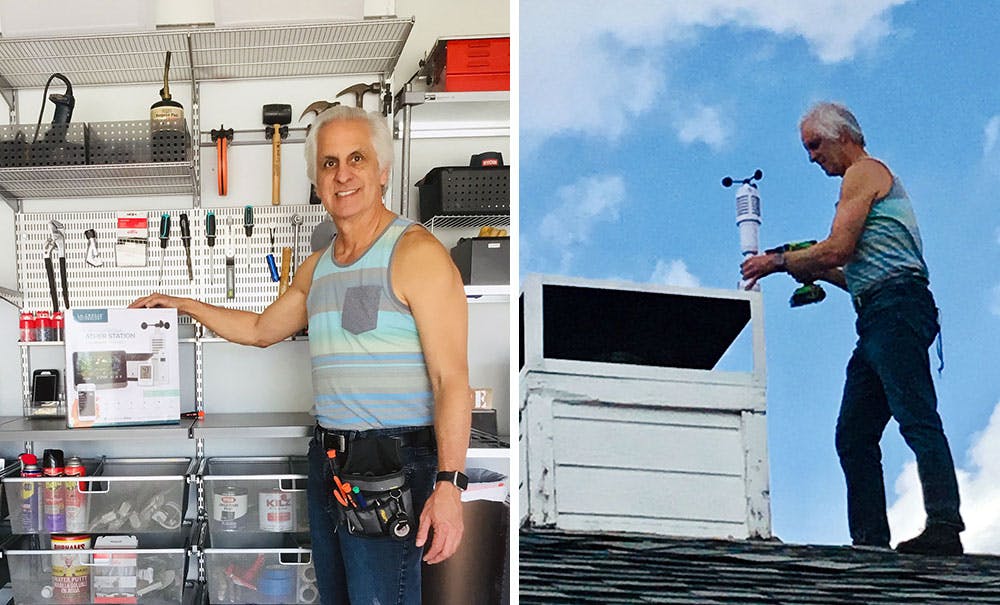 Thomas setting up his weather machine.
Do you have any other hobbies?
If I'm not studying the weather, doing DIY projects around the house, or spending time with my family, I like to stay physically fit. For instance, on my lunch hour I like to take a 2 mile walk with a 50 lb. set of dumbbells. On my days off I like to do the same thing, but I increase it to 5 miles.
Wow, that must be exhausting! How the heck do you stay so upbeat and cheerful all the time?
My positivity comes from my faith, and I enjoy serving at my church and on overseas mission trips. I believe every day is full of possibilities, and I try to see the best in everyone. I'm just a glass half-full kind of guy; even if it's only half-full, there are plenty of things in it to enjoy!