In our blog series "Organized Employee Spotlight" we're taking a look behind the curtain at some of our employees' favorite organized spaces, which they've shared on Instagram and our website to inspire others. 
The month of May is National Pet Month in the United States, and one of our biggest pet lovers is Jayla Grigsby, The Container Store's Online Merchandising Manager. In this "Organized Employee Spotlight" she shares with us some of her favorite pet products, her predictions about the future of online shopping, and her strategy for keeping her precious pooch happy! 
What brought you to The Container Store? And what are your job responsibilities?
After working for a couple of different companies, I was honestly just over the idea of selling product TO people and wanted to work FOR them instead. I realize how backwards that sounds (after all my job is literally to sell products!), but I think the uniqueness of The Container Store is that we provide inspiration, time-saving techniques, confidence, sanity, order—so many intangible elements that come with our products and our brand. I was really attracted to the idea of working for a company that's mission contributes to the well-being of its customers.
My humble contribution to that mission is working as the Online Merchandising Manager. It's my job to maintain the overall shopping experience on the website and ensure our online customers have everything they need to make a confident purchase. I also manage all of our user-generated content, which is all the great stuff our customers are sharing on Instagram and Twitter about how our products help them live organized lives.
Speaking of that, do you have any thoughts on the way e-commerce is so rapidly evolving?
You know, it seems like there's such a heavy focus in the industry right now on machine learning and predictability, augmented/virtual reality and, of course, ever-shrinking delivery speeds. And while I'm completely captivated by all of these advances in technology, I'm curious to see where/when this rapid evolution caps out. How much is too much? Is the market ready to embrace such a new frontier of online shopping or will we see a swing back towards a more traditional shopping experience? Only time will tell.
Ok, now the fun stuff. Please tell us a little about your adorable dachshund!
I adopted Barbie when she was 6 weeks old. I was 19 and ready for my first pet as an adult, so naturally I flocked to the classified ads—after all, this was 2008—and there she was! She was tiny and had beautiful golden eyes, and she wanted nothing to do with me at first! (laughs) But I was so in love! Coincidentally, I also met my future husband Walter just a few months later, so having the two of them to share life with this past decade has been really beautiful.
Barbie only hustles when she hears the sound of a cheese wrapper, and when she does take off, her front-half usually goes in one direction while the back-half goes in another! She's by-far the quirkiest and weirdest dog we've ever known, but she's perfect.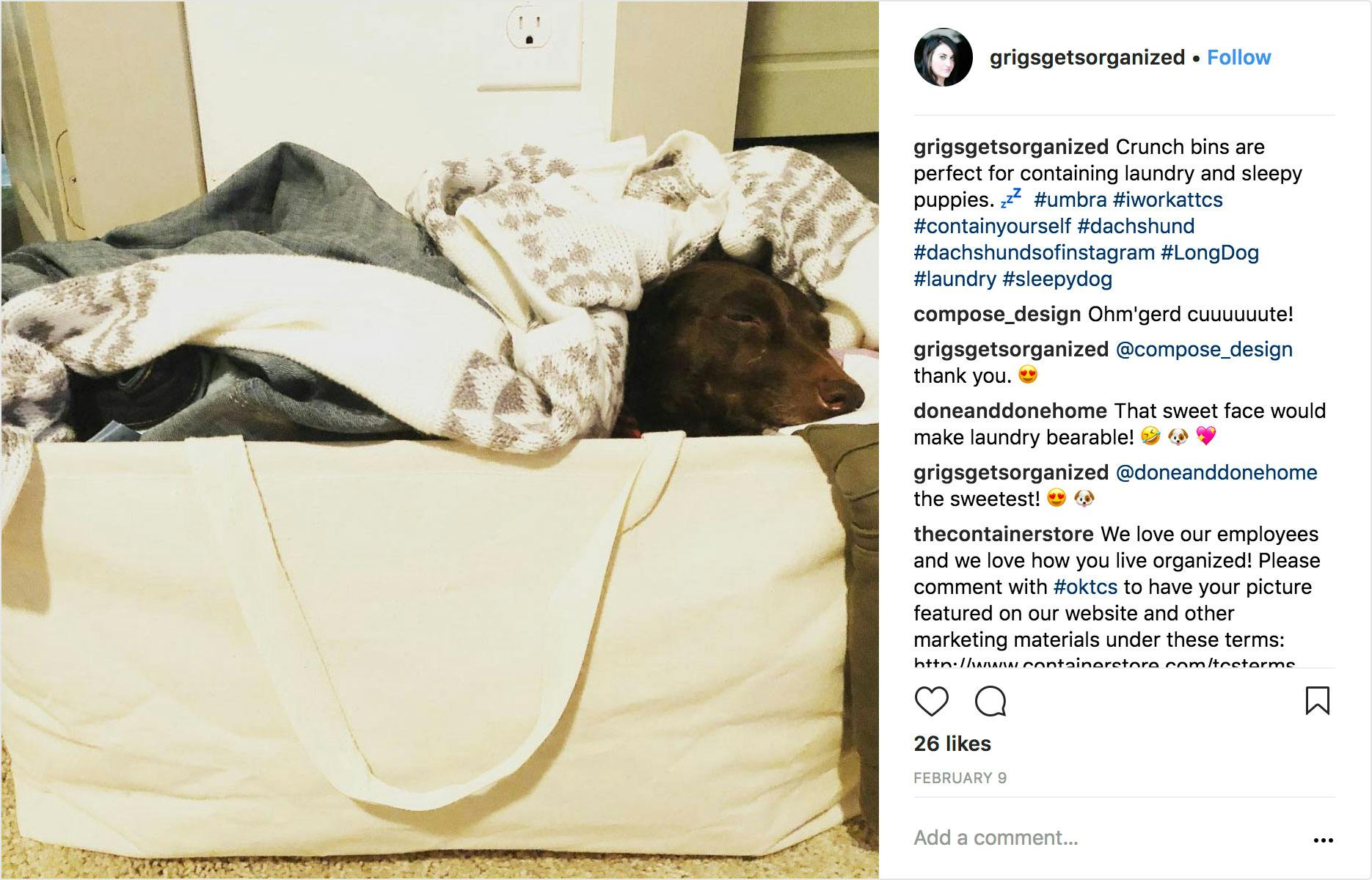 What's the secret to having a happy dog?
Just do whatever they want. The sooner you realize you're just a servant to your dog, the sooner you can both start living your best life!
What are some of your favorite The Container Store products for keeping your pet stuff organized?
I like keeping her treats stored in clear, airtight containers like our Click Clack Canisters. It makes shopping so much easier because I can quickly tell when she's getting low on treats, and the airtight seals also keep them nice and fresh. I also keep one of our InterDesign Clear Plastic Scoops in her dog food bag for easy pouring. But my all-time favorite pet product is probably our Messy Mutts Collapsible Pet Bowl. Because it collapses flat, it's really easy to hang, store, and then grab quickly on the way out the door to the dog park. I always get a lot of questions about that product!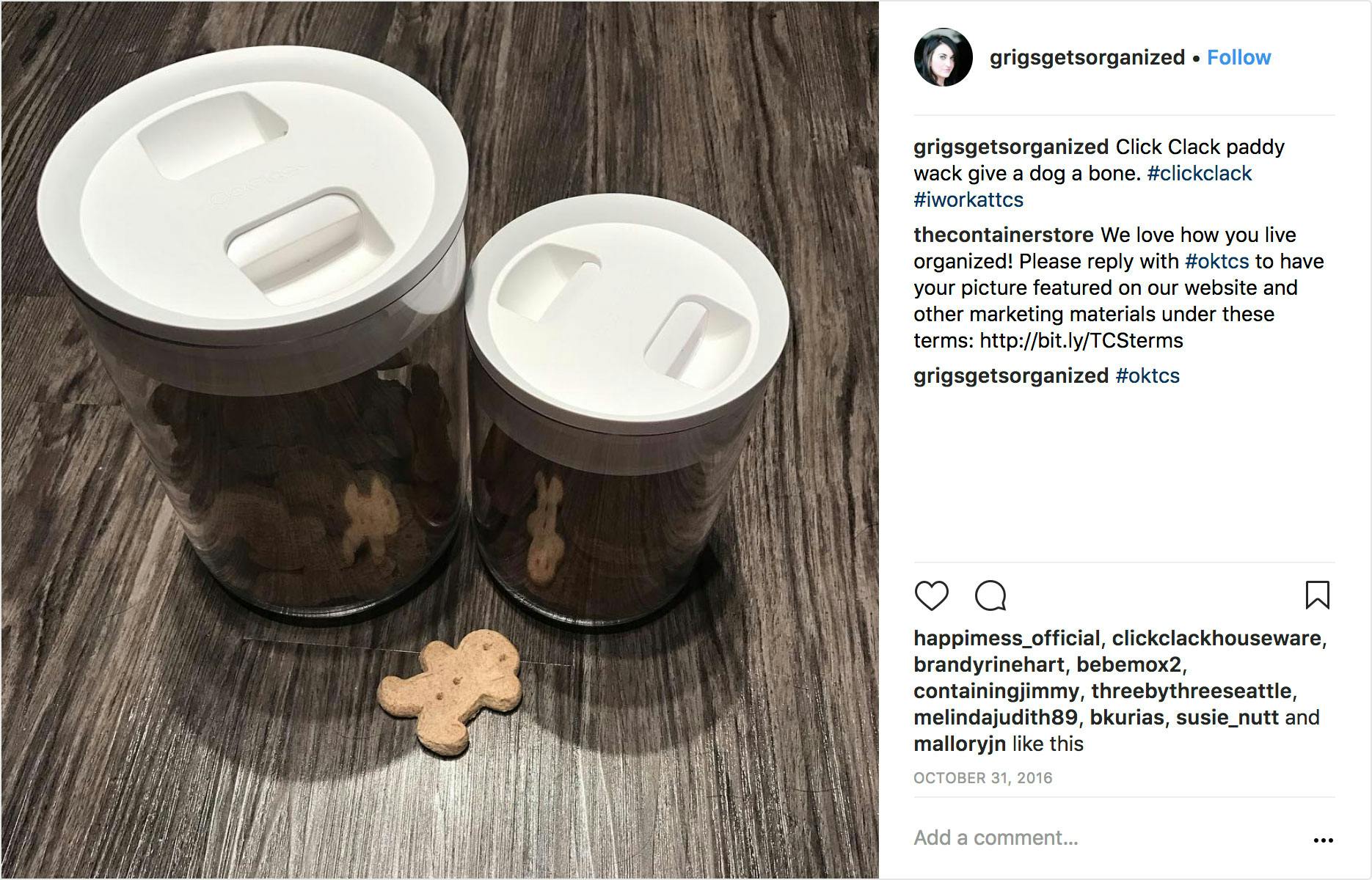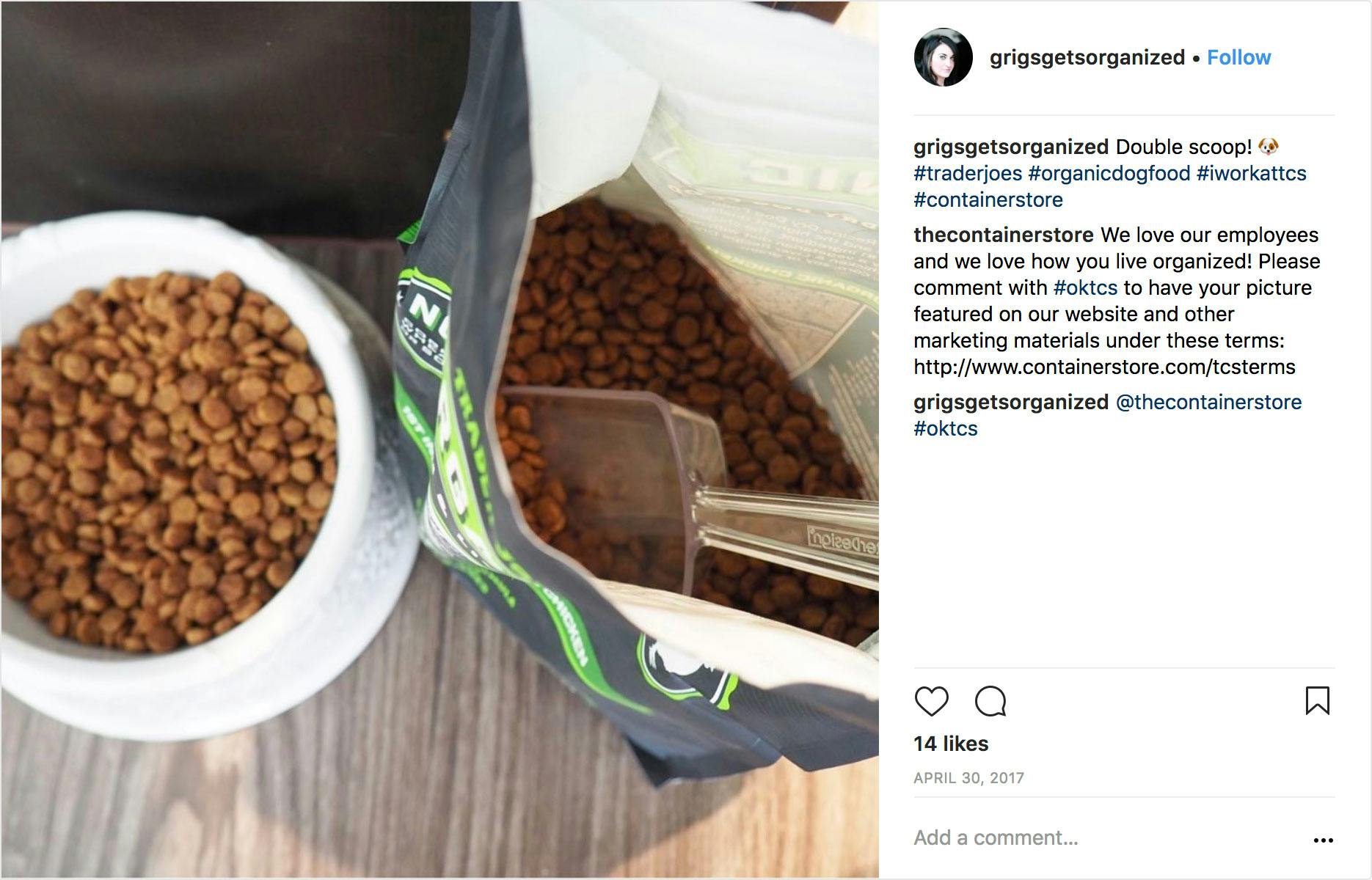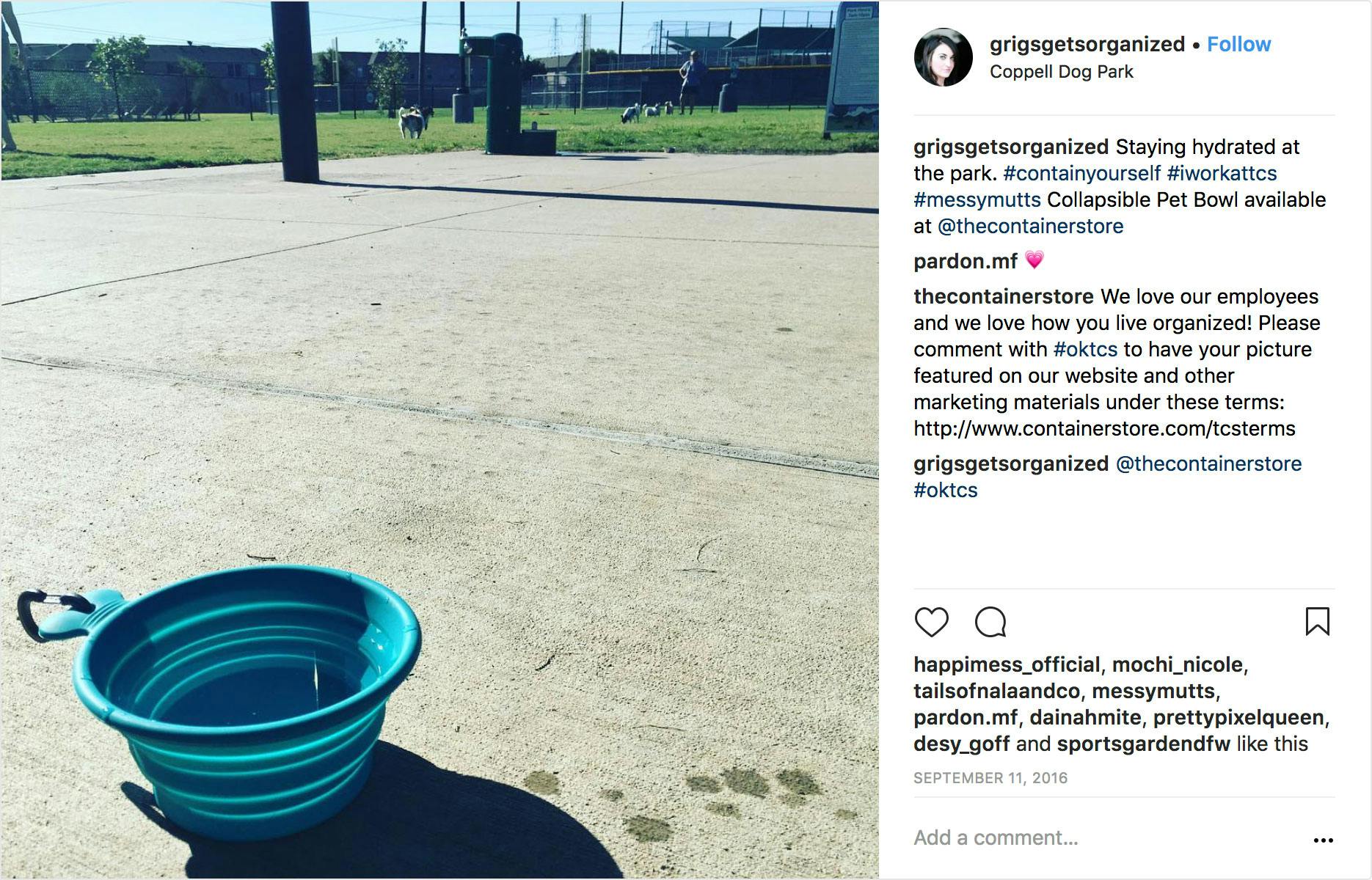 On a side note, do you think dachshund owners should be required by law to dress their dachshunds up in a hot dog costume at least once?
What a spectacular question! I feel hypocritical saying "yes" because I haven't actually done this myself, BUT I will admit to putting Barbie in a Dachshund race once, which is another very clichéd Dachshund owner thing to do. We even made shirts! It resulted in massive amounts of confusion, a race track escape, and a participation trophy. It was awesome, but definitely a one-time thing! (laughs)
What are some of your favorite TCS product for elsewhere in your house?
I'm OBSESSED with our So-Hooked Racks. I've always struggled with creating a space to store all of my accessories, and so I use these racks as my "command center" for scarves, jewelry, clutches and hats. Plus, it has a really minimalist modern vibe to it which I appreciate.
I also have to give a shout out to our Luxe Acrylic Modular Makeup Storage system—it's seriously a dream system. You can use it to build any solution and combination imaginable to suit your makeup needs, and it's so sturdy and beautiful. Just knowing that I don't have to dig through a makeup bag or sift through a drawer to find the products that I need makes every morning so much easier!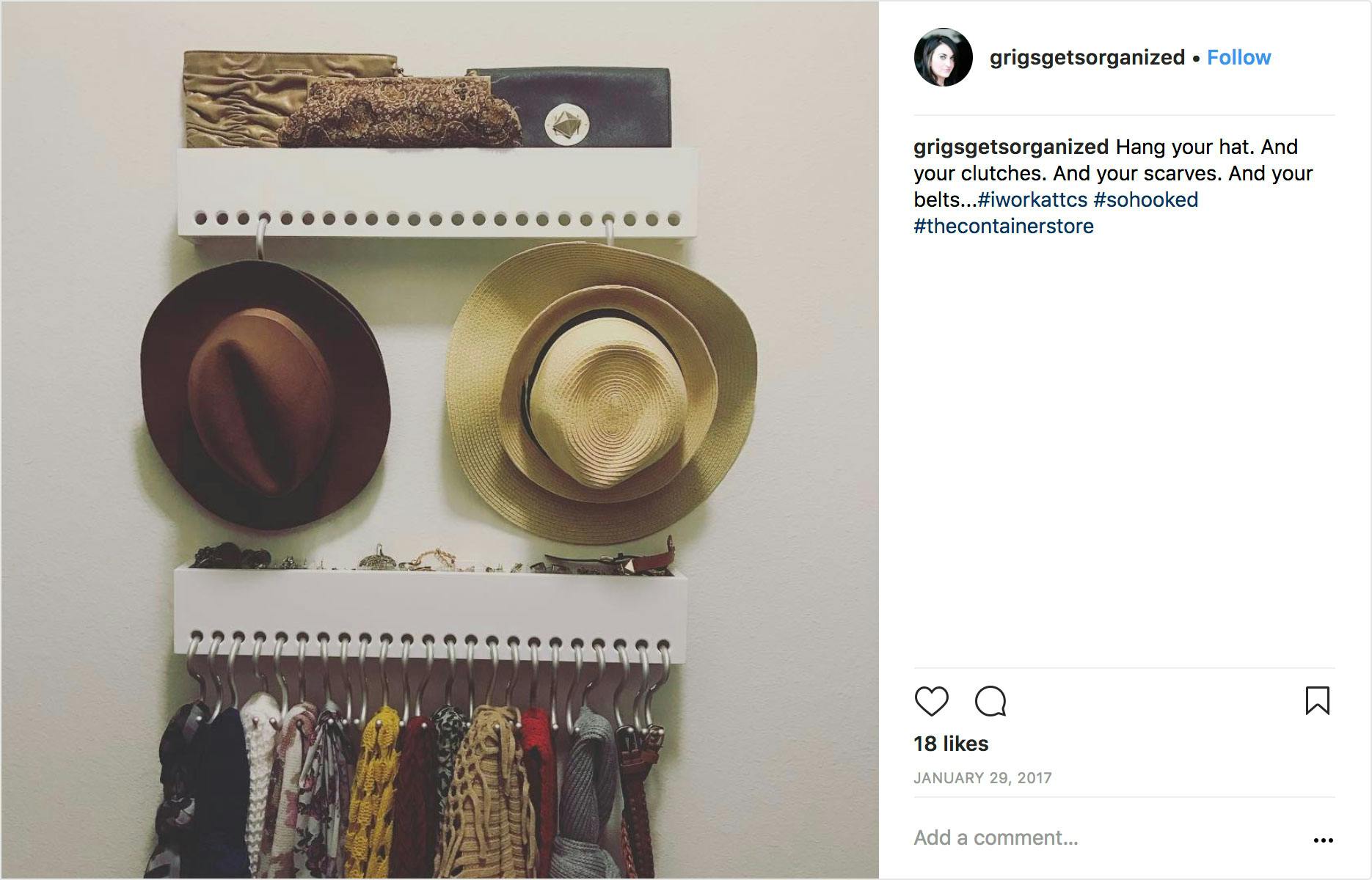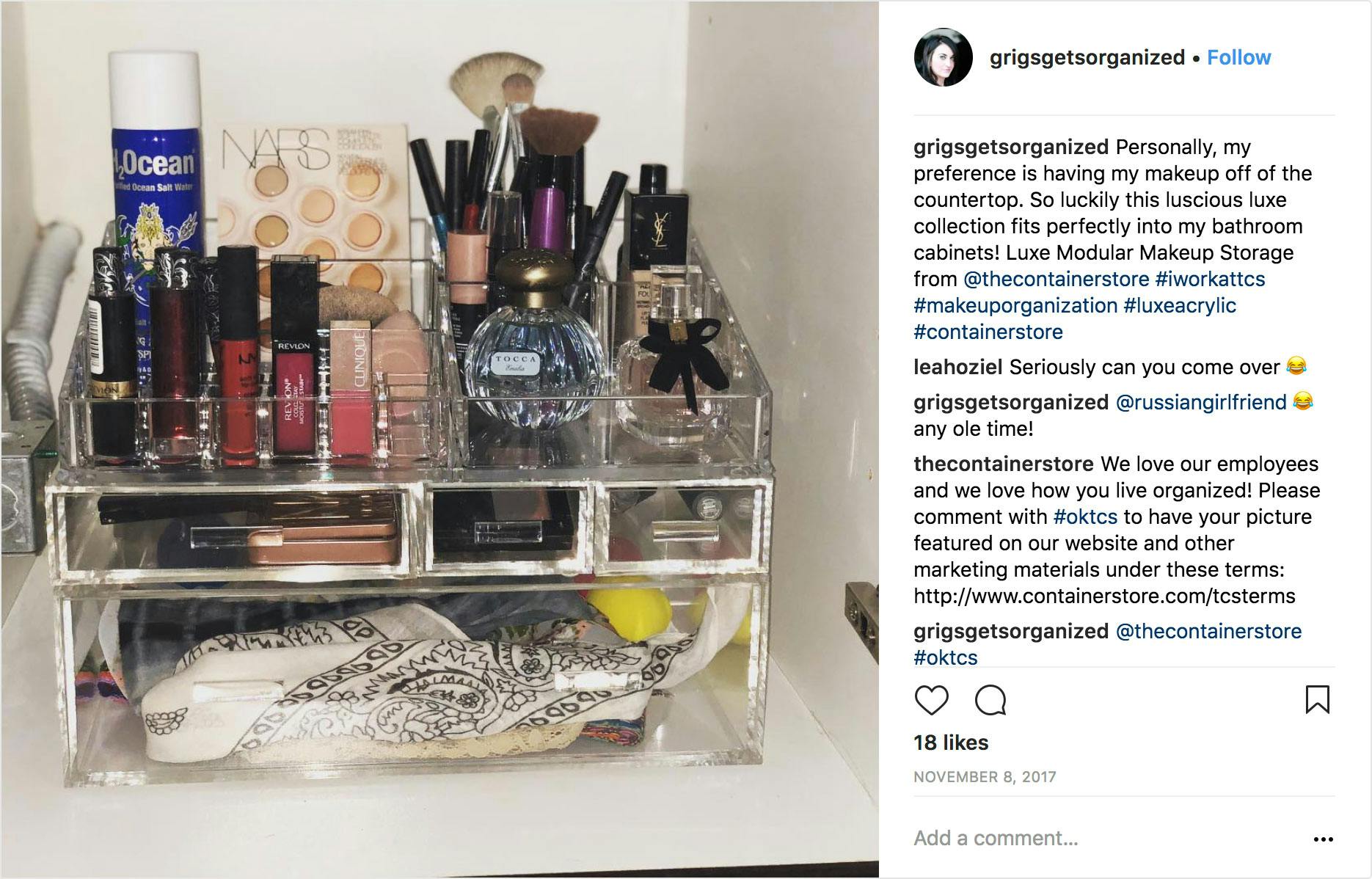 Has working for The Container Store made you a more organized person, or have you always been that way?
I was definitely a meticulous person before working at The Container Store, but I think these past two years have certainly heightened that. I now have such a deeper appreciation for order, and I've learned a lot of tips and tricks along the way that have truly transformed my life.
What do you and your husband like to do when you're not busy being a web guru or a dog mom?
Walter and I love adventure, so that could mean hiking, skydiving, kayaking, scuba diving, bungee jumping—you name it! And we love to travel, especially when we get to bring Barbie along. I'm also admittedly a concert junkie, and really just a sucker for live entertainment in general, so that's a big part of my life.
But some of my best spare time is spent with Epic Animal Rescue, a local animal rescue organization here in Dallas-Fort Worth that I assist by creating their social media content. Getting to tell these animals' stories, advocate for them, and help them find good homes is my favorite adventure of all!