In our blog series "Organized Employee Spotlight" we're taking a look behind the curtain at some of our employees' favorite organized spaces, some of which they've even shared on Instagram and on our website to inspire others.
Nik Billings, one of The Container Store's in-house Applications Engineers, is quite the Renaissance man. (In the sense that he has many talents and hobbies, not that he likes to wear cloaks and carry a sword. Although, maybe he does—we didn't ask.) Anyway, Nik's many hobbies require some pretty creative and unique storage needs, and he was happy to share a few of those with us.
(Also: beautiful, adorable puppy dogs are involved, so now you have another reason to keep reading…)
How long have you worked for The Container Store? And what made you want to work here?
I've been at The Container Store for a little over nine years. I grew up in the Plano/McKinney area, so my family made frequent trips to the old Container Store location that used to be in Collin Creek. (It's now in Fairview.) So, I was already familiar with the store and the brand when the opportunity came up to work at a great place with such great people!
What are the job responsibilities of an Applications Engineer?
I build software for The Container Store. Specifically, I am on the Design Tools team, which means we write the applications and the supporting services that help our employees and customers design and purchase our custom closet solutions such as Elfa.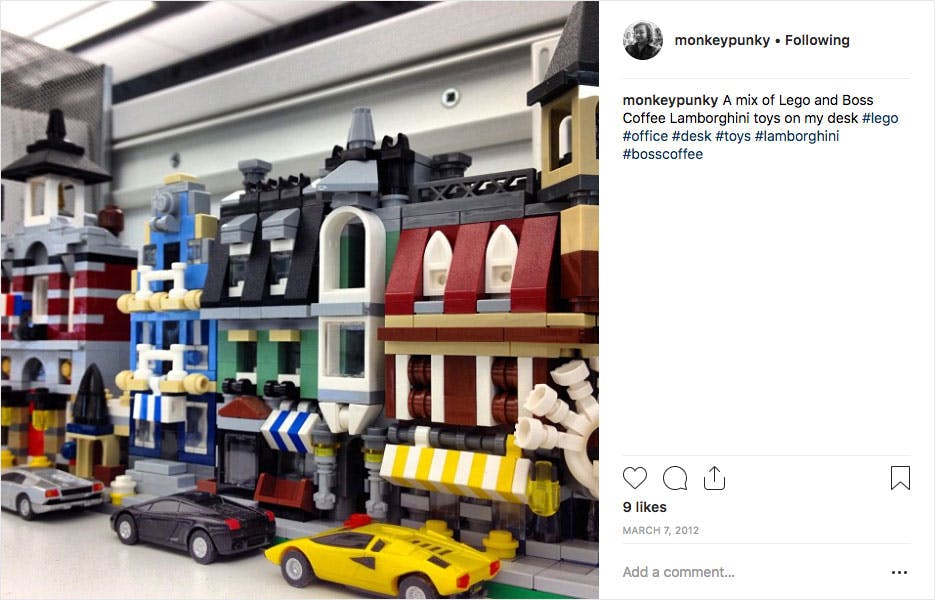 The LEGO models adorning the Elfa shelves on Nik's desk.
Speaking of Elfa, we love your Elfa coffee and tea station! What gave you the idea to do that?
I currently have 53 Starbucks mugs from their "You Are Here" collection, so the idea came from needing a place to store them, as well as the rest of my coffee and tea stuff. I've only been to about half of those places, so the rest of them came from my family—they do a lot of traveling.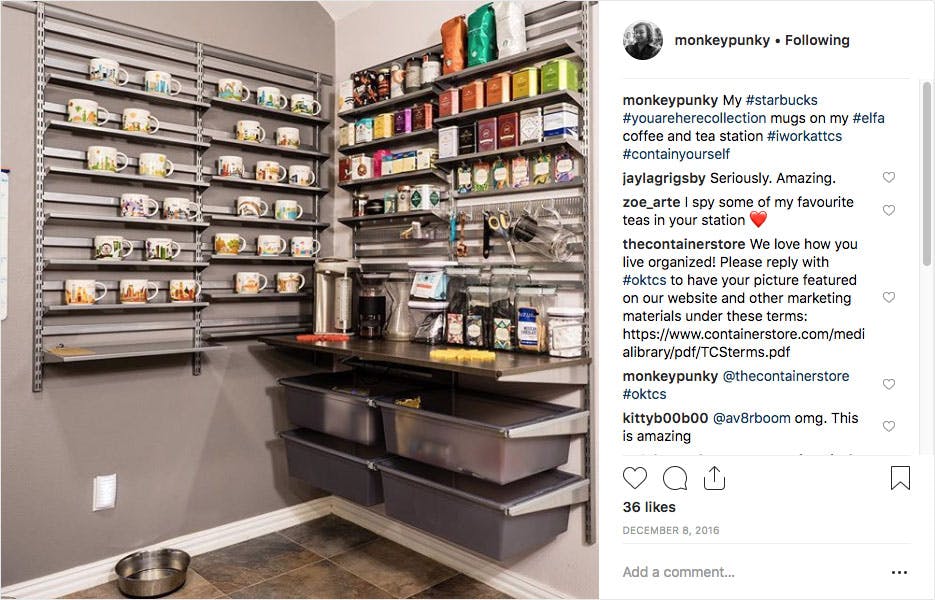 Nik's Elfa Caffeine Shrine.
The Elfa media center in your living room also looks terrific. Please tell us about that as well.
The media center has shelves to display some of my movies and nerdy toys. The drawers below the TV are used to conceal the cords and surge protectors for the electronics while also keeping them accessible. The drawers are also positioned high enough to allow the robot vacuum to get under them; I have two Siberian Huskies that shed a lot, so all of my furniture needs to be robot-accessible!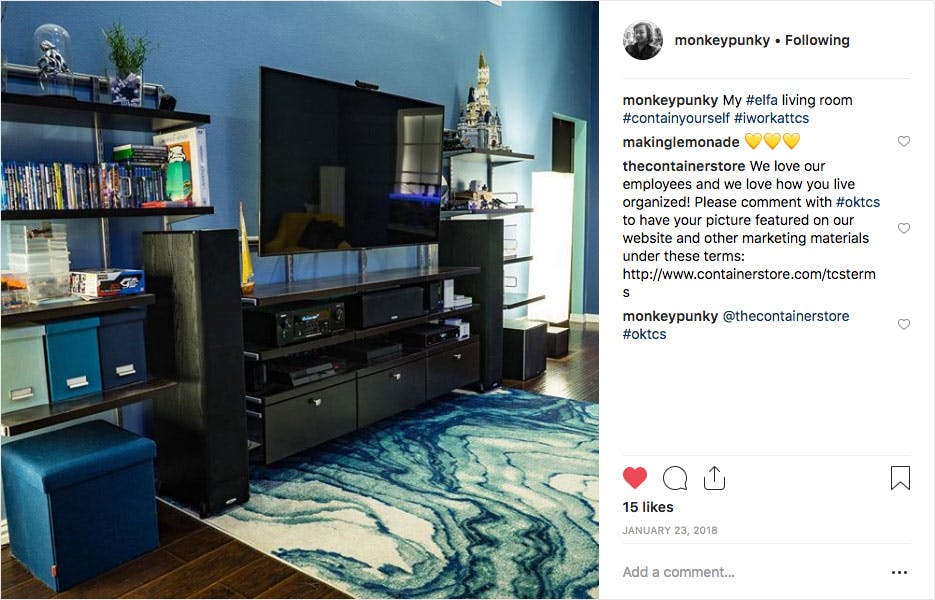 Your Huskies are beautiful! What are their names?
Journey and Remy. Journey is probably around 12 years old; my sister got him from a rescue organization almost ten years ago, and by that time he was already grumpy and opinionated. Remy is 5. They were both my sister's dogs, but she was unable to take them with her when she moved, so now the dogs live with me.
That's great! And they provide you with plenty of photo opportunities, so that works out well. How did you get interested in photography?
It was the process of learning about how cameras work. The more I learned about it, the more I wanted to begin trying it out for myself.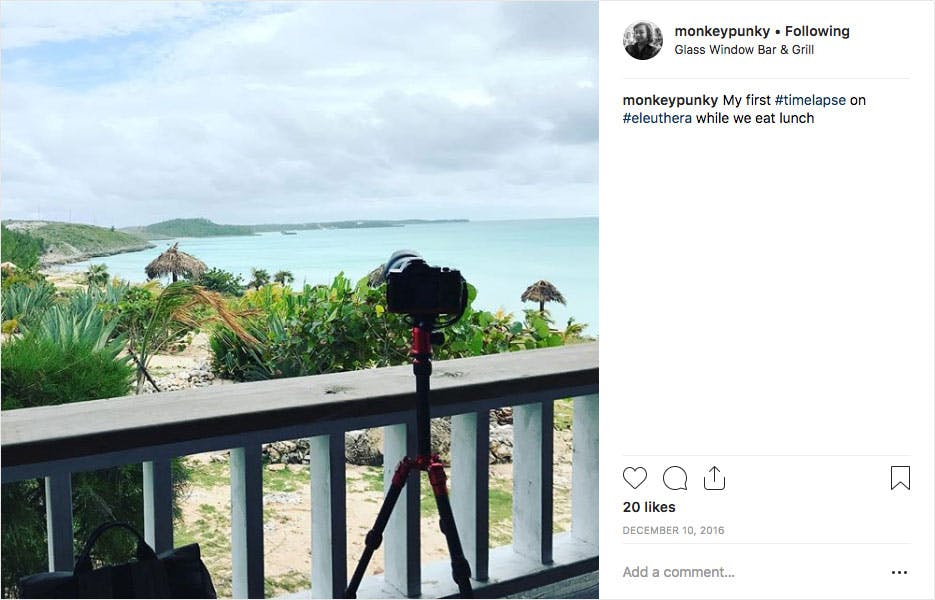 So it was the technical aspect of photography more than the creative side that interested you?
It was both. I have fun with the creative opportunities it provides, but there are also a lot of more technical aspects of it I enjoy, such as taking time lapse photos.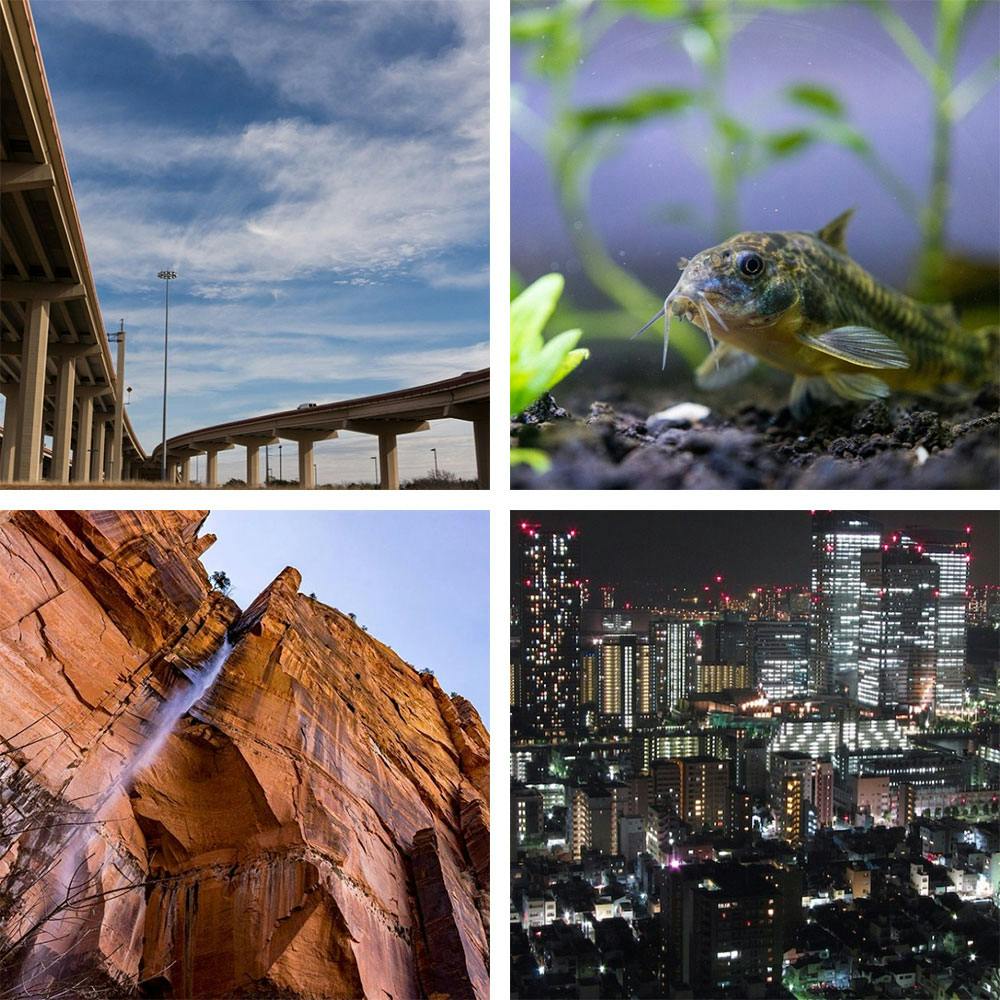 A few examples of Nik's impressive images.
And do you use Elfa to store your photography equipment as well?
Yes, I renovated the closet in my study with Elfa shelving to store photography equipment and to act as a charging station for other electronic devices.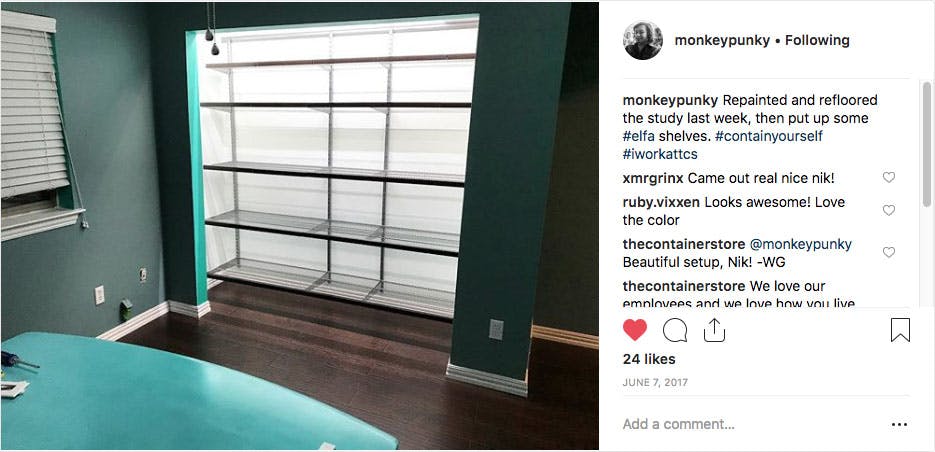 Nik's study closet shortly after the renovation.
You must find that your TCS employee discount really comes in handy for accomplishing household projects, right?
Yes! And on top of all the usual household storage and organization needs, my aquarium stuff needs a surprising amount of organization too!
What are some of your favorite things about working for The Container Store? (Other than the employee discount, of course.)
As I said earlier, the people I work with are obviously great. But I also love that the software and applications my team builds are about more than just coding and data. Our work affects physical spaces, transforming our customers' homes in ways that will make them love them even more!