In our blog series "Organized Employee Spotlight" we're taking a look behind the curtain at some of our employees' favorite organized spaces, some of which they've even shared on Instagram and on our website to inspire others.
Recent studies have shown that the average woman owns at least 40 makeup products, so it's no wonder that one of our most popular product categories is cosmetics storage. For some great suggestions and tips, we turned to the amazing Amanda Laurich, In-Home Designer at our Des Moines store and all-around makeup guru! 
How long have you worked for The Container Store (TCS)? And what inspired you to apply in the first place? 
I first started with The Container Store in 2005 after I had graduated from college. I was encouraged to look at TCS by a lifelong family friend who worked at our Home Office in Coppell, and the more I looked into it, the more I felt like it could be the place for me! In 2010, my family and I moved from Washington, D.C. to Iowa, so unfortunately I had to leave the company for a while. But when the Des Moines store  opened in 2016, I was so thrilled to be hired back!
Have you always been an organized person, or did you become more organized after working here? 
I grew up in a military family that moved around a lot—anywhere from every six months to two years—so being organized has always been a part of my life by necessity. I'm also pretty "type-A", so I feel more comfortable in my home when things are put where they're intended to be. With two little girls, that sometimes that can be tricky! But working at TCS has definitely inspired me to think differently about how I use my space, and it's absolutely helped me in my role as an In-Home Designer.
What do you like about working for The Container Store?
My favorite part of my job is making a real, tangible difference for people in their day-to-day lives. If I can help give someone a greater sense of peace or save them time in their day through being organized, then I'm all about it!
Working with great people is also very important to me. During my 'in-between' years of not working for The Container Store I owned a bakery—a great creative outlet for me—but then I was able to come back to TCS after six years. That's an eternity in retail, so I'd be lying if I said I wasn't nervous about closing the bakery and making that transition, but the team I work with at the Des Moines store has been fantastic. It's so great to be able to come to work and feel supported every day. As a former business owner, I really appreciate how crucial it is to have great people around you to provide a sense of stability – especially with how fast the retail industry is changing.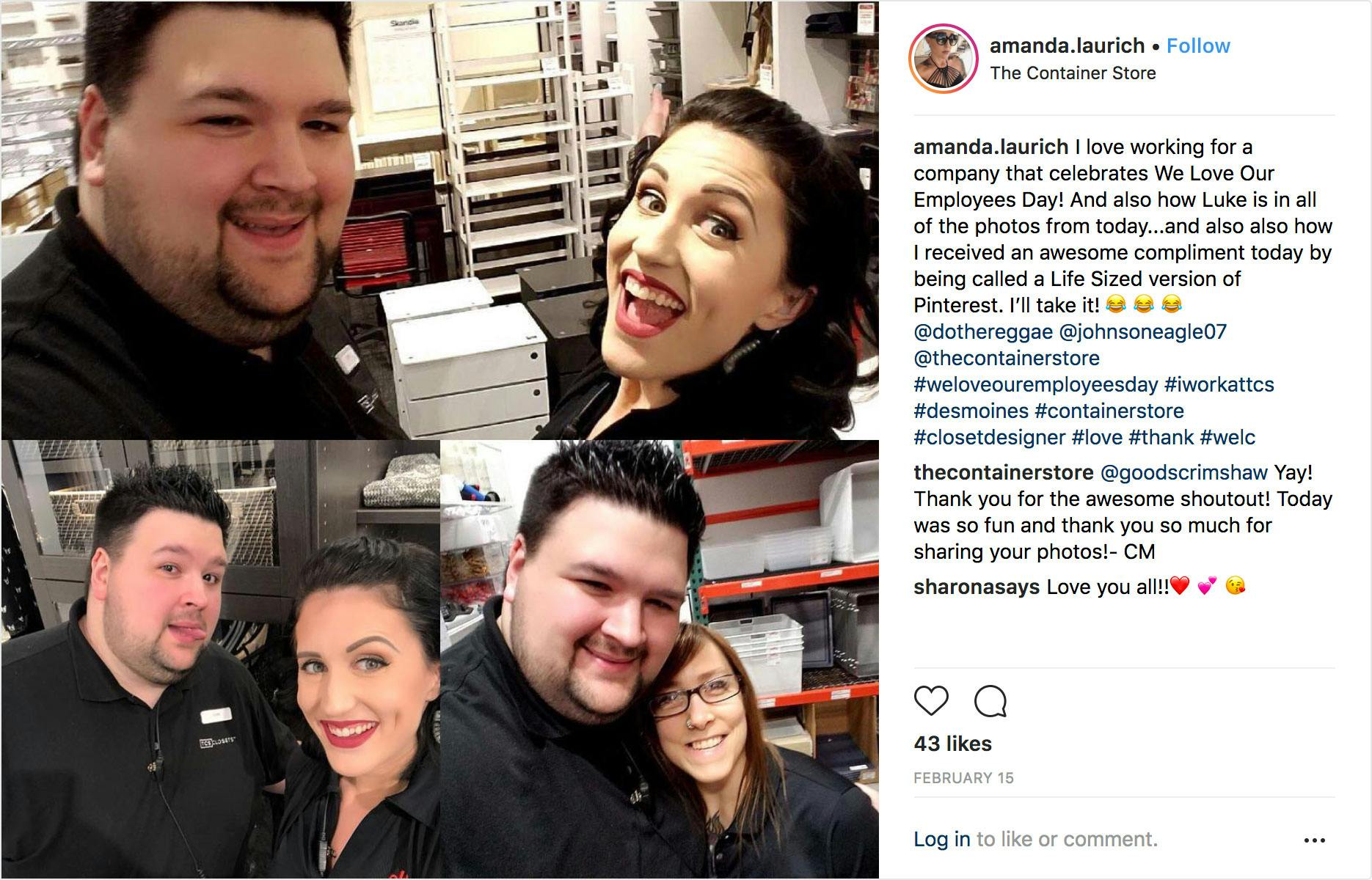 Tell us about your passion for makeup. Where do you think that came from?
It's funny—I have always loved makeup, but it's only recently become a hobby in the past three or four years. When I decided to close the business to be at TCS again, my passion for makeup became greater. I watch a ton of YouTube videos, and even started a channel of my own as a hobby!
What are some of your favorite products for makeup organization?
Over the last few years I've switched up my makeup space configuration quite a bit, but the two things I have found the most helpful—and still use every day—are our clear Men's Shoe Drawers and Sweater Drawers (with or without the dividers, depending on what I'm storing in them). I also love the 5-Section Premium Acrylic Collator from our Office section because it allows larger palette-style beauty products to stand up and be easily seen. My husband gives me a hard time because I have always loved clear storage products, but I know that if you can see your things you'll be less likely to forget about them!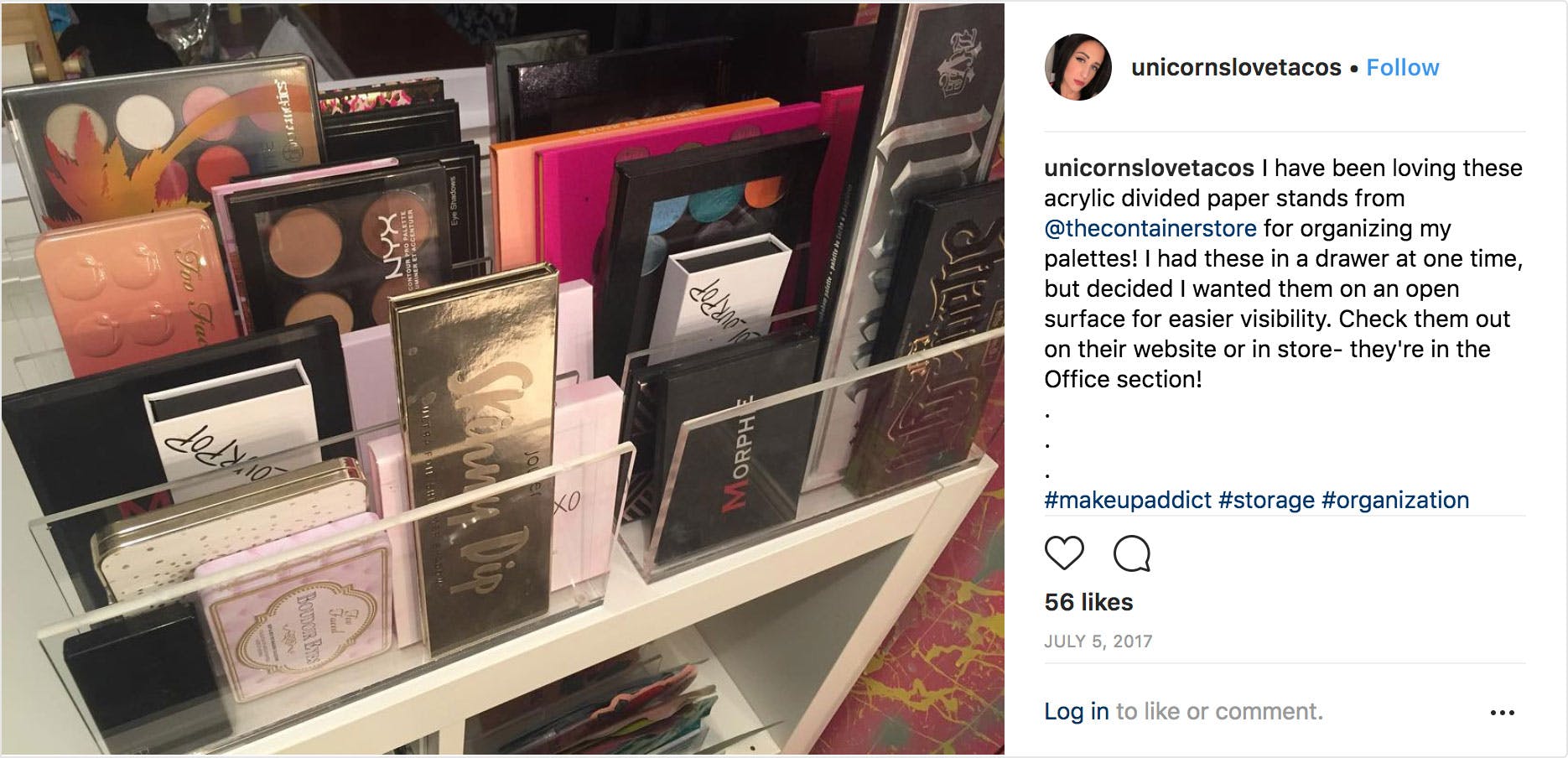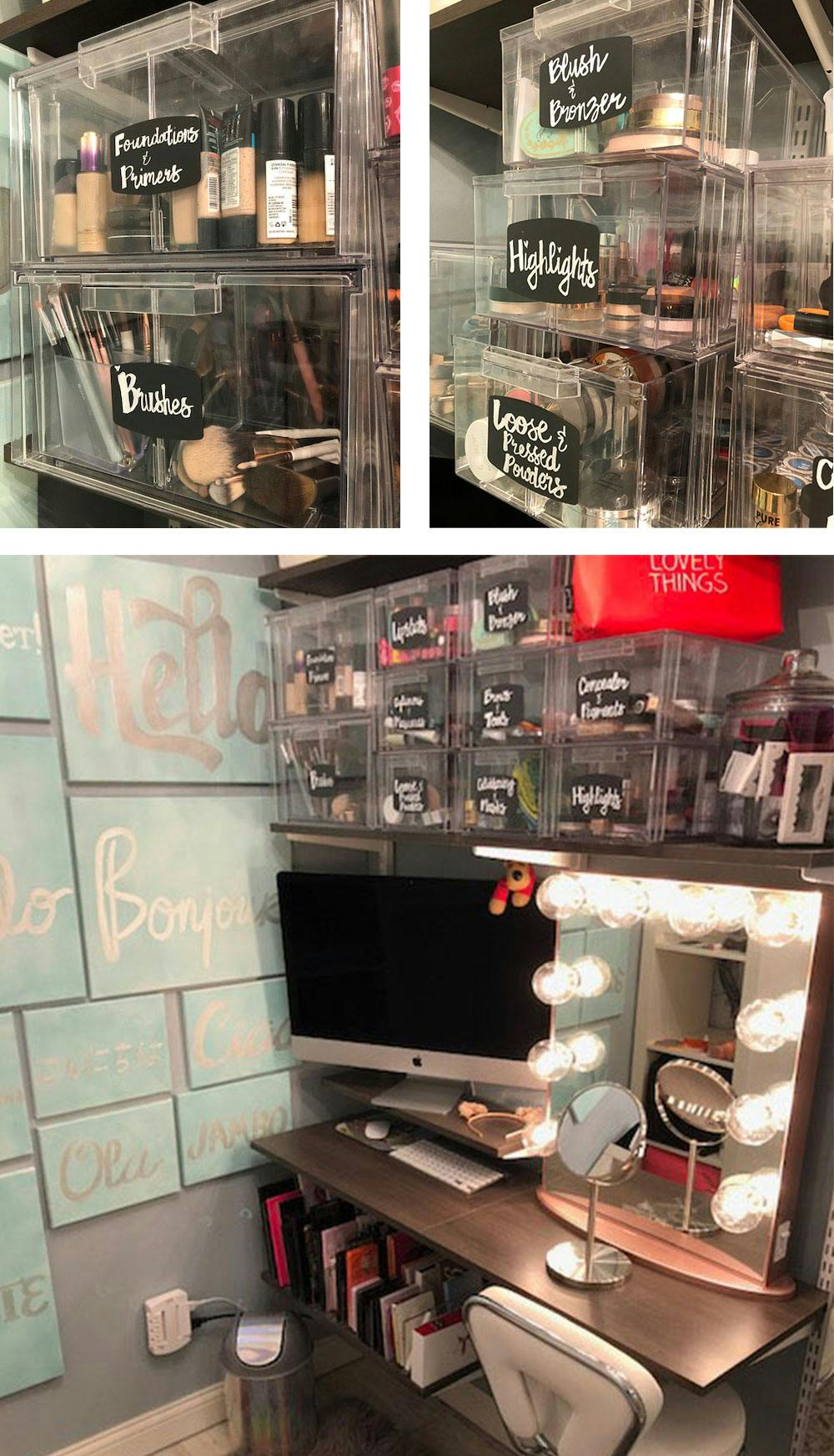 Do you have any practical tips for good makeup application, or for finding the right "look"? 
That's a great question because it's something that's unique for everyone. I love switching up my looks every day, and I really go for colors that grab my attention in the moment. That's something that always helps me feel the most confident, whether I'm wearing teal eyeshadow or am opting for a more natural look. Makeup is supposed to be fun, so while I'm definitely into it as an art and a hobby, it's great that it washes off at the end of the day so I can start fresh all over again.
As for a practical tip: never rush winged eyeliner. If you're already cutting it close for time and you need to get out the door quickly, don't do it! You'll thank me later. (laughs)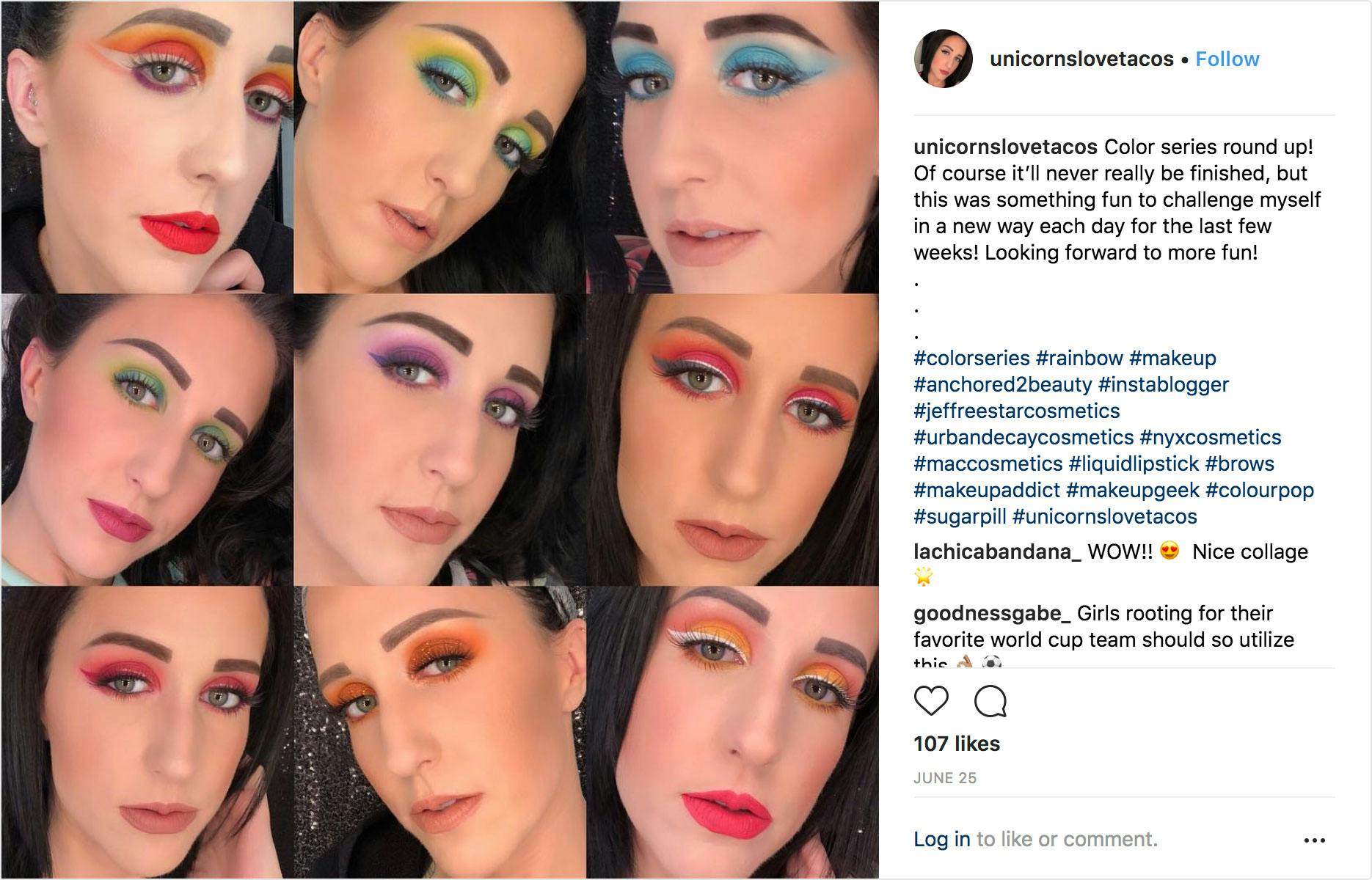 What are some of the most common mistakes people make when applying makeup? 
I like to think of makeup as not having any "rules," so to speak, but one of the more common mistakes I see is not having the right shade of foundation for one's skin tone.
Other than your makeup area, what are some of your other favorite organized spaces in your home?
I'd probably say that our pantry is my favorite. I just added elfa Décor Fascia to the front of the elfa shelves, and I love the upgraded feel to what is a very small space. There are also two drawer units in there for the kids' snacks and school lunch items, so it's made a huge difference by allowing them to be a part of the daily lunch prep.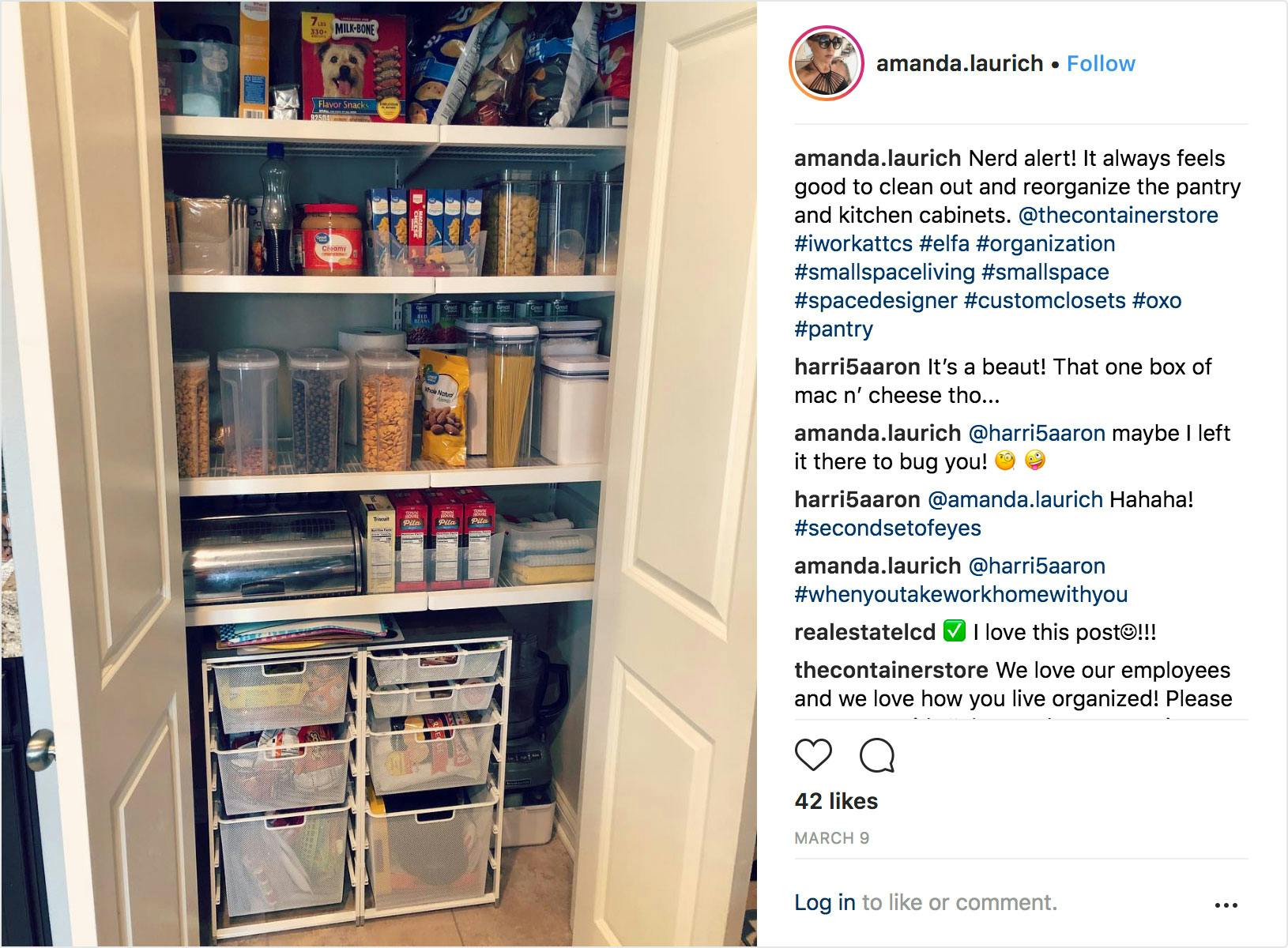 Does your family value organization as much as you do? 
My husband does, and I would say that the kids are learning (they're only 9 and 7 years old). Sometimes the house is clean and other times it's not, which is something I think most families can relate to. But having the organizational items in place and taking a few minutes here and there to put things back in their intended spots, has made it easier for all of us!