In our blog series "Organized Employee Spotlight" we're taking a look behind the curtain at some of our employees' favorite organized spaces, some of which they've even shared on Instagram and on our website to inspire others.
For people who enjoy outdoor activities, the garage can quickly become a disorganized jumble of equipment. Bikes, sports equipment, and folding chairs can all become annoying trip-hazards if not stored carefully, so finding a great storage solution is essential for a headache-free garage. For inspiration, we turned to Kristen Sanders, our Training & Development Director, and her beautiful Elfa spaces.
How did your career at The Container Store begin?
Like many other employees, I was recruited by a friend who worked at TCS. Before I came to The Container Store, I spent 17 years with a retail company that I loved but my job required me to travel and spend a lot of time away from my family. Coming to work at The Container Store changed my life, and was one of the best decisions I ever made. And at the end of the work day, I get to go home to my family!
What are the responsibilities of a Training & Development Director?
My job is to manage and lead our Training & Development team, which includes three awesome employees! Together, we work collaboratively with all areas of the business to plan, prepare, and execute training programs and company training initiatives.
The Container Store is incredibly training-focused. Why is that?
It's just like our fifth Foundation Principle says: "Intuition does not come to an unprepared mind. You need to train before it happens." We have a responsibility to ensure our employees are well-prepared to do their job, so investing the time to train, coach, and develop our employees gives them the confidence and motivation they need to be successful.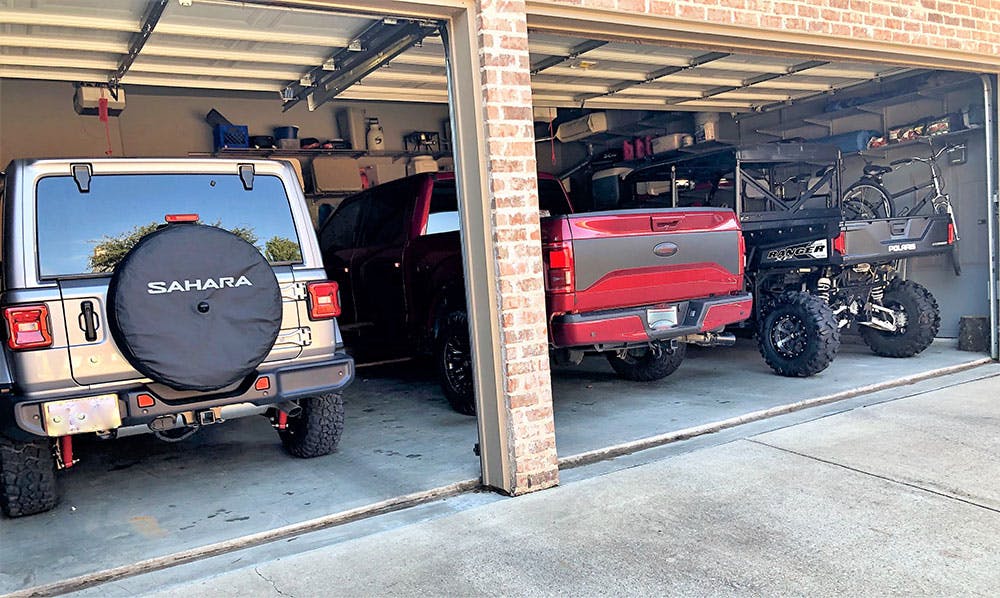 Ok, let's talk about your amazing garage. What prompted you to revamp it in the first place?
My husband Tom grew up camping and riding dirt bikes with his dad and he wanted to carry on that tradition with our family! So when our son Zach turned 8, Tom taught him how to ride. We bought a set of dirt bikes for them, and a 4-seat Polaris off-road vehicle for me so I could follow them on the trails when they went riding. Originally my husband and I just wanted to be able to park both of our cars in the garage, but after all that we realized we were going to need a lot more space!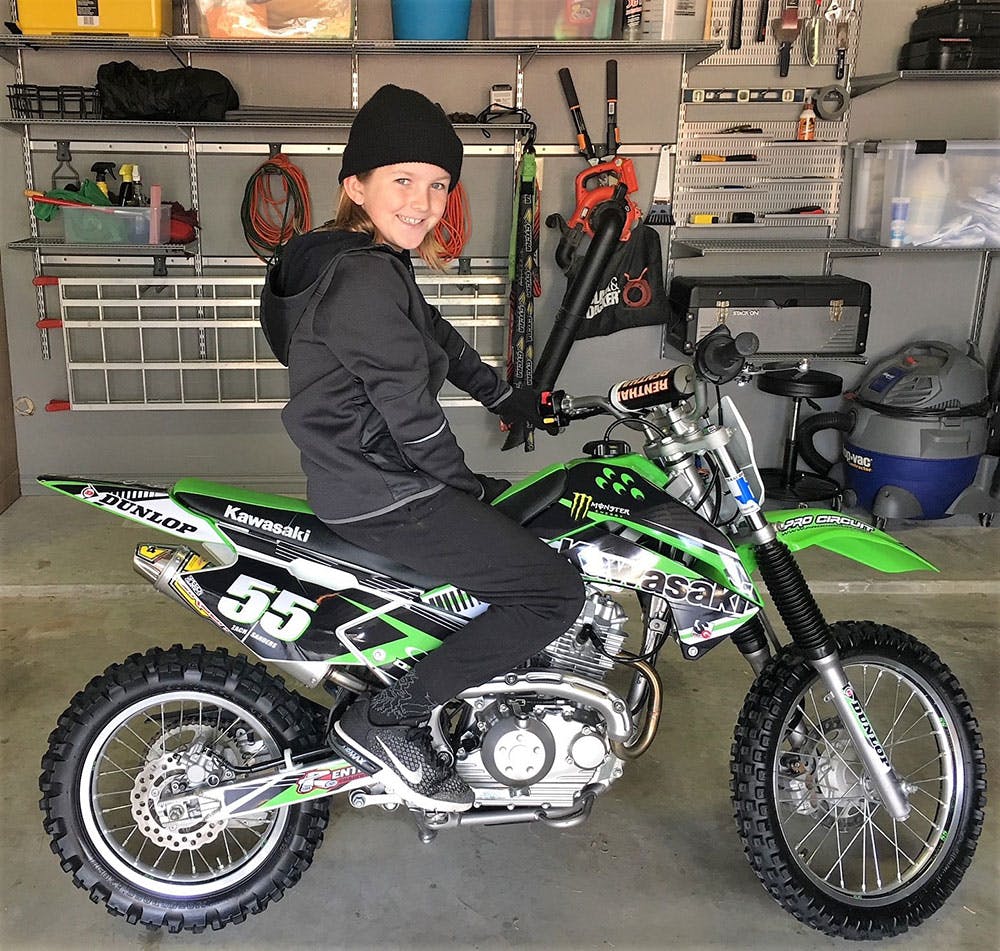 Zach on his Kawasaki dirtbike.
Wow, between camping and biking equipment, that seems like a lot of stuff!
It is! We have two cars, two dirt bikes, one Polaris, 3 bicycles, two golf bags, several ice chests and coolers, pool supplies, gardening supplies, camping gear, sports equipment (including a bunch of baseballs), two scooters, two ladders, lots of tools, and several storage boxes with miscellaneous items!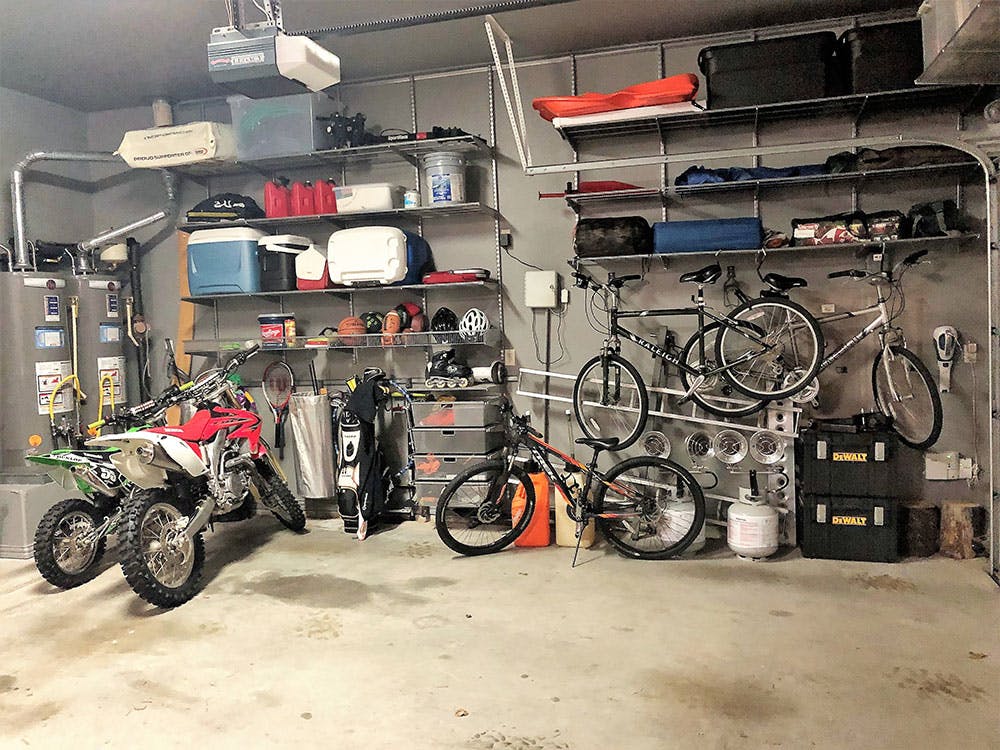 Sounds like you love outdoor activities!
Absolutely! We love doing anything outdoors: camping, spending time on the lake or the beach—and we also spend a lot of time at the ballpark watching Zach play baseball!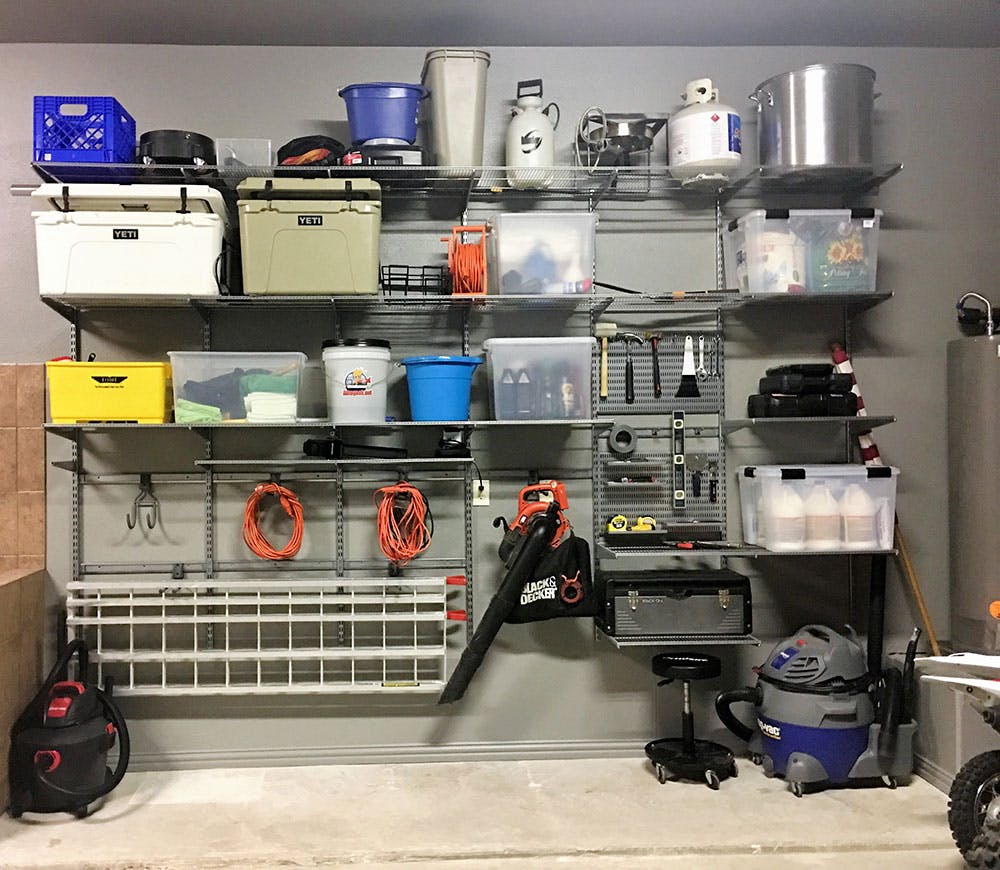 How has Elfa helped transform and organize your space?
Elfa was the best solution for our garage. The space that we designed is simple, but exactly what we needed. We were able to store a lot of our garage items off the floor, as well as maximize the space above the garage doors for things we don't access very often. And because Elfa is so flexible, we have adjusted the shelves and added drawers several times to make room for even more stuff. The garage is now my husband's favorite space in the house!
What are some of your favorite TCS products to use in the other areas of your home?
I love our Drop-Front Shoe Boxes—my closet is full of them! Another one of my favorites are the Clear Weathertight Totes; I use them in our attic to store holiday decorations. And I love the ones with red lids so I instantly know which ones are Christmas decorations!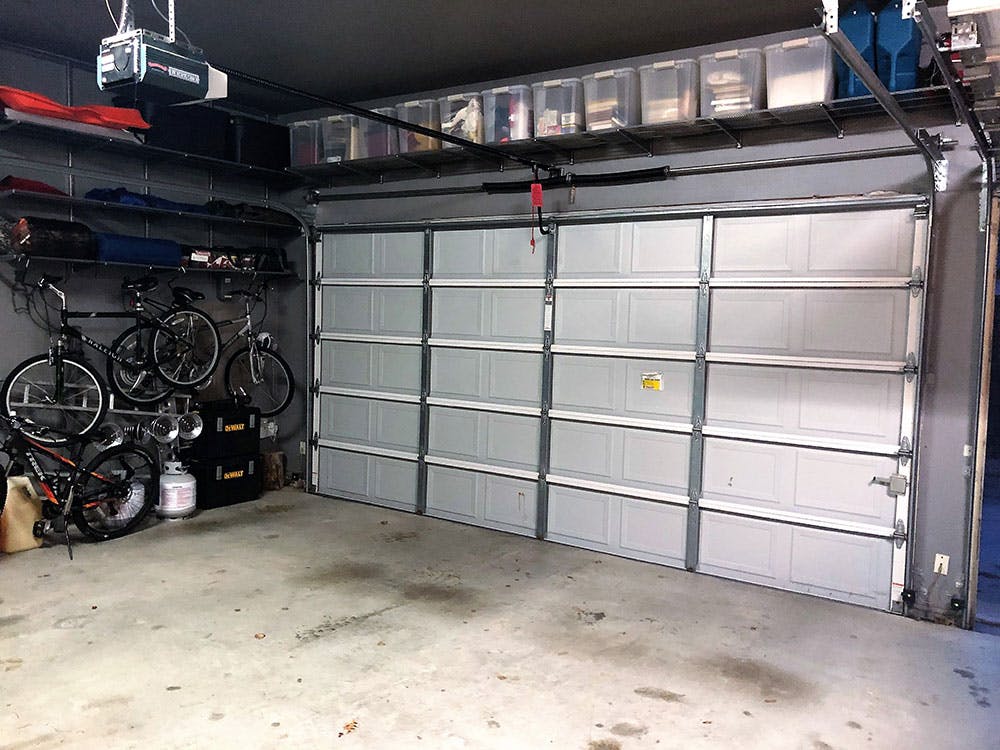 Why do you love working for The Container Store (other than the employee discount, of course)?
I get to come to work every day to a place where I am always challenged to make a difference in our company – and I get to work with the most amazing people who care about me and make me feel like I am apart of something meaningful and important!