In our blog series "Organized Employee Spotlight" we're taking a look behind the curtain at some of our employees' favorite organized spaces, some of which they've even shared on Instagram and on our website to inspire others. 
Over the past decade, Megan Schiltz has lived in several apartments in both New York City and Cleveland. With a background in interior design and as a Custom Closets designer, she's pretty much seen it all and is an expert at creating beautiful, functional spaces in any type of home. She sat down with us recently to rhapsodize about some of her favorite Elfa spaces, traveling, and delicious beverages around the world.
How did your career at The Container Store begin?
I moved from Ohio to New York City right after my college graduation to work for an international interior design firm, but after the financial crisis, I started looking for a part-time job. Then I happened to stop in the 58th & Lexington store during the holidays and was mesmerized by Gift Wrap Wonderland and all the ribbon and wrap. I also noticed they designed closets (which I already had experience in), so that's when I applied. I was hired and started out as a prime-time employee in February of 2010. One year later, I was promoted to full-time, and after eight years at TCS, I can't imagine working anywhere else!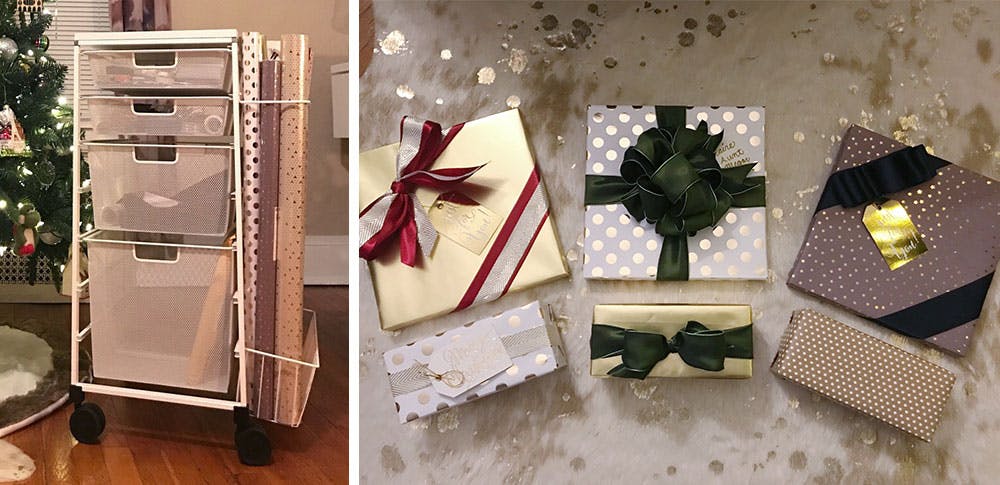 Evidence of Megan's love for our gift wrap: her Elfa Gift Wrap Cart (left) and many beautifully-wrapped packages.
And now you're a Visual Sales Manager. What does "Visual Sales" mean?
Visual Sales, in short, is how we visually present our products to our customers. It is the signage, samples, graphics, and collections that allow a customer to choose the best product to organize their space. With our attention to detail, we make the products the focal point and allow our customers to focus on how they can use them to accomplish their projects.
Do you think your background in interior design is helpful with this?
Yes! While working as an architectural drafter was interesting and challenging, it wasn't where I found my passion; it was space planning and studying how people use a space that always interested me more. Now I get to apply the same ideas to designing closets for our customers. The more questions you ask, the more you understand how they are currently using their space. For example, if the first thing someone does is kick off their shoes when they walk in the door, then giving them a full shoe solution in their master closet might be too big of a change. Instead, something by their entryway might be a better solution.
How did you end up moving back home to Ohio and working at the Cleveland store?
About 5 years ago, I told my mom that if we ever opened a Cleveland location I'd give serious thought to transferring back there. Then, in fall of 2016, my mom received an email about The Container Store coming to Cleveland, and she sent me a text almost immediately! At the time I was busy selling our beautiful Gift Wrap Wonderland and watching the Cleveland Indians in the World Series so I was pretty distracted, and didn't really have time to think about it until the following January.
But the timing was perfect. I was about to complete our Leadership Development program and I was ready for the next challenge in my career. I am really passionate about both Custom Closets and Visual Sales, and working in Cleveland would allow me to do both. I also have a huge extended family that I'm very close to, so it's nice to be able to spend so much time with them.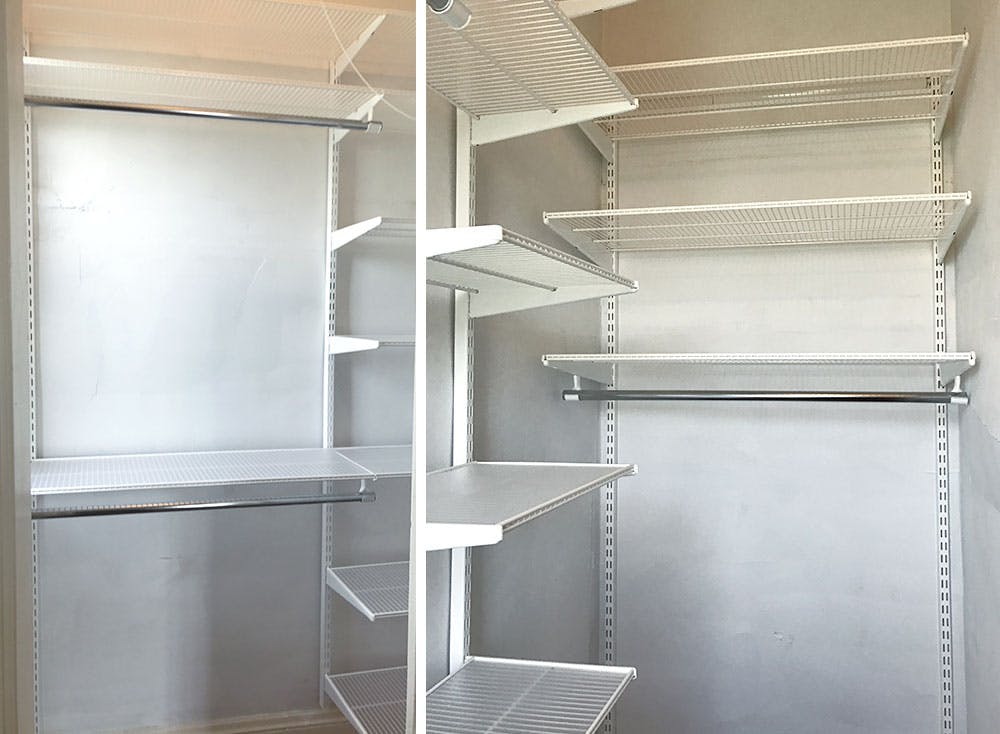 Megan's new closet in Cleveland.
And your new apartment in Cleveland is outfitted with all kinds of Elfa! What do you like about it?
I love that it's so adaptable and looks great! Everyone has a space in their life that Elfa can improve. My current closet originally had just two closet rods for maybe six total feet of hanging space, so it was not really functional at all. Now I have over nine feet of hanging and a ton of shelves for folded clothes and shoes. In my current apartment I have Elfa in my office, multiple shelving solutions, two door racks, a gift wrap cart, multiple closet solutions, and kitchen cabinet pull-outs—just about everywhere except the bathroom!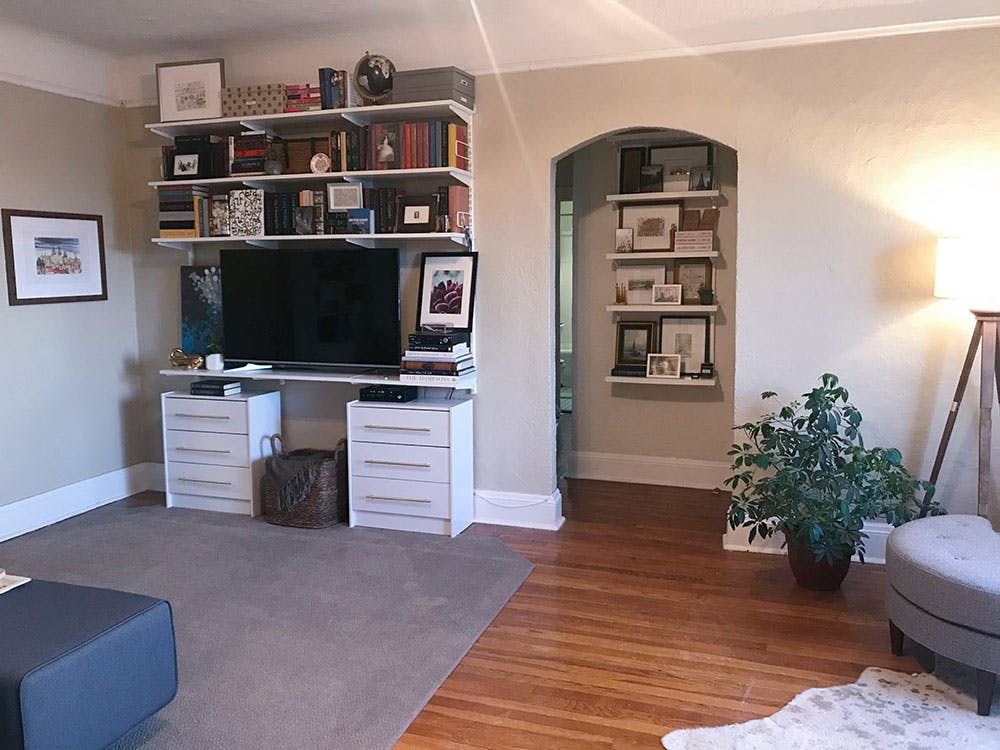 Megan's Elfa shelves in her living room and hallway.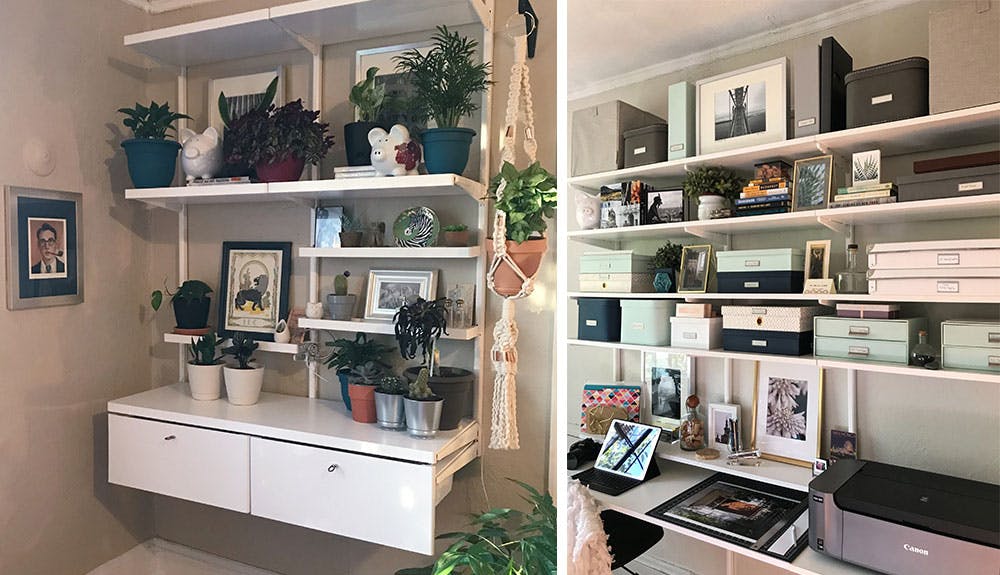 Megan's plant shelves (left) and office area.
Wow! And you'd previously used Elfa back in New York too?
Yes, I used Elfa in all three of my New York apartments. Each time I moved, I re-configured the solution for the new apartment depending on what I needed. My pantry wall became a bathroom solution, and drawers from my bedroom became an entertainment center. I moved all of my Elfa with me, and it was really easy! I used the same stretch wrap that we sell in the store and bundled everything by style and size, which saved a lot of space in the moving truck.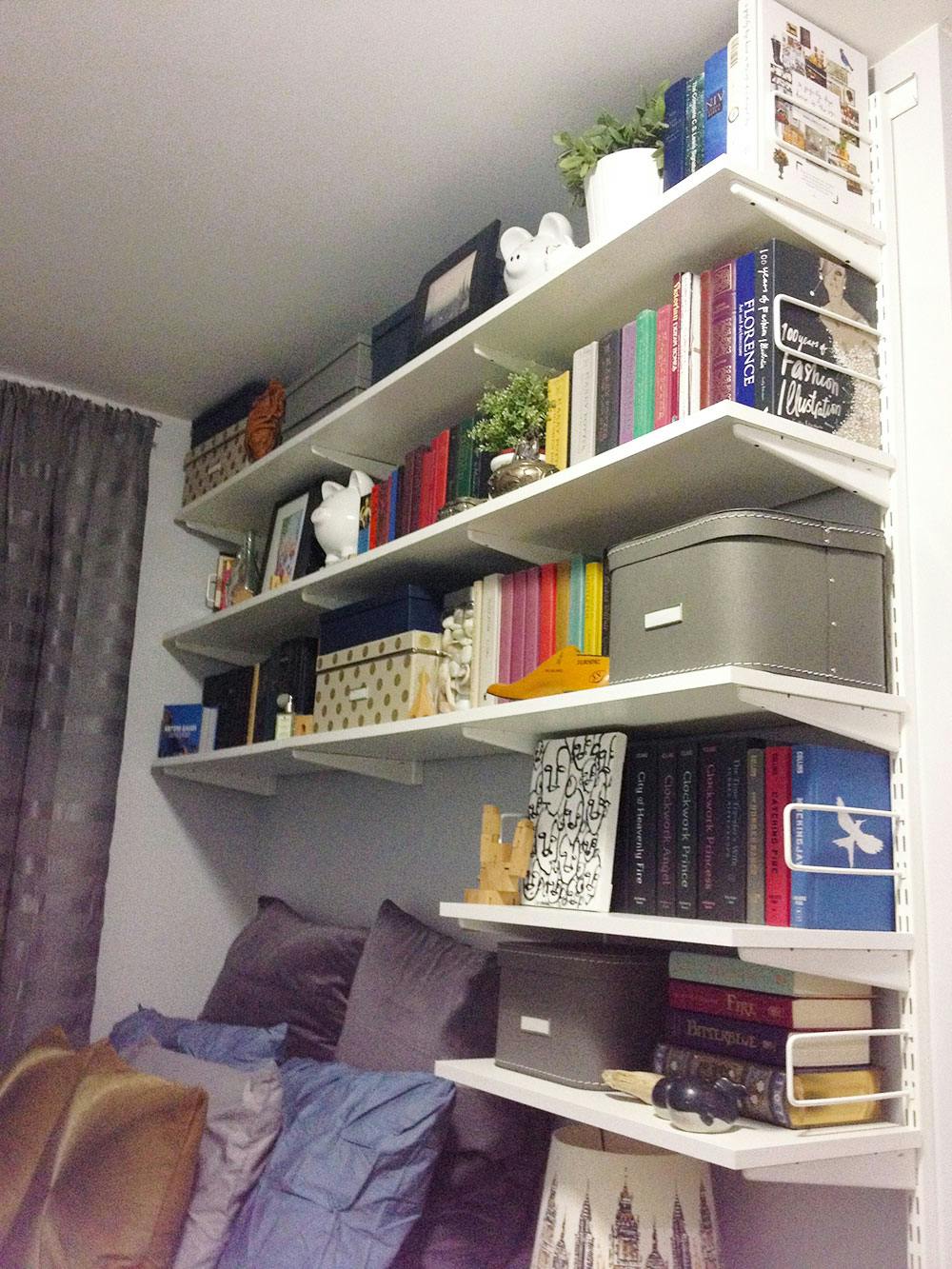 Megan's Elfa book shelves in her NYC apartment.
What are some of your other favorite TCS products?
That is such a hard question. I love everything by Poppin and InterDesign. I also enjoy the simplicity of the Multi-Purpose Bins. You can use them for just about anything, and I have them in my freezer, refrigerator and bathroom. But overall I think the Eagle Creek Pack-It system has been the biggest game-changer for me and my travels. I was a notorious over-packer before I started using Eagle Creek; now, I can pack for a ten-day international trip using only a carry-on and a backpack.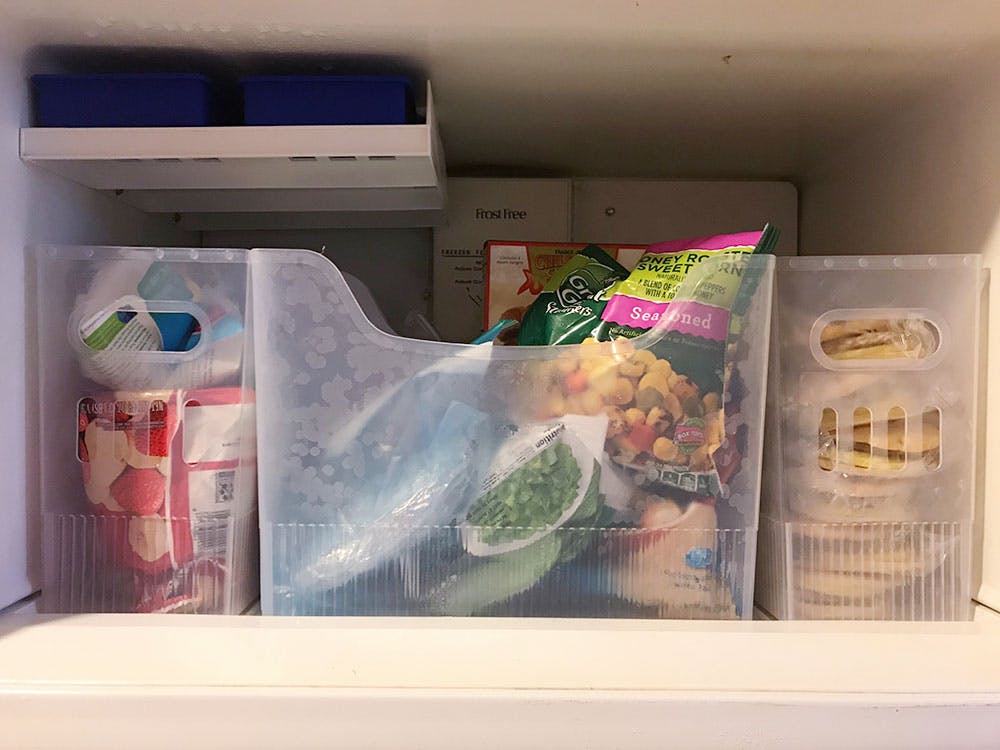 The Multi-Purpose Bins in Megan's freezer.
Speaking of your trips, it looks like you've also enjoyed some pretty amazing food and cocktails all over the world. Any particular favorites come to mind?
There are several. The Guinness I had in Dublin spoiled me for Guinness here in the U.S. And the French 75 cocktail I had with a burger at Lüke's Restaurant in New Orleans was out of this world!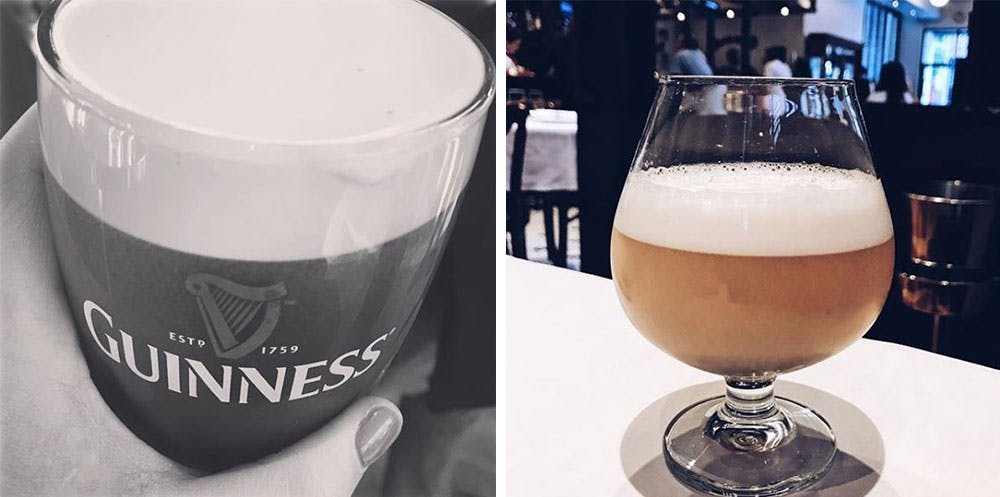 What else do you like to do in your spare time?
I love to read and take pictures around Cleveland. I've also been taking advantage of Cleveland's theatre season, which has allowed me to see a lot more shows than I would have in New York. I was finally able to see Hamilton in August, and it made my summer!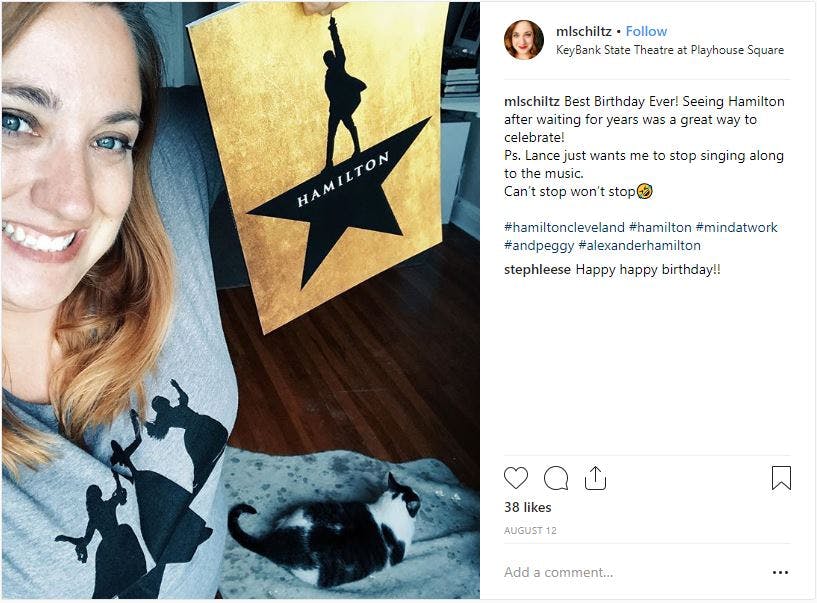 Earlier you said that you couldn't imagine working anywhere else. Why do you like working at The Container Store so much?
There are two main reasons: I believe in the products we sell and the philosophy behind our company. Going to work is easy when you love both what you're selling and who you work with! The people I've worked with—both in the stores and traveling with the company—have become like a second family to me.