For the 12th year in a row, our  Soapbox Derby brought together our Distribution Center and Home Office's most creative minds for a fun celebration of speed. An annual spectacle devoted to cars and costumes, it's an event that also brings a huge crowd of spectators ready to cheer on their favorite teams and watch history in the making!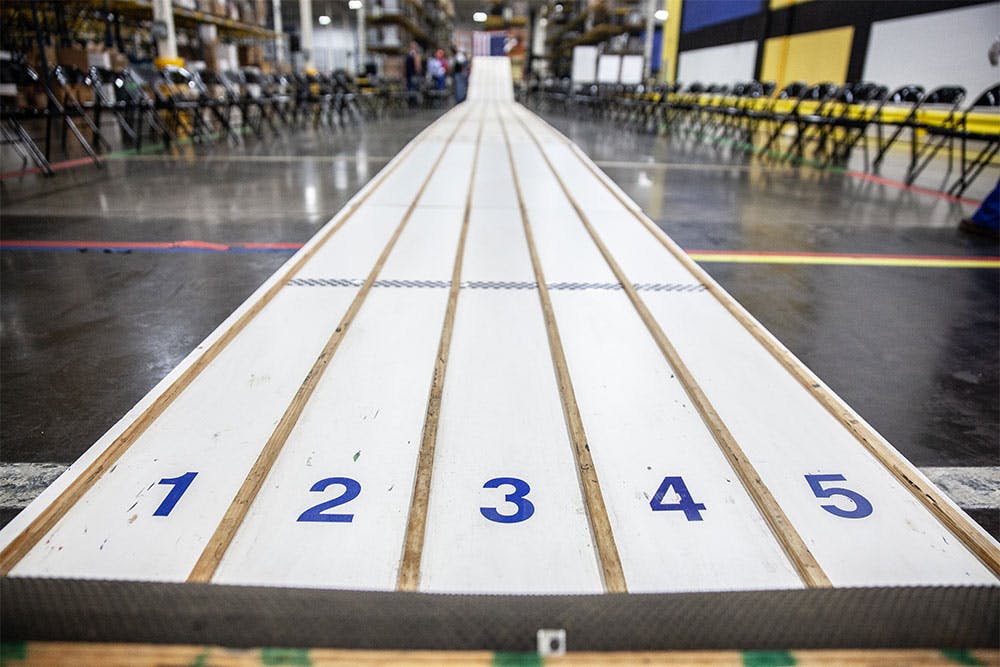 The zen-like calm before the storm.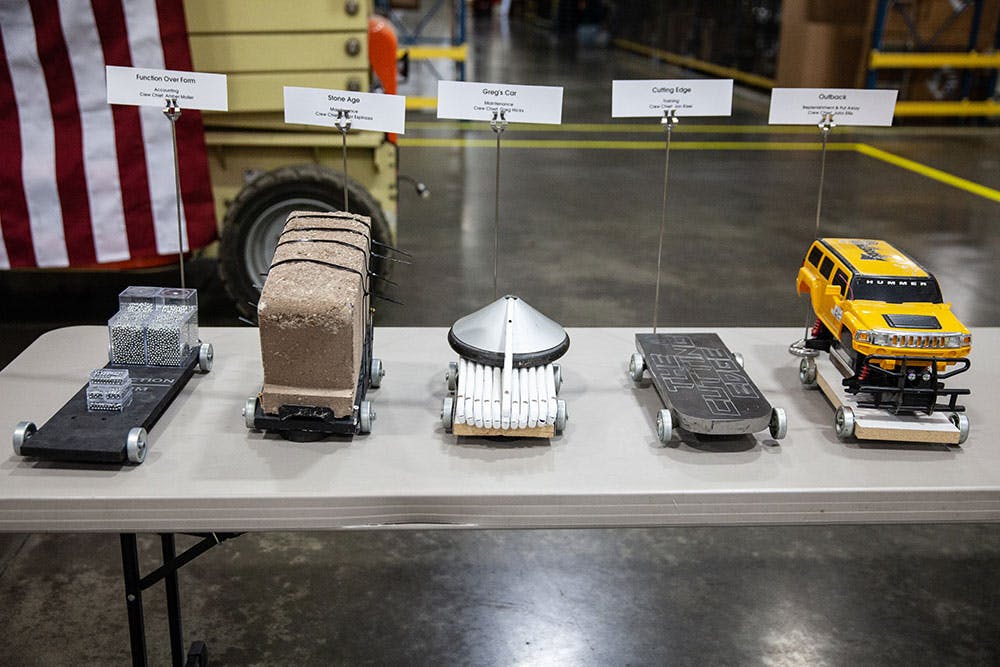 This year's competing cars were true marvels of ingenuity.
One by one, the soapbox derby teams made their way to the track and prepared their cars for the race. Pop culture homages were the order of the day. There was the DC Transportation team, decked out in '40s suits and preparing their The Godfather-themed car. There was the Marketing team and their "Magic School Bus"-inspired car, complete with a Ms. Frizzle lookalike as their crew chief. The Merchandising department's theme was Jurassic Park, and they took to the arena clad in white lab coats, led by a crew chief dressed as Muldoon and with a T-rex in tow. The most creatively punny was Team "Mi-Hammy-VICE!", whose car was constructed of a metal workshop vise and a piggy bank, complete with police car lights on top.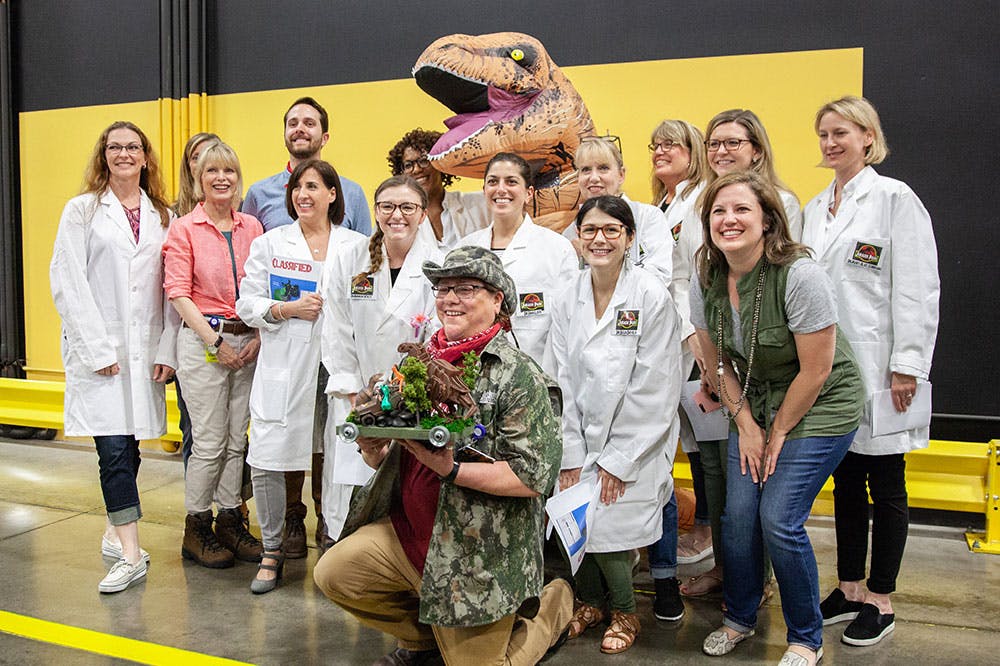 Hold on to your butts…it's "Team Classic Jurassic!"
Others channeled their creativity in a different direction. For instance, there was the Technology department—perhaps recalling some annoying underwear-related pranks bestowed upon them in middle school—and their "wedgie"-themed car. There were also the "Nerds for Speed," a team whose garb was…well…nerdy. Then there was "Team Heavy Metal," whose intimidating car was constructed from a heavy steel beam and looked a bit like a skateboard and brutalist architecture had a baby.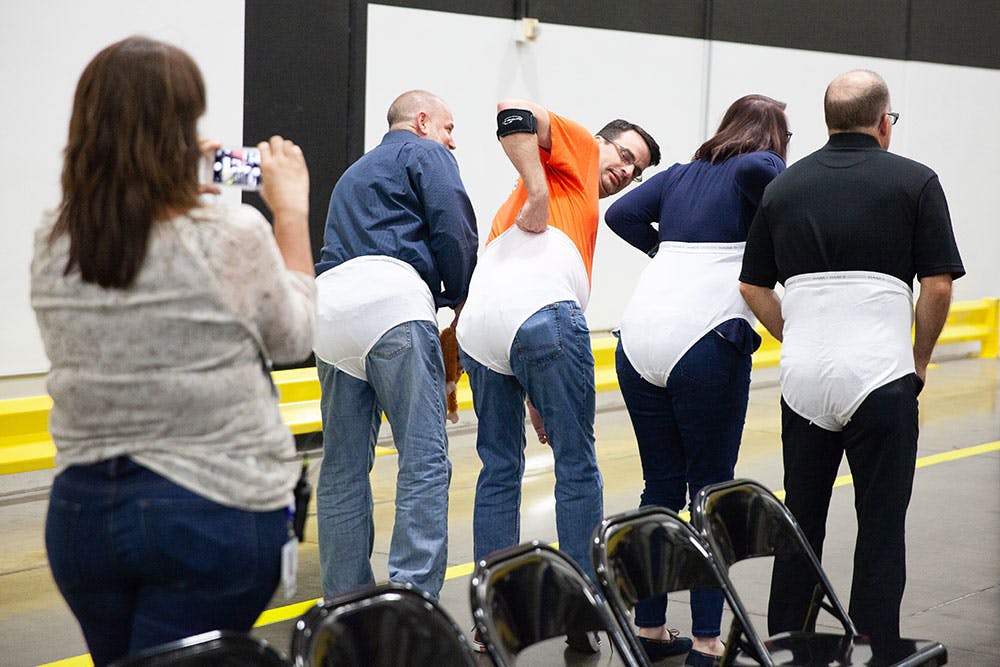 See? We're not making up the whole "Team Wedgie" thing.
After Jerry Scanlan's stirring rendition of "The Star-Spangled Banner," emcees Los Mejia and Rhonda Nichols (dressed as Mario and Luigi) introduced the teams, fired up the crowd, and ensured the track was free of potential hazards such as turtle shells and banana peels. Then, the race was on!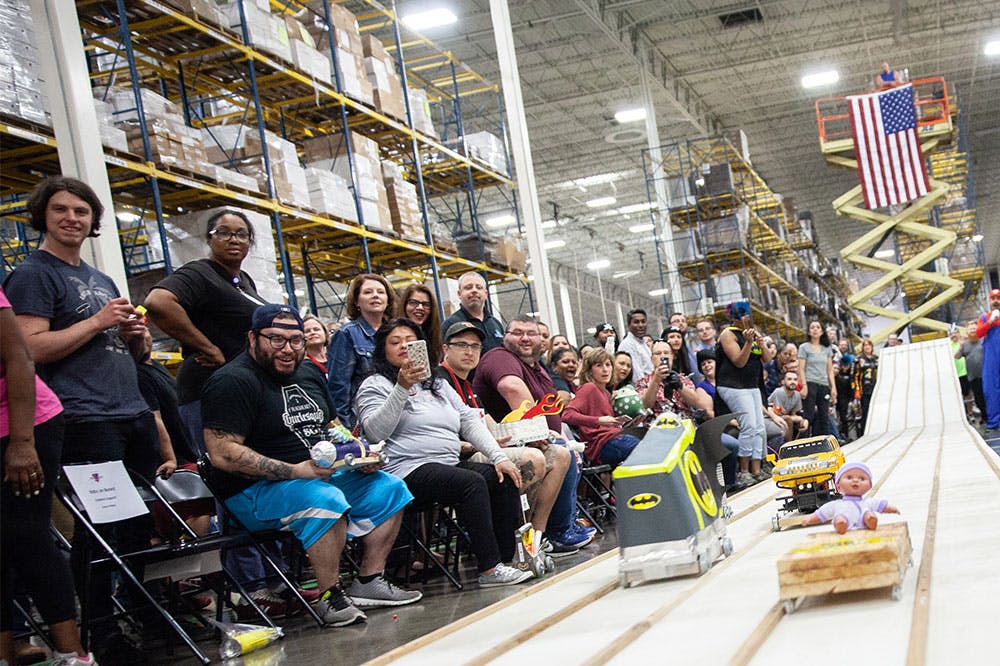 Let's just pause and appreciate this dynamic Dutch-angle shot of the racetrack, shall we?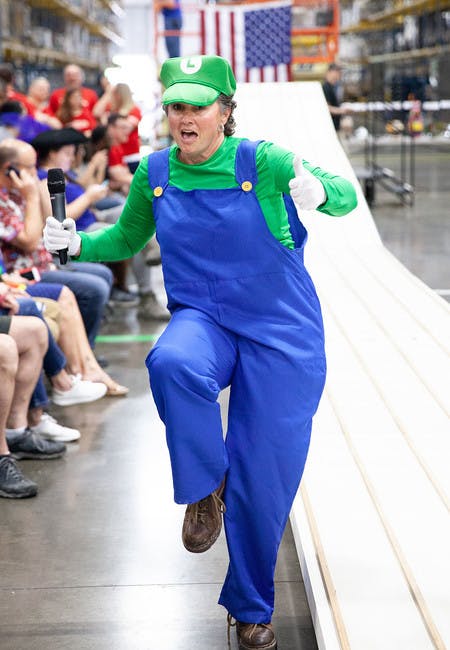 Emcee Luigi fired up the crowd but, sadly, did not shoot any actual fireballs.
What followed was an exciting series of races, each more thunderous and nail-biting than the one before it. It was as enthralling as, say, the big chariot race scene in Ben-Hur, only with soap box cars instead of horses. Last year's defending champion "Nasty Waters" was, to everyone's surprise, knocked out of the running in the late rounds, and the final match was between the aforementioned "Nerds for Speed" and "Heavy Metal," as well as the aptly-named "Greg's Car" (smartly-constructed by DC employee Greg Hicks from durable elfa components) and the Accounting team's car "Function over Form."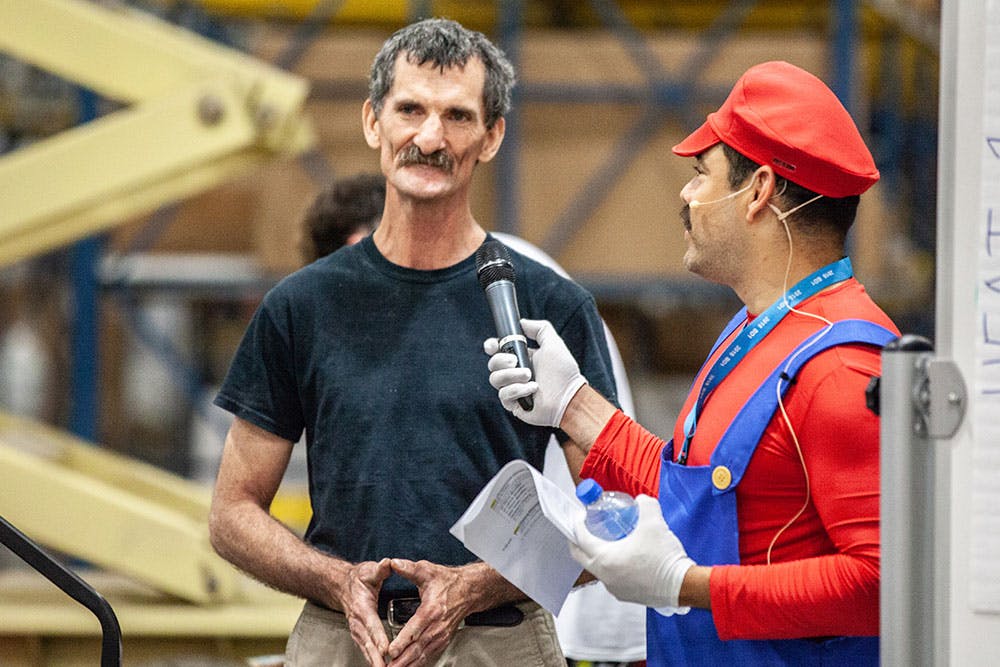 Emcee Mario talks with fellow mustache-aficionado Greg about his eponymous car's sleek design.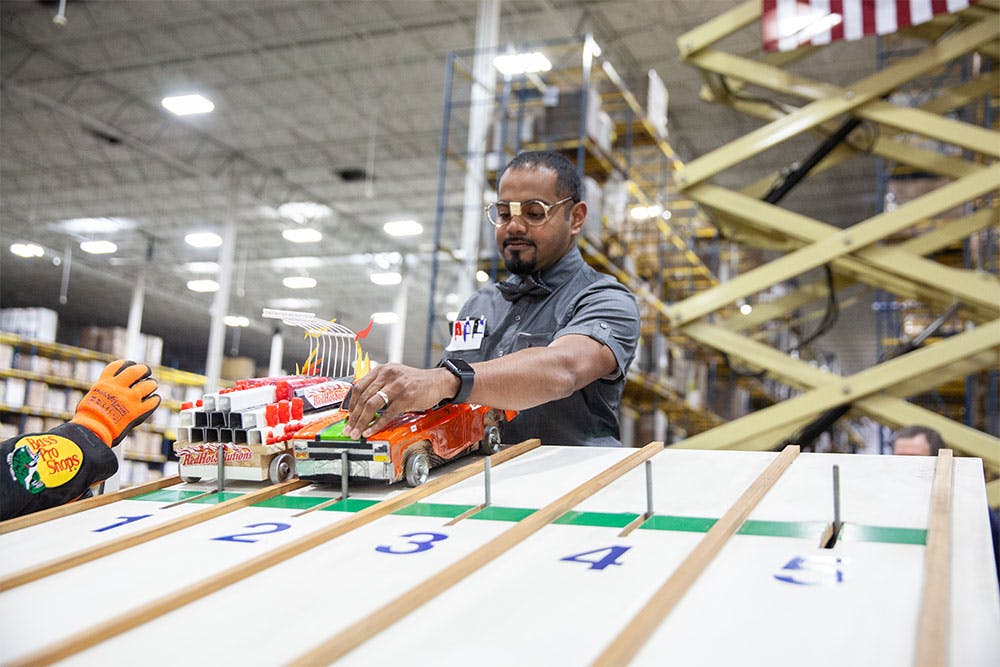 Chief "Nerd" Shain readies his truck for the racetrack.
Who would come out on top—the nerds, the metalheads, the accountants, or Greg? In a terrific photo-finish finale, the Accounting team's "Function over Form" emerged victorious! A masterful modernist design consisting primarily of clear AMAC boxes and small steel BBs, this car lost last year's race but managed to become the Secretariat of soap box cars this year.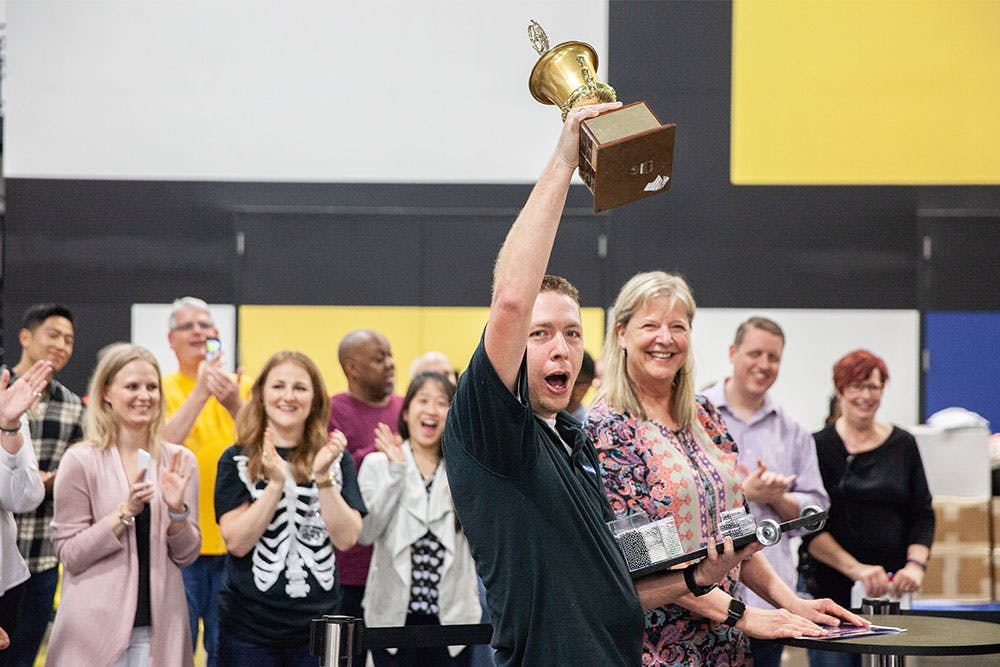 The crew chief of "Function over Form" tastes the sweet thrill of victory.
At the close of the event, "Function over Form" was presented with the coveted trophy. The judges—all well-loved members of our executive leadership team—also honored "Greg's Car"  and "Heavy Metal" with the second and third-place awards, respectively. Then they made Team "Godfather" an offer they couldn't refuse by presenting them with the Best Team certificate. For the People's Choice award (not to be confused with the People's Choice Award), the TCS voting body honored Team "Classic Jurassic" for their fun cinematic ensemble.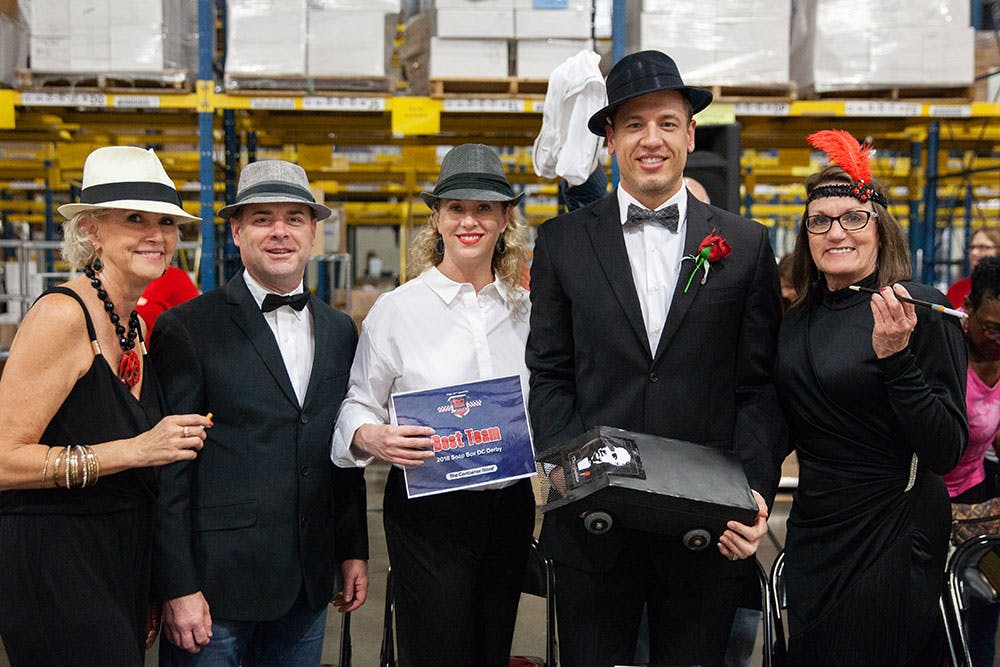 "Team Godfather" says "Leave the gun. Take the award."
All in all, it was another spectactular and fun soap box derby for the history books. See you all next year!