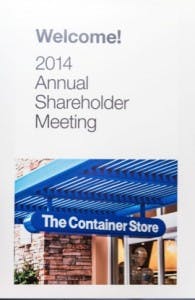 On August 4, we held our very FIRST annual shareholder meeting since becoming a public company just nine short months ago! We were so excited to invite our shareholders to our Home Office & Distribution Center for the meeting. We really took it as an opportunity to further connect our shareholders with our company culture through this meeting. We had a fun group of external and employee shareholders attend, as well as student guests from the University of North Texas, Southern Methodist University and Texas A&M University as we work to get the best and brightest students coming out of school to consider retail for their career.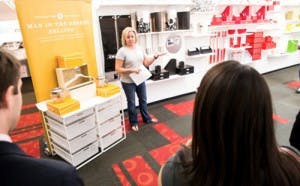 Shareholders heard from Kip all about the most exciting things happening in our company – including our POP! Perfectly Organized Perks customer engagement program, that everything is moving along fabulously with growing our in-home organization service, our new store pipeline to support our 12% annual square footage growth and all about our new solid closet collection being piloted in our Dallas-area stores later this Fall! Read more about the meeting in this article from The Dallas Morning News.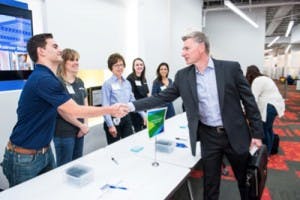 We also provided our shareholders with a tour of our 1.1 million square foot Home Office & Distribution Center so they could celebrate in our culture and how it has manifested itself in our physical workspace, while also learning more about our Foundation Principles.
We look forward to next year's meeting and welcoming even more shareholders to celebrate with us!