At The Container Store, we believe in treating our vendors like family. We've always felt that crafting collaborative, mutually-beneficial partnerships is the best way to success. We've discovered it's a more fun and satisfying way of doing business, and one of our most exciting vendor relationships has been with Three by Three Seattle.
Like the violin, the ice cream cone, and the espresso machine, the origin story of Three by Three Seattle begins in Italy. Co-Founders Gwen Weinberg and Anita Nadelson were both studying abroad in Florence when they met and quickly struck up a friendship. After graduation they each spent several years moving around the United States and pursuing their own careers, but managed to stay in touch with one another. Gwen, ever the artist, and Anita, with a mind for business, eventually decided to join forces to create their own company. Thus, in the epicenter of the grunge world—Seattle in 1995, to be exact—Three by Three Seattle was born.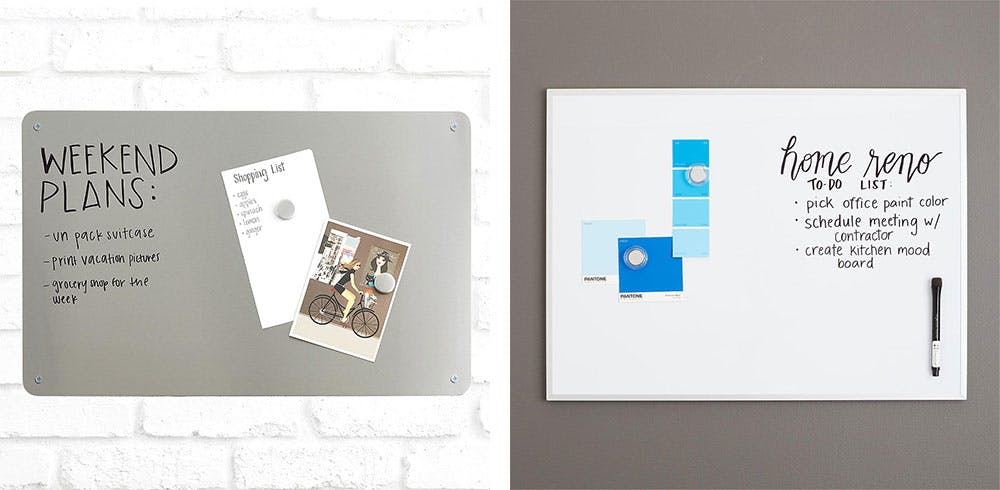 Three by Three Seattle's Magnetic Bulletin Boards are an endlessly useful, attractive solution for any entryway, office, or kitchen.
Three by Three Seattle's design aesthetic, however, is anything but grungy. Clean lines, bright colors, and fun shapes are the most noticeable characteristics of their work. Their first product was a sleek magnetic bulletin board made of galvanized steel. In fact, it was the very first magnetic bulletin board on the market, and it's since spawned a host of imitators. After the success of this first board, the Three by Three Seattle design team later refined and improved on it by offering other versions, including dry-erase white boards, glass boards, and wall calendars. And for smaller spaces, the Mini Magnetic Strips are a great option.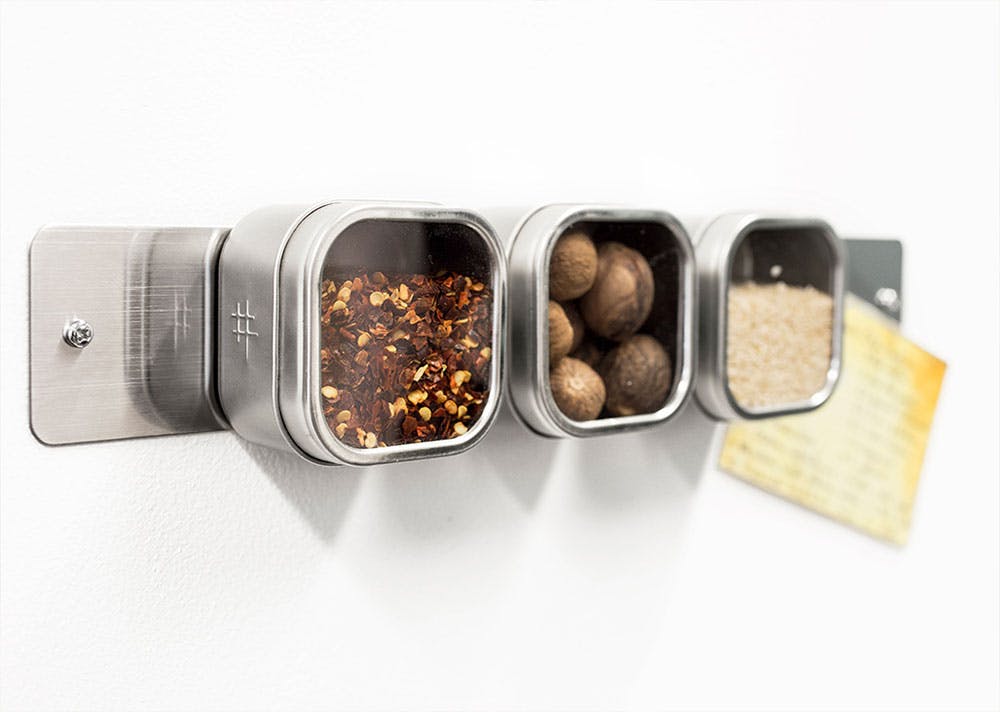 Three by Three Seattle's Mini Magnetic Strip, shown here with Magnetic Tin Bins.
But of what use is a magnetic bulletin board without a reliable magnet to go with it? This quandary led to the development of the Mighty Magnet, a tiny but ridiculously-powerful magnet that completes any office space. Made of naturally occurring elements, these rare earth (or "neodymium" for you geology buffs) magnets are much stronger than regular magnets, and a single one is capable of holding up to 12 sheets of standard letter-size paper. But for those who prefer to give their office area a bit more flair, Three by Three Seattle also has magnets shaped like diamonds, arrows, doorknobs, dogs, cats, even safari animals. Talk about animal magnetism! *rimshot*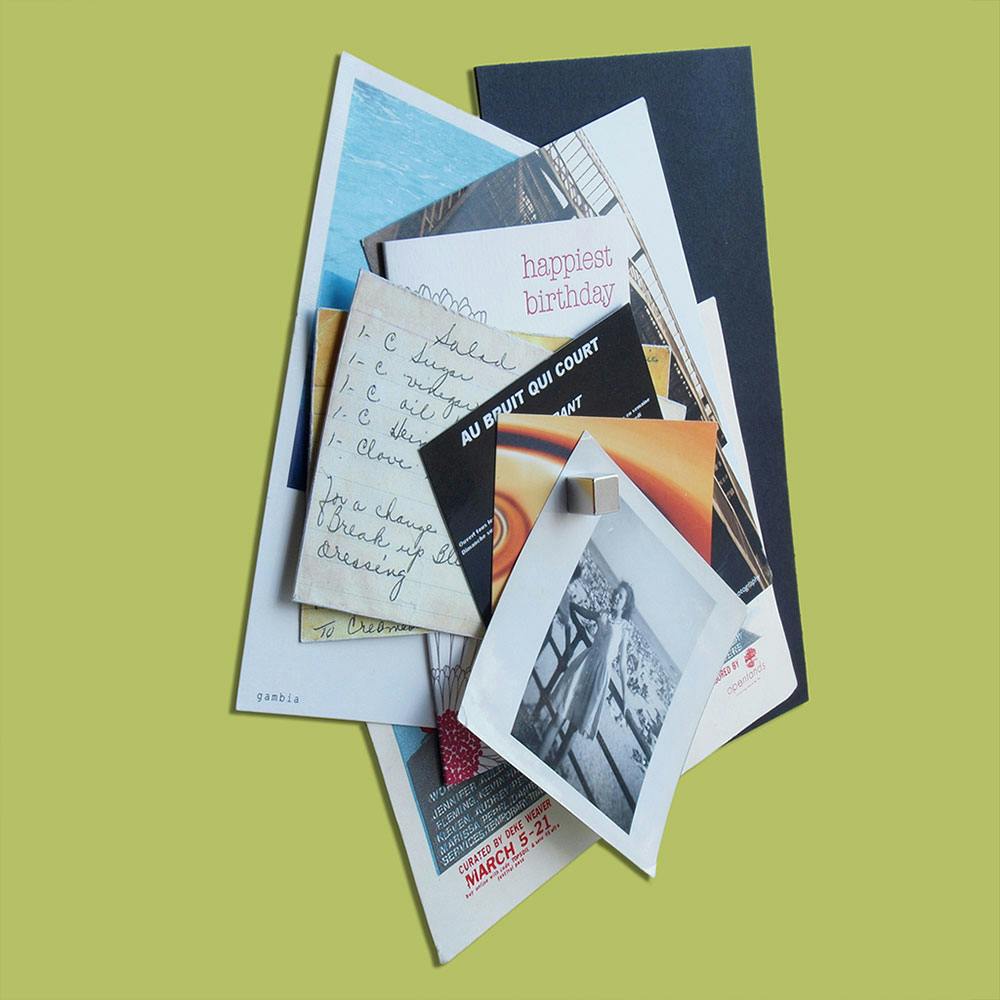 Famous magnet aficionado Jesse Pinkman would probably love the Mighty Magnet.
Once The Container Store's buyers took notice of Three by Three Seattle's great products and began selling them in our stores, they also began a terrific collaborative partnership. "Personally, I use The Container Store as a real basis for my design inspiration and motivation, and I look to them for ideas," says Gwen Weinberg, Three by Three Seattle's Co-Founder and Creative Director. "I'd say that probably 95% of the time, when I approach a new idea, it's from the perspective of whether The Container Store will like it and want to carry it." Gwen cites the up-rise! Desktop Organizer as a specific example of the power of this back-and-forth collaborative process. "After a few design and proportion tweaks, we turned a product that had just been a desk organizer into a monitor riser that also organizes!" she says. This creative partnership has also led to the creation of numerous other great products, including drawer organizers, trash cans, and display shelves.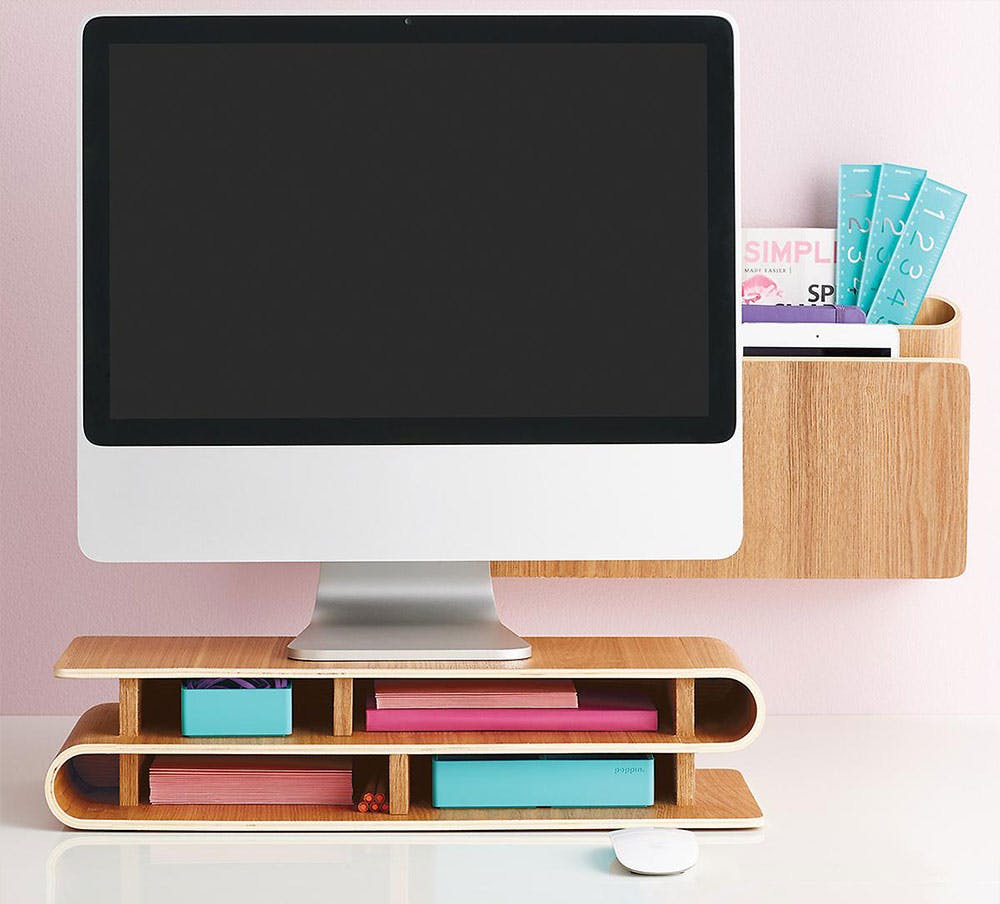 The up-rise! Desktop Organizer functions easily well as a vertical office organizer or a monitor riser.
Three by Three Seattle also appreciates our "Air of Excitement" approach to merchandising and selling. "The Container Store does a great job of selling our products," says Anita Nadelson, Three by Three Seattle's Co-Founder and Chief Operating Officer. "They're our best customer for a lot of reasons, but one of the biggest is simply the way they present and display our products on the shelves; commitment-wise, they go all-in." Gwen calls our visual product presentation "amazing" and cites it as one of the main reasons for their products' success in our stores.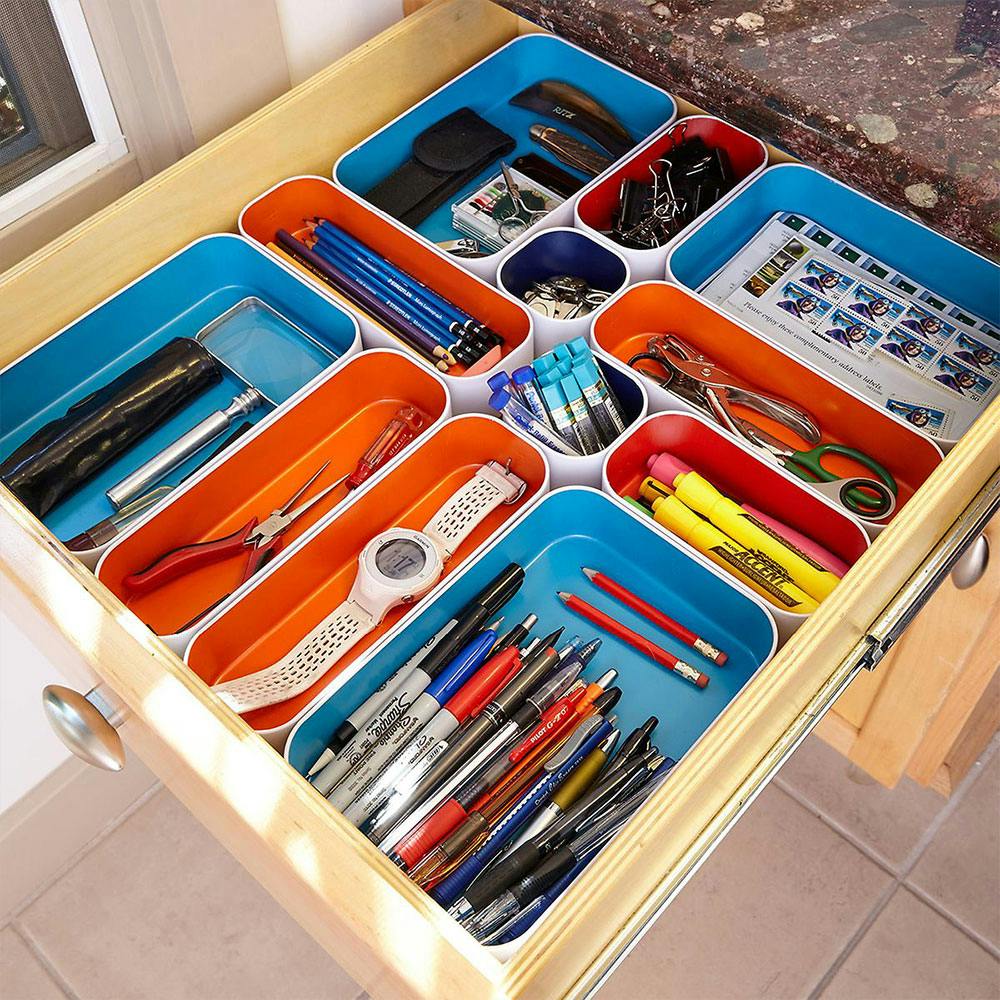 Melissa Reiff, The Container Store's CEO, uses Three by Three Seattle drawer organizers in her own home office area.
But for our part, we find it's pretty easy to sell products when those products are so great to begin with! "Three by Three Seattle has so many unique and creative designs, and they're truly like family to us," says Kristen Kirk, The Container Store's Office Buyer. For Anita, the feeling is mutual: "No matter how big The Container Store has gotten, it's always felt the same. It's a very personal relationship; we're very honest with each other, and we've got such a tight relationship that we work directly with each other on product development too." We're so proud to be a part of the Three by Three Seattle family, and we look forward to many more years of joyful collaboration!