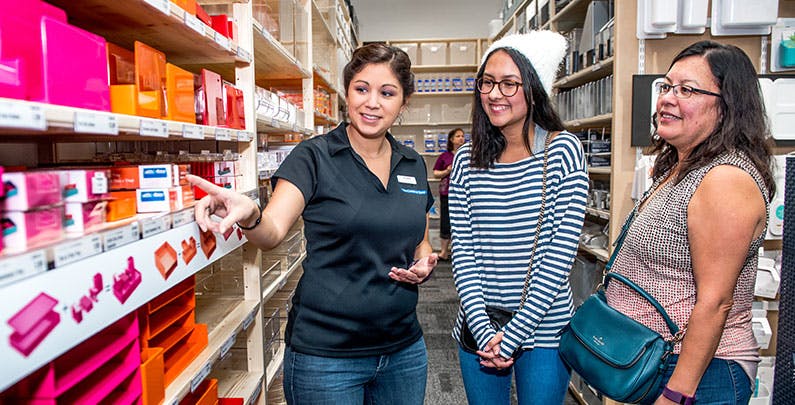 We strive to create an Air of Excitement in all that we do, and we like to say that three steps in the door you can tell whether or not a store has it. Our customers experience this Air of Excitement through our employees' smiling faces and a genuine interest in their needs; in the bright visual displays of products and solutions; our clean, well-organized stores; and in our energetic product demonstrations and upbeat music.
And we couple this with our highly personalized approach to service. Our customers often come in exclaiming, "My closet is driving me nuts!" or "My kids' toys are EVERYWHERE! HELP!" Our experts go to work asking questions in order to understand the customer's underlying frustrations, which leads to a customized solution for any sized storage and organization challenge, big or small. Kitchen drawer to master closet. Bathroom cabinets to a garage overhaul. Our goal is to have our customers' hearts beat just a bit faster when they walk out of our stores or complete their online shopping experience with a creative solution that will save her space and time – and give her that much needed and deserved sense of calm and control. We call it Man in the Desert Selling and it's much different than the customer service you typically experience in a retail store.
We can't wait for you to experience this for yourself – and when you do, be sure to tell us all about it (oh, and your friends and neighbors, too!).