When TheatreWorks first started producing plays over 43 years ago in Palo Alto, Founder and Artistic Director Robert Kelley initially thought that it only took a handful of people and a few shorts weeks to put on a show."Now when I look around the room on the first day of rehearsal of Other Desert Cities, I realize that it takes dozens of people and thousands of man-hours to make just one show possible!" he said.
Theatre truly is the most collaborative art form. Take, for example, recent play Other Desert Cities, which opened on TheatreWorks' main stage. To bring this Pulitzer Prize nominated drama from page to stage, TheatreWorks engaged the labors of:
5 stellar actors
1 brilliant Director
2 very organized Stage Managers
7 spectacular Designers
4 members of our Artistic Team
6 Production/Lighting/Sound technicians
11 Scenic craftsmen and carpenters
3 Properties Artisans
8 Costume construction professionals
13 Marketing & Box Office staff
3 Educators
5 Fund-raisers
15 Miscellaneous administrative support (IT, Public Relations, Finance, Photography, etc.)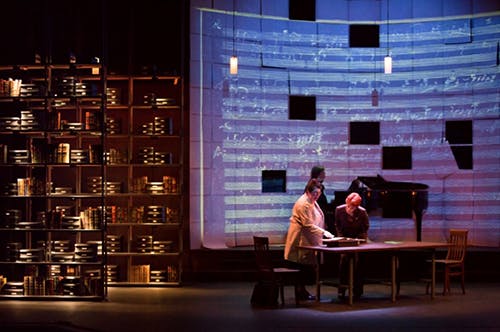 TheatreWorks play 33 Variations featured The Container Store's letter boxes on stage. Photo by Tracy Martin
That's over 80 different people with the shared goal of putting together a show that 10,000+ audience members will love. Talk about synergy!
And The Container Store knows a thing or two about synergy. Opening a new store, like the one recently opened in Palo Alto, is a lot like pulling off a fantastic opening night at the theatre. Thousands of hours of preparation invested by dozens of committed employees, all with the shared goal of bringing the community together to celebrate in a spectacular event. See photos from The Container Store's Palo Alto Grand Opening Weekend here! Big thanks to The Container Store, and everyone who shopped during the Grand Opening Weekend to support us – we were excited to receive $14,000 that will go to support future theatre performances! For this, TheatreWorks is giving The Container Store a standing ovation!
– Steve K., Director of Marketing, TheatreWorks