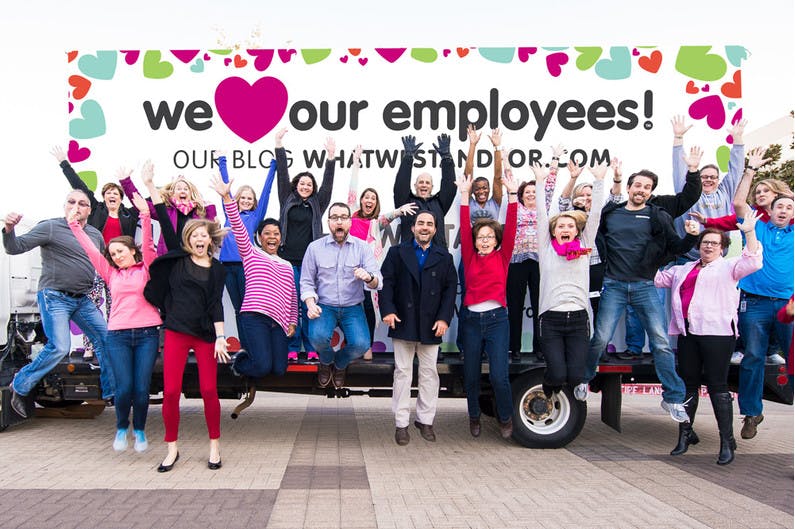 "Talent is the whole ball game." When you surround yourself with hugely talented, passionate, dedicated, and genuinely kind people, we believe you will succeed in whatever you do.
The Container Store has built our brand on the joyful conviction that our employees are our top priority, our most treasured asset. One of our Foundation Principles says that 1 Great Person = 3 Good People, in terms of business productivity. So when we're hiring truly GREAT people, we can afford to pay them above industry average – because we're getting three times the productivity. We can also afford to do a lot of training – first year, full-time employees receive more than 200 hours of formal training compared to the industry average of 8 hours.
But we also provide something more intangible and harder to quantify. We truly love our employees and we're committed to caring for their whole being— not just as workers. They're all extraordinary folks— that's the only kind we hire—and we fully support their efforts to become the best they can possibly be, both on the job and at home.
As an employer, we believe that we have a moral obligation to create a workplace where people get up out of bed and look forward to coming to work in the morning. We often hear employees say, "Working here has helped me become a much better communicator" or "Having this job has really helped my marriage." Working alongside great people makes you go home at night feeling great about everything you accomplished that day and thrilled to get out of bed and go back to work the next morning to reach for the stars again.
And these GREAT people stick around – we have an average 10% turnover rate in an industry where many full-time employees don't even stay a year.
Economist Milton Friedman once said that the only reason a corporation exists is to maximize the return of the shareholder. Well, with all due respect to Milton, we've found that if you really and truly take better care of the employee than anybody else (instead of just myopically focusing on the shareholder), your employee will take better care of your customer than anybody else. And if those two are ecstatic, then wonderfully and ironically, the shareholder will be ecstatic, too!
This philosophy has been at the heart of The Container Store's culture since 1978. It's because of our employee first culture that FORTUNE magazine has recognized our special company on its annual list of "100 Best Companies to Work For®" year after year.