Since our first day of business in 1978, The Container Store has sold elfa products. While this small Swedish storage solution company started out as one of our many vendors, they quickly grew to become one of the cornerstones of our company, which culminated in us acquiring them in 1999.
It's a partnership we cherish deeply. To help kick off the new year, we spoke to Anders Rothstein, the new acting CEO of elfa International, about his goals and future plans for the company.
First of all, please tell us a little about yourself. What's been your career path that led you to elfa International?
I've spent the last 26 years of my career in various leadership positions, both internationally and in Sweden. Prior to joining elfa International, I was President & CEO of two different publicly-listed companies in Sweden: Human Care HC AB and Lammhults Design Group AB.
As a company President and CEO, I've learned that it's important to not only understand where and how your company earns its money, but also how to engage your employees in the direction your business needs to go. One of the main reasons my career path took me to elfa was that I saw its huge potential just waiting to be unlocked!
Now that you've taken on role of Acting CEO at elfa, what are some of your primary goals?
While we've always been very collaborative with The Container Store, we want to become even more so. Specifically, we're focused on working more closely together than ever to create a variety of new products, which we're very excited about.
In addition, we're working to reach our customers in new ways. We recently rolled out a new sales strategy to the entire company that has great potential.
What was it like visiting The Container Store's home office in Texas for the first time?
It was great meeting so many of my colleagues in person, and they were very warm and hospitable. That visit last September was my first trip to Texas, but I'd been to the U.S. a number of times before. I just love Los Angeles, Chicago, and New York, and I've visited those cities with my wife and son many times. In the mid-2000s, I also spent a lot of time in Tulsa, OK when I acquired at small company for a former employer. I dreamed of moving to the U.S. when I was very young, and I still hope to someday!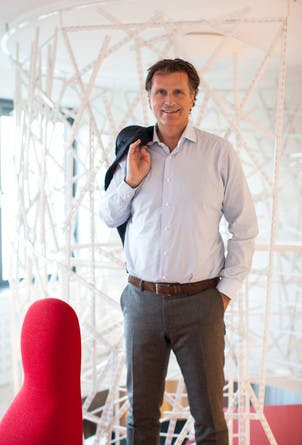 Much like The Container Store, elfa has a strong corporate culture. Can you tell us about "ONE elfa" and why it's important?
No brand or company is stronger than what its employees convey. And so, just like The Container Store, we firmly believe that a strong culture full of engaged and motivated employees is the key to long-term success and profitability.
I actually see it as a competitive advantage that our employees are truly proud of our unique culture, not to mention our well-rooted core values of being customer-focused, innovative, professional, human, and holistic in our approach to business. The phrase "ONE elfa" emphasizes that, regardless of country or organization, we see ourselves as ONE team and ONE group.​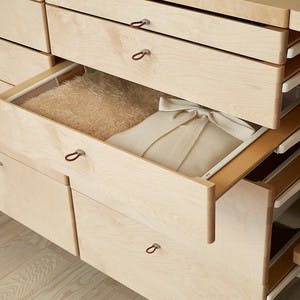 What are some of your favorite elfa products?
Well, since we have so many ingenious products in our assortment, it's hard to choose only one! But I can say that what I truly appreciate about our system is its flexibility and sustainability. An elfa system can last a lifetime and be easily adjusted to fit the variety of needs that arise in the different stages of our lives. But when it comes to design and aesthetics, I just love the new drawer fronts for our décor system! 
Tell us a little about your family, if you don't mind. How old is your son? And do you have any pets?
My wife Lotta and I have an 18-year-old son named Fredrik, and we live in Viken (some 80 km north of Malmö) in a house by the sea. We have a chocolate brown Labrador named Lily, and she is 4 years old. I grew up being the eldest of four children and I believe this, as well as having a father who was often travelling and working to advance his career, helped shape who I am today.
How did that affect your life and career?
I would say that being the eldest of four (as well as being about a foot taller than most kids my age!) made me grow up early. People often assumed I was older than I actually was, so I had to take on more responsibilities than many of my friends of the same age. I certainly don't see that as a disadvantage—on the contrary, I think it made me stronger and aim higher.
When I was younger I turned almost anything into a competition, and this made me not only a sore loser, but possibly an even worse winner! But I'm glad to say this ultra-compeititive streak has mostly tapered off. Over the years I have become a more humble, social, open, and diplomatic person, as well as a better listener.  
What's your favorite way to relax when you're not working? Any hobbies?
I like to play golf in my spare time. My family and I love to travel together to the Alps and to different big cities, and we also enjoy sharing good food and wine with our friends and other family members. I try to live by the motto "Work hard, play hard, and have fun – Life is too short not to enjoy it!"