Everyone remembers playing the game Rock, Paper, Scissors in school (or if you don't, learn how to play here – you'll be glad you did). The Store Replenishment team in our Distribution Center recently brought back this grade-school classic when they launched a full-fledged Rock, Paper, Scissors tournament in order to bring an "air of excitement" to their team and allow them to build better connections.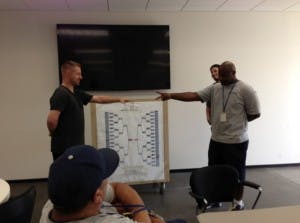 The final match-up: Darius L. lays down Scissors, cutting Beaux B.'s paper for the win! (Notice the bracket board in the background).
This tournament was serious business – the Store Replenishment team created a sports-style bracket system, where each member of the team was paired off to play Rock, Paper, Scissors against each other, and then the winners continued to play each other until one final pair was left. The ultimate match-up!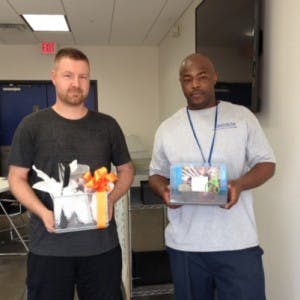 Tournament winner Darius L. (right) and runner-up Beaux B. with their prizes!
Tensions were high during the final Rock, Paper, Scissors competition – Darius L. and Beaux B. squared off in front of the whole team. At stake was a homemade trophy to commemorate the occasion. Darius had the good fortune to play "scissors," cutting Beaux's "paper," and was named the ultimate Rock, Paper, Scissors champion. The whole team cheered!
During the summer it's quite hot in our Distribution Center in Texas. Creating fun events for teams to participate in makes a huge difference in cultivating a great environment that makes people want to get up and come to work in the morning. Here's what a couple of our Store Replenishment team members had to say about it: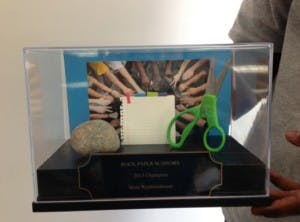 The Store Replenishment Rock, Paper, Scissors Trophy!
"I personally love the Foundation Principle, Air of Excitement, where we can connect, interact and have fun. You can never have too much fun and laughter in any activity. May I also add one of Melissa Reiff's (our president) characteristics of a true leader? HUMOR- A sense of humor is part of the art of leadership, of getting along with people." – Terri P.
"The Store Replenishment group is such a strong team. They are a super competitive bunch – but they are very good spirited about the contests that they have. All of our fun events have done a lot to build team strength and you never know what we'll come up with next to promote fun!" – Josh S