Over the past few years, our Annual Gift Wrap Wonderland Fashion Show has been one of the most consistently fun events at The Container Store's Home Office and Distribution Center. Held in conjuction with our annual holiday party, it not only showcases our beautiful Signature Gift Wrap Collection, but it also gives our employees a chance to flex their creative muscles by becoming Gift Wrap Guccis for a day!
This year's event was made extra special by our partnership with Austin-based jewelry retailer Kendra Scott, who set up a pop-up shop for the party attendees and provided jewelry for the runway models to show off. They offered their beautiful earrings, bracelets, and necklaces for sale to our employees who wanted to do a little last-minute holiday shopping, and they generously donated 20% of their proceeds to our Employee First Fund! (You can read more about their amazing philanthropic efforts here.)
As the audience settled in to find the best seats, the dressers* and models hurried about backstage, making last minute adjustments to their pretty prêt-à-porter* creations. Once our VP of Visual Sales Brian Morrison took to the stage to emcee the proceedings, it was time for everyone to shine!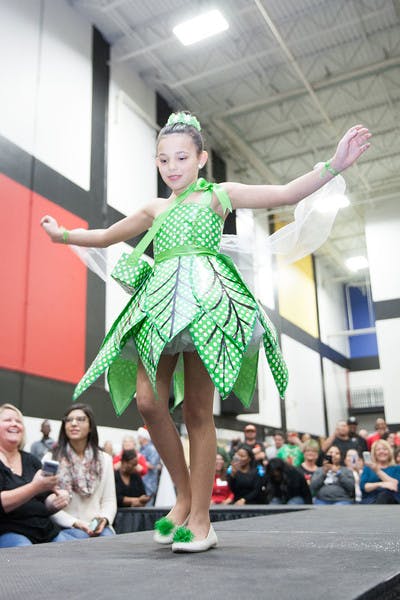 First on the runway was young Jessica, granddaughter of Distribution Center employee Georgia Littlejohn, who modeled an amazing green Tinkerbell dress crafted by Jose Hernandez, a veteran designer and DC Fulfillment employee. Simply adorable!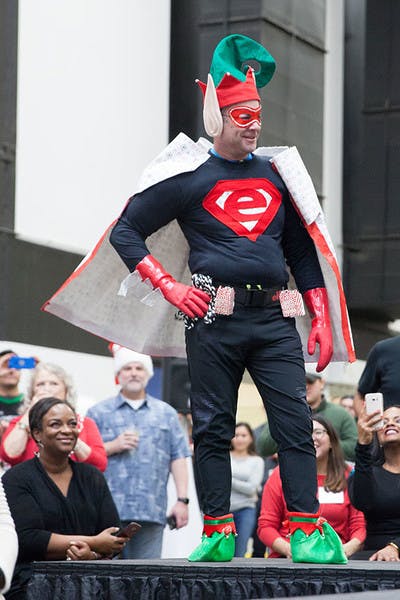 Next up was Greg Wagnon, our Logistics & Transportation Director and previously-profiled Army veteran, clad in a heroic "Super elf-a" costume designed by Atelier* Transportation Department. When we asked Greg how this compared to Army boot camp, he said "I think this is definitely more challenging." J Way to be a good sport, Greg!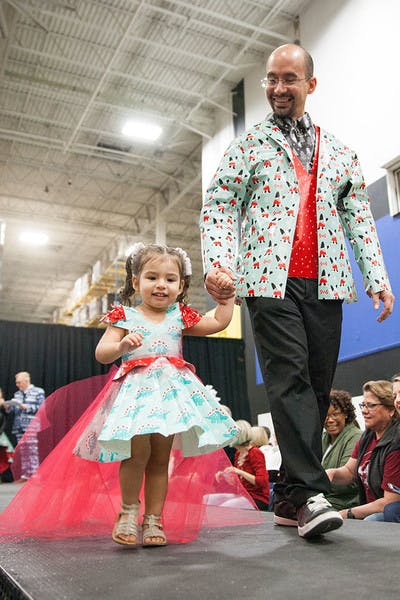 Cuteness alert! This year's most talked-about model was 2-1/2 year-old Myriam, who melted the hearts of the entire audience. She was joined by her dad Augie and her mom Monica, who sported stunning ensembles based on our Davy the Dinosaur, Pedro the Cat, and Peppermint Pup gift wrap. Fun fact: Monica would definitely qualify for this year's "Hardest Working Designer" award (if it existed), creating a total of five (!) outfits this year. She was followed on stage by fellow DC employees Noemy Sandoval and Arryanna Chavez-Perez, who modeled her gorgeous gift wrap dresses inspired by late Tejano singer Selena.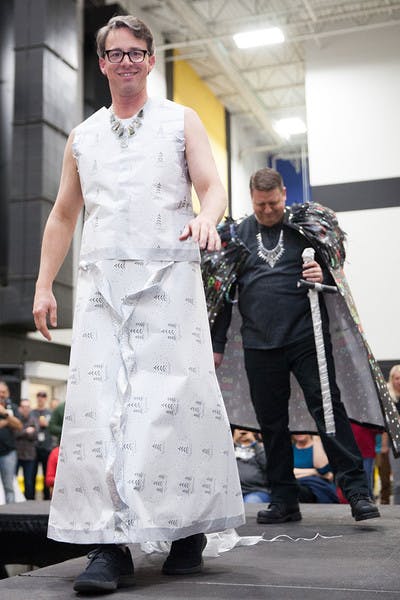 Winter is coming—and it's looking fabulous! We predict Game of Thrones will be this year's fashion trend du jour based on the magical outfits modeled by Richard Worth and Barrett Clark from our Technology department. Dressed as Jon Snow and Margery Tyrell, they took to the runway and amazing the audience with their stunning sartorial sillouettes. Westeros? More like Wow-steros!!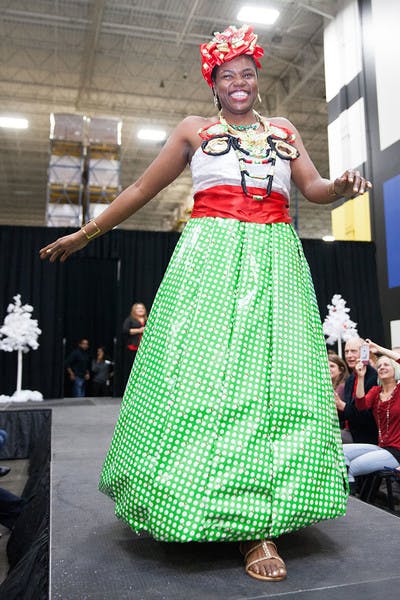 The frow* sat in awe and the back rows were periscoping* when Shaniece took to the runway. She was clad in an elegant African-inspired Maxi outfit designed by DC Inventory Systems employee Irene Cervantes, which was topped off by a beautiful handcrafted necklace. Va-va-voom!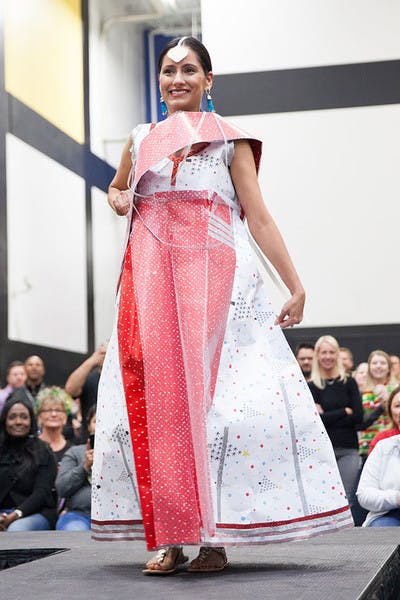 Then all eyes fell on the Distribution Center's LaTisha Collins as she dazzled the audience in her Indian bridal saree designed by Sophy and Shain George. It may have been made from gift wrap, but it certainly looked like haute couture* to us!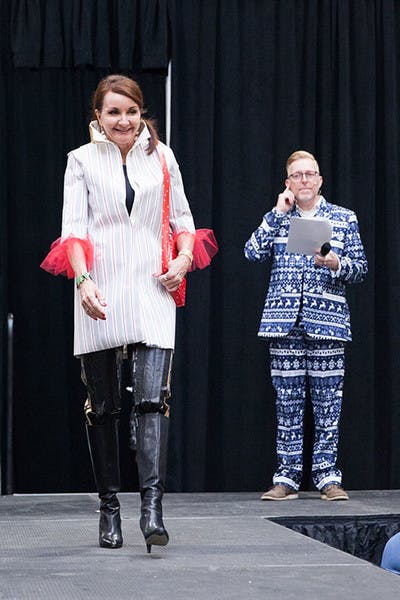 Sporting the sleek mod look was our Accounting department's Melissa deFreitas, who strutted her stuff in a self-designed pin-striped trench coat and black ribbon cigarette pants. Accented with a specially-crafted shoulder handbag and drop earrings, this rockin' ensemble had je ne sais quoi* in spades!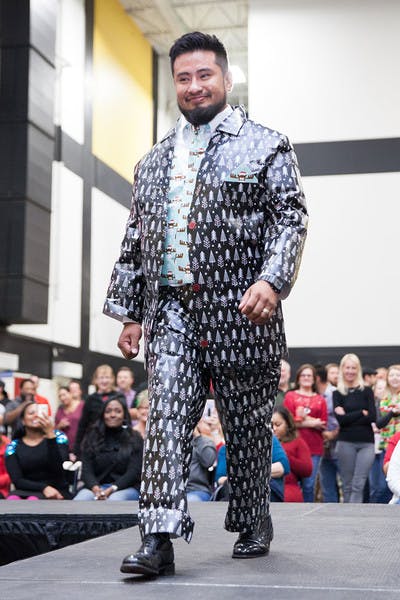 DC employee Edgar Ayala then glided down the runway bringing old-fashioned sophistication (and beard power!) to the party. In a well-tailored suit by fellow employee Lawrence Fenton, it's like Mad Men and Merry Christmas had a baby—and we LOVE it!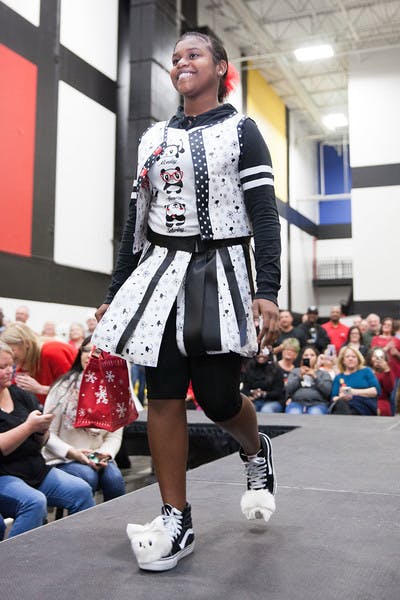 Another veteran designer who returned this year was Mechie Sloan. She presented a fantastic vest and shirt combo modeled by her daughter Dekyjia, and the crowd was once again wowed by her impeccable taste and keen eye. SO cute!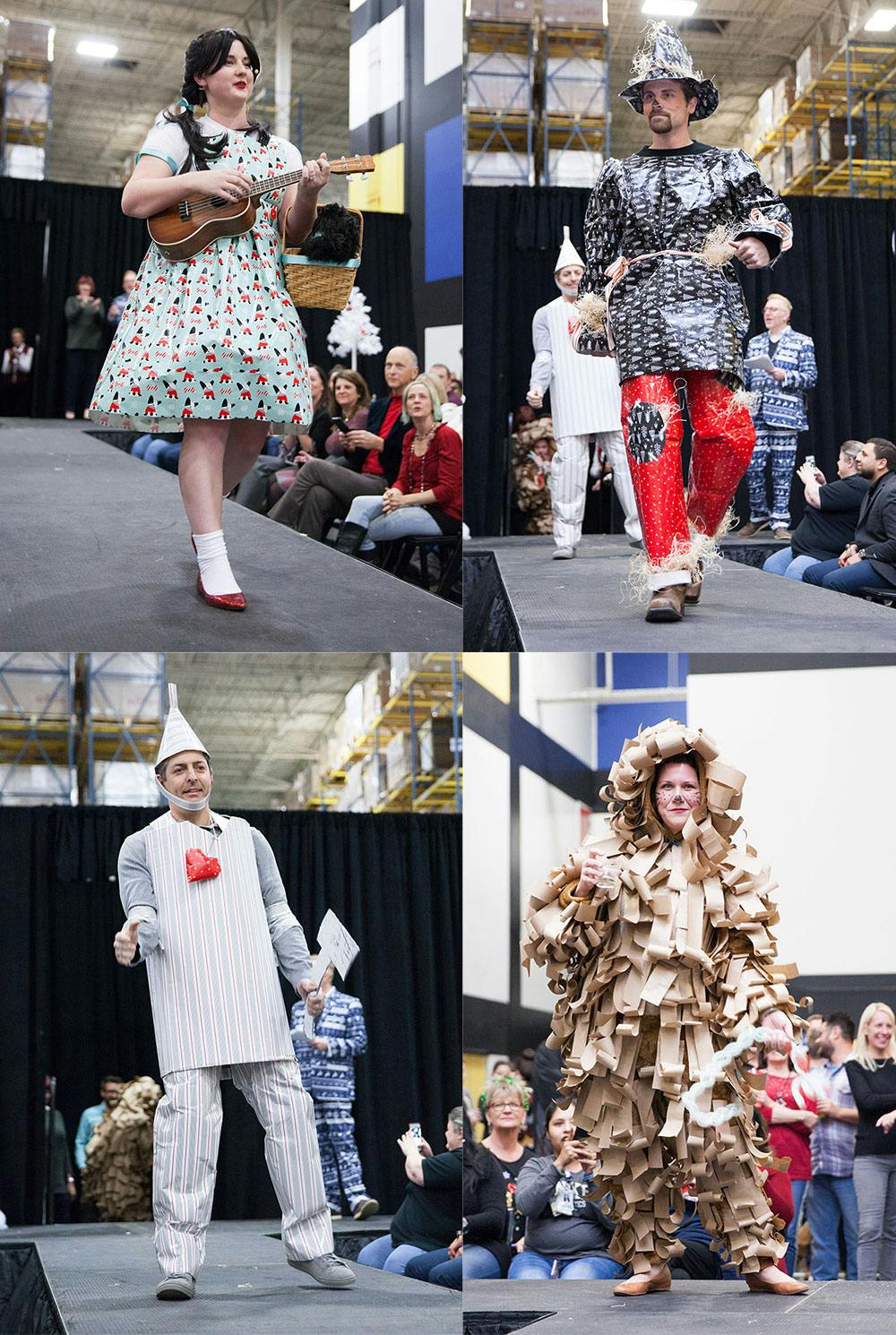 The grand finale was marvelously inspired: a trip down memory lane (and the Yellow Brick Road) to the Land of Oz! Beautifully executed by Creative Producer Stephanie Shkolnikov and our marketing team, the main characters from the beloved 1939 film were brought to life on the runway by UX Designer Shelby West (Dorothy), VP of Marketing Felipe Avila (Tin Man), Web Production Designer Trent Pruett (Scarecrow), and Director of Visual Merchandising Callie Micek (Cowardly Lion). It had comedy, drama, and elegance—everything you could ask for!
At the end of the show, the audience applauded uproariously in a fitting tribute to the amazing designers and models that took part. It was, in a word, breathtaking—and such a lovely way to celebrate the season.
Happy Holidays from all of us at The Container Store!
*Glossary:
Altelier – work room or studio
Dresser – person who helps models get dressed backstage
Frow – front row
Haute couture – upscale, expensive clothing
Je ne sais quoi – French term meaning "I know not what."
Periscoping – watching a fashion show through another person's smartphone to get a better look.
Prêt-à-porter – "ready to wear"