GMHC's AIDS Walk NY has been such an important cause to The Container Store employees in the New York area for so many years – and we were so proud to have our Sixth Avenue, Lexington Avenue, Westbury, and White Plains stores in New York, as well as our Paramus, New Jersey store take part.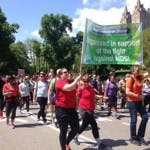 When I joined the company about five years ago and saw how dedicated everyone was to participating in the AIDS Walk, I knew I wanted to be a part of this great cause as well. There is such a sense of unity and support from all of the walkers, virtual walkers, donors and every employee involved in our AIDS Walk Bake Sales – especially each store's bake sale organizers that gave so much of their time.
Years ago I lost two dear friends to AIDS-related complications, so getting involved for me has been personal and every year I walk in memory of them. The day of the walk is both magical and humbling. The bonds and support from everybody on the team are amazing, and are felt so strongly all the way through to the finish line. One of my favorite parts of the walk is when the fellow walkers and cheering bystanders notice our The Container Store Team banner and feel our strong commitment to the community and to each other. They cheer us on even louder, while knowing the store they love, loves them back. It's a feeling that can't be described, but suffice it to say it makes me so proud to be a part of this team and this family!