Founded in 1989, Community Partners of Dallas (or CPD) seeks to "ensure safety, restore dignity and inspire hope for the abused and neglected children served by Dallas County Protective Services," and they've carried out this amazing mission via several different programs. One of these is the Rainbow Room, a boutique where Child Protective Services caseworkers can pick out school supplies, clothing, and other items for the children they serve for free, and this important resource is made possible by CPD and the generous donations of people in the community.
For the 25th year in a row, The Container Store's Home Office and Distribution Center was proud to host a School Supply Drive to benefit CPD. This year's week-long fundraiser consisted of several events:
A prize raffle in our Distribution Center. 
A silent auction in our on-site Gumby Café. (Auction items included airline tickets, luggage, shelving, desks, gift cards, electronics, and more.) 
A General Store where employees could shop for a variety of luggage and household items. 
A Snack Shack that offered a variety of baked goods and other treats for purchase.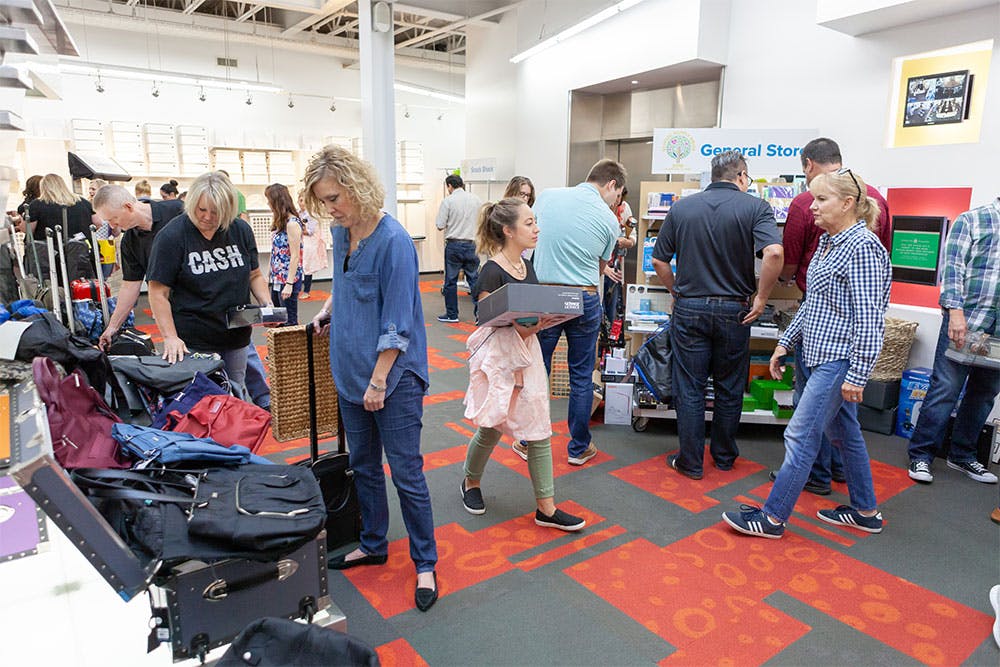 The Container Store's Home Office and Distribution Center employees shop for great deals to support a great cause.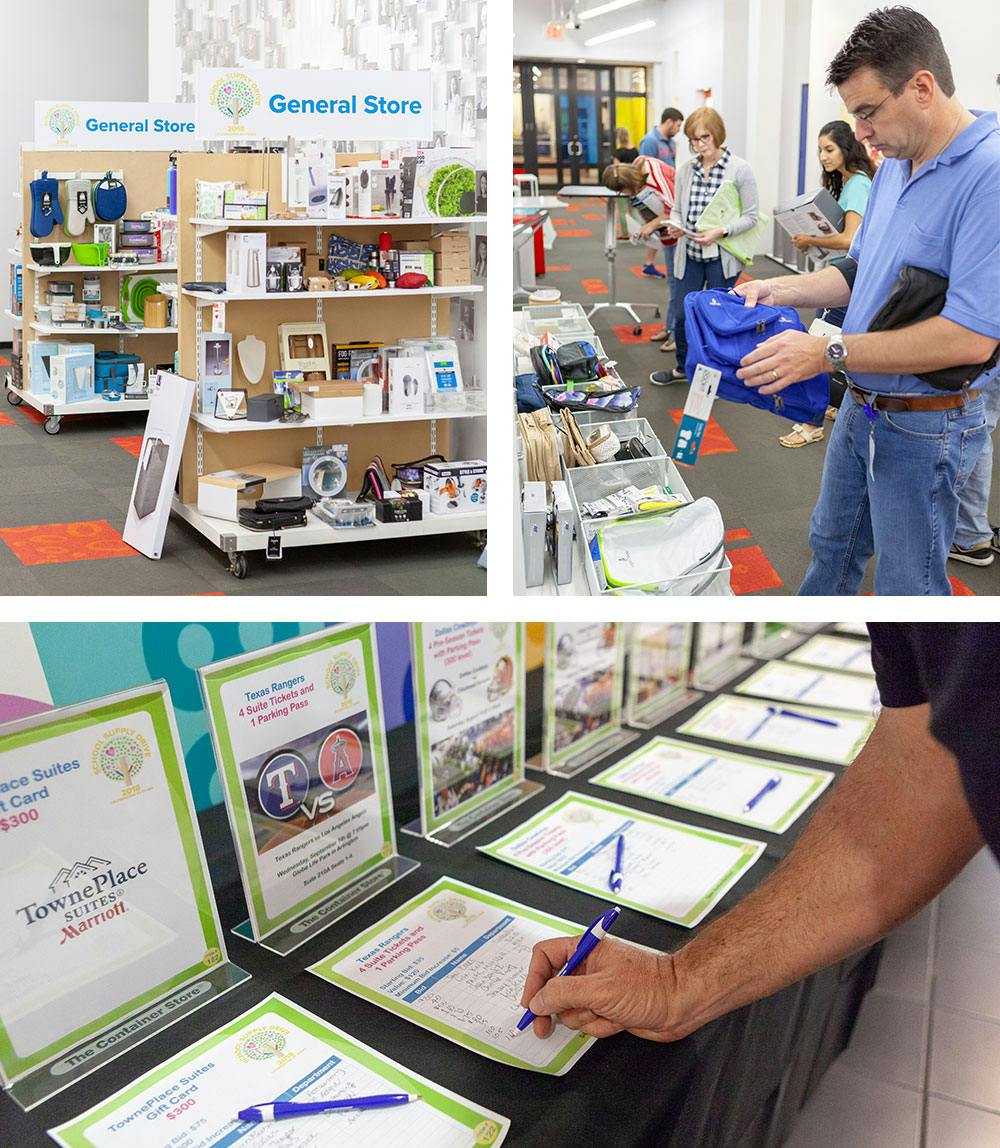 TCS employees bid on silent auction items.
In addition, Eurest (the company that manages our Gumby Cafe) was generous enough to donate 10% of the weeks proceeds to the fundraiser!
On Friday, we ended the week's events with our annual Lip Sync Battle. Chris McCrackin, our Video Producer and last year's returning champion, teamed up with his brother Dusty Crow—himself a Business Solutions Specialist at TCS—to perform "Jump" by Kris Kross. But this year's fierce challengers were also armed with their own hip-hop heavy weaponry. In the first round, our Supply Chain Systems Director Kim Rentsch (who performed "Super Bass" by Nicki Minaj) and Distribution Center employees Alex Neyrey and Coty Austin (who performed "Miami" by Will Smith) rose to the occasion with incredibly energetic performances. The crowd went wild and continued to show support for their favored performers by donating money, and after some intense competition—sans vocals, of course—Alex and Coty managed to win the battle and the coveted "Golden Microphone."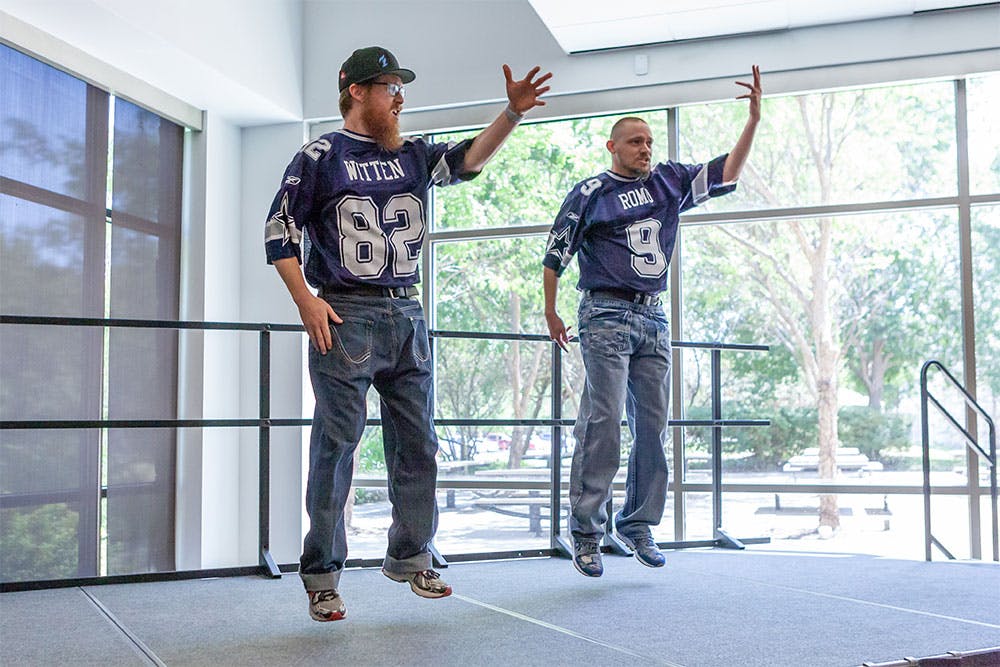 Chris and Dusty are Totally Krossed Out.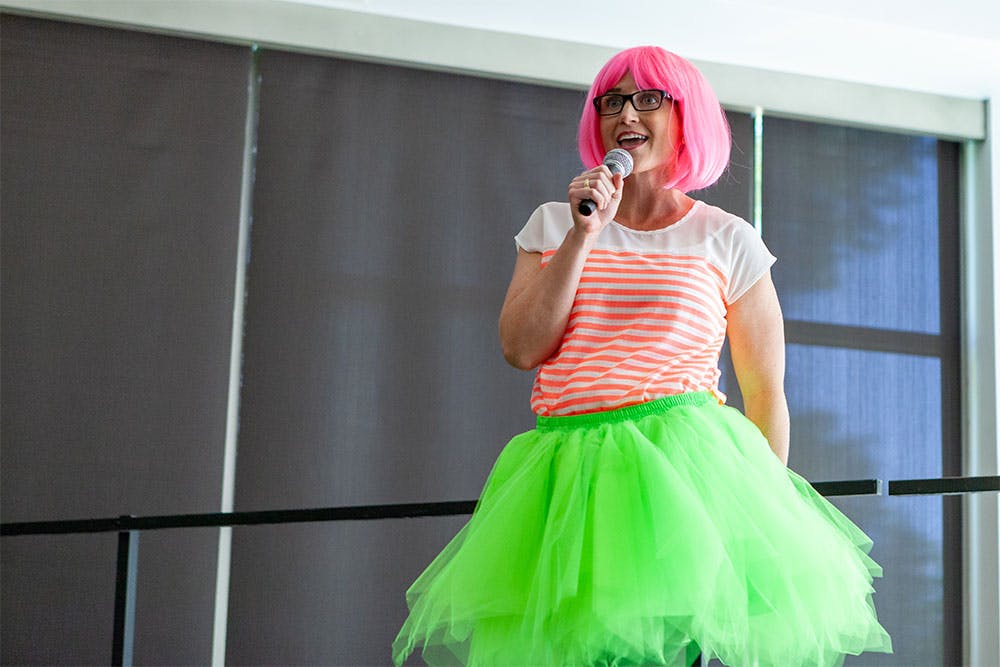 Kim sends this one out to the boys with the booming systems.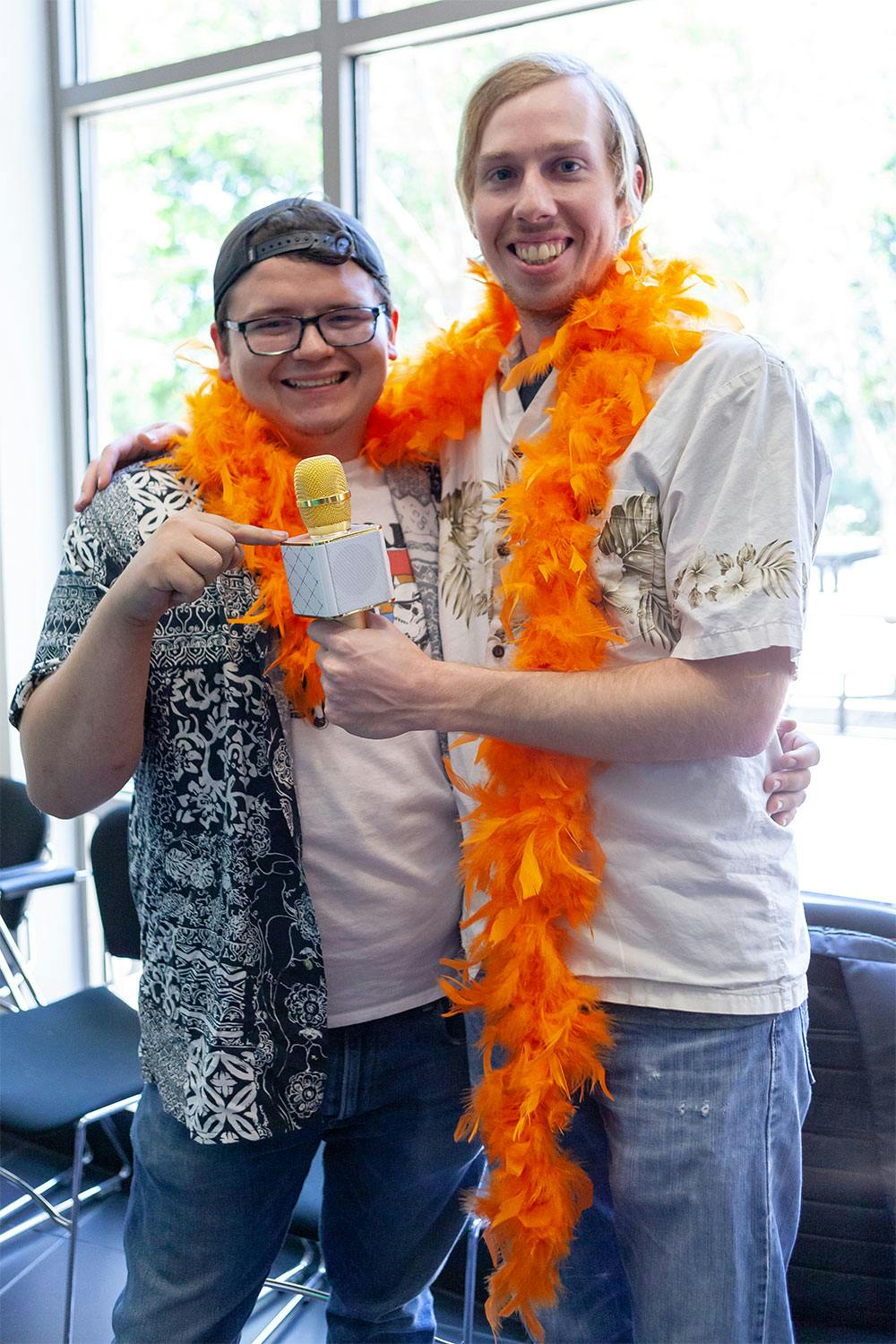 Coty and Alex with the Golden Microphone.
Once the competition was over, our Manager of Charitable Giving, Lindsey Lott, took the stage to announce the week's record-breaking fundraising result: over $76,800 for Community Partners of Dallas! It was an incredibly rewarding end to a fun week, and we're so proud to continue helping CPD in their mission! We'd like to thank the following vendors and community partners for their donations:
360 West Magazine
Acrylic Source
Air Delivery Express Inc.
Amazon Web Services
Ascent Global Logistics
Blanks Printing & Digital Solutions
C2 Imaging LLC
Cebolla Fine Flowers
Cigna
Closet Karm
Commercial Fire
Crown Packaging
DJS International Services, Inc.
Ennersys
First Equipment Company
Garrett Boone
Group & Pension Administrators
HP
I & I Services LLC
iCIMS
Insight
Jayne Norwood & Company
Kendra Scott
Malin Inc.
Marriott International
Matthew Robbins
Media Design Group c/o Discovery Communications
Microstrategy
mjdinteractive
MMA
NE Installers
Nest International
New Benefits
OldSpace NewSpace
Performance Partners
Pratt Industries
Response Service and Maintenance Company
Reverent
RF Installations LLC
Rommel Inc.
Scantron Technology Solutions
Smith Temporaries Inc. DBA Cornerstore Staffing
Soccour Solutions
Southwest Airlines
Sunset Magazine
Ultimate Software
Universal Benefits Company
Upland Software
Ussery Printing Company
Visual Creations Inc.
W Services Group, LLC
Wall Street Journal
Wisdom Media, LLC
Zenzero Kitchen & Bakery