In honor of Veteran's Day, we recognize and thank all of the brave men and women who have served in the United States Armed Forces. We're so very proud to have many veterans like Chuck, Liz and Andy currently working in our stores, office and distribution center contributing to our special company with matchless life experiences and perspective!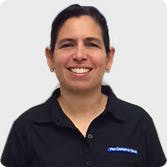 Liz T. Boca Raton, Florida store
Liz served for four years in the Marine Corp, earning the ranking of Corporal. After serving, she went back to school and graduated with a degree in graphic design. She then opened her own natural pet food business and sold it after two years, deciding she wanted to explore other facets of retail. That's when she discovered The Container Store!
Liz was hired to join our original Boca Raton, Florida store team during our grand opening in 2013. Liz says, "The Container Store is very similar to the Marines in the best ways. It has its own culture and values to motivate its people. I love being part of the 'TCS family.' We all bring diverse life experiences and attitudes to best help our customers and each other. We all have our quirks and can be nutty, but it comes together in a great way!"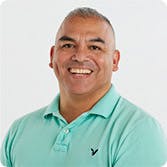 Andy R. Distribution Center
Andy joined the U.S. Army in 1979 and retired after 21 years of service. During his time in the Army, he served many different roles, including as a Military Police Investigator, U.S. Army Recruiter and Guidance Counselor. After retiring in Dallas, Andy joined The Container Store as an interim job that would "hold him over" until he found a job in the field he'd trained for. More than a decade later, Andy has found his "forever work home" here and is currently the evening shift Fulfillment Supervisor in our distribution center.
"My military experience has taught me that we as leaders are responsible for everything that happens or fails to happen," said Andy. "This creates a strong bond as "One Team" and a tight-knit family."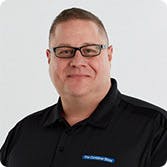 Chuck M. Home Office
Chuck is our Customer Solutions Department Manager, who served for eight years in the U.S. Air Force as an Explosive Ordnance Disposal Technician. He began his career with The Container Store in 1997 in San Antonio. "I was already planning to go back to school when I got out of the Air Force, and I happened to see a recruiting ad for The Container Store," said Chuck. He decided that he could use a part-time job, and was hired to work seasonally helping unload merchandise trucks while he went to school. Chuck fell in love with the company and retail industry, and has continued to grow his career with us ever since, taking on many new roles and responsibilities along the way.
"I love my TCS family and most of all, I really love how I was embraced by my co-workers while transitioning from the military to the civilian workforce. True to our Foundation Principle 'Intuition does not come to an unprepared mind. You need to train before it happens,' I was encouraged to leverage my past experience from the military while doing my job at The Container Store."