In this installment of our TCS Leadership Spotlight series, we spoke with Peggy Doughty, our Vice President of Merchandising Initiatives and Store Design, about how she was able to channel her love of interior design into retail.
Name: Peggy Doughty
Title: Vice President of Merchandising Initiatives and Store Design
Birthplace: Detroit, MI
Tenure at The Container Store: 32 years
Favorite Leadership Quote: "People will forget what you said, people will forget what you did, but people will never forget how you made them feel." – Maya Angelou
Loves: Travelling with her husband and daughter, particularly to beautiful water or mountain settings.
Favorite Snack: Dark chocolate (92% cacao, to be exact)
Favorite TCS Product: Elfa
Personal Hero: "My husband Jim – a wonderful listener, best friend, amazing father, talented artist, and a genuine friend to many."
When recent college graduate Peggy Doughty took a job at a small retailer in Evanston, IL that happened to sell Elfa, she had no idea how much this then-obscure, Swedish-made product line would play a role in her professional life. The year was 1976, and it was that particular job that gave her the "retail bug." She remembers the experience fondly, saying "I had the unique opportunity to learn ALL about retail—selling, merchandising, buying, receiving, accounting, etc." And although she didn't stick with retail—at least not immediately—the knowledge and experience she gained there would end up playing a huge role in a little Dallas-based storage and organization store that, at that time, was still two years away from being founded.
"Peggy is a pillar at The Container Store," says Brian Morrison, our Vice President of Visual Merchandising. "The varied roles she has held here, from Store Manager to Payroll to Buyer to VP of Visual Merchandising, and now VP of Merchandising Initiatives and Store Design, have helped her maintain a full and complete business mindset while remaining a true keeper of our culture. She has the respect of many because she is easy-going, detail-oriented, employee-focused, and always elevating our presentation by pushing us beyond our comfort zone and helping us think beyond our first reaction."
Peggy Doughty initially sought a career in interior design, and in 1982 she took a job at a design firm in San Antonio, TX. It was there where she met her future husband Jim and, five years later, decided to accept a job as Store Manager of The Container Store's then-new San Antonio store location. She was drawn, she says, to our employee-first culture and fabulous products. (Jim would also end up joining the company the following year, and later retire as Store Design Director.) And, of course, it didn't hurt that she was already familiar with our Elfa products!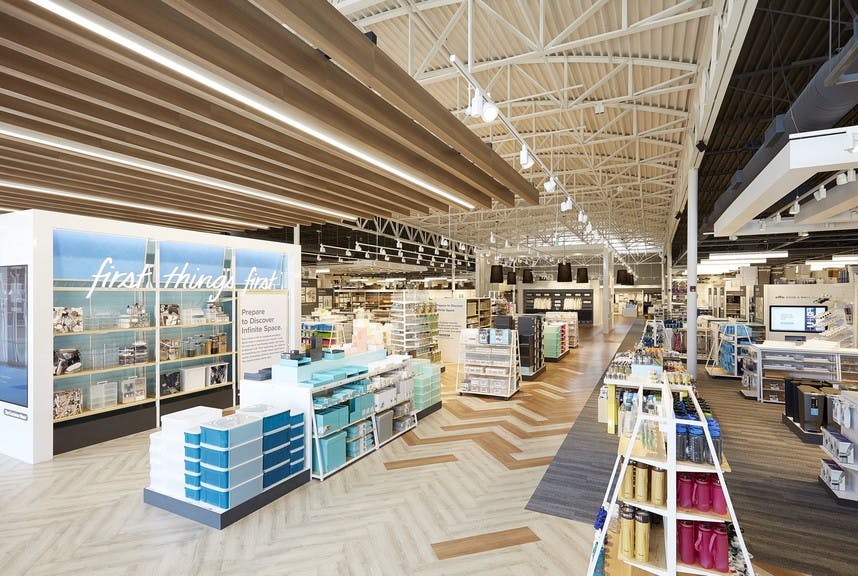 Peggy lead the team responsible for the remodeling of our Dallas NorthPark store.
And while Peggy had wound up back in retail, she did not have to abandon her love of interior design. In fact, it was at The Container Store where those two skill sets would eventually converge. After accepting a new position in our Buying department and moving to Dallas a few years later, she was promoted to Senior Merchandise Director. "My passion for The Container Store's products has always translated into a great passion for the way they are merchandised," Peggy explains. "I focused on the development and introduction of cutting-edge fixtures, displays, lighting, and graphics that enhanced our customers' in-store experience and elevated our casual, sophisticated—as well as organized—brand."
Later, Peggy was promoted to Vice President of Visual Merchandising, a title she held for the next eleven years. During that time she helped define and refine the clean, uncluttered aesthetic that our customers have come to love and expect, all the while working alongside our buyers to ensure our amazing products were presented attractively. But as the needs of our business changed, so did her job responsibilities, and she passed the Visual Merchandising baton to her protégé Brian Morrison. "Peggy has certainly been a huge part of my development at The Container Store," he says, noting her graceful leadership style. "She has given me the latitude to make a difference and have impact in areas beyond my immediate responsibilities. And even when we might have had opposing opinions, she allowed me to take risks, try new things, fail and falter, and was always there to help without saying 'I told you so.'"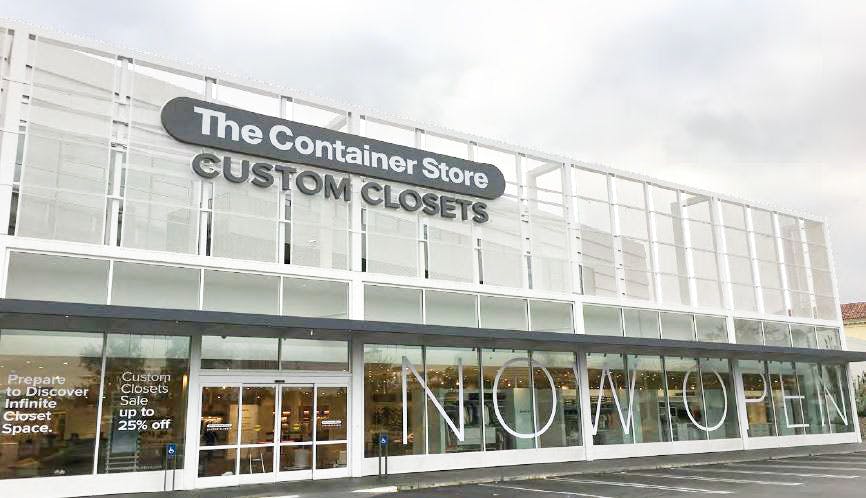 Our first Custom Closets store at Farmers Market in Los Angeles, CA.
Peggy's next challenge was serving as Vice President of Merchandising Initiatives and Store Design, a truly pioneering role created to help mastermind new campaign and store concepts. "My favorite part of this new role is collaborating with pretty much every area of our business and our smart, talented teams," she enthuses. "We've supported initiatives such as the launch of Avera Closets, the remodeling of our Northpark store, and the recent opening of our first Custom Closets store at our Farmers Market location."
With so many new developments, it's an exciting time for us at The Container Store, and Peggy is proud to be at the forefront of them. But above all, she says, it's still the company's culture and Foundation Principles that means the most to her. "I love the people, the values, and the leadership that both lifts and challenges us," she professes. And although she would be too modest to admit it, it's her own leadership that has a lot to do with it. "I love working with Peggy," Brian Morrison says. "She's certainly a reason I have remained passionate about the company, my coworkers, and our future all these years."