You know, here at The Container Store we talk a lot about our Foundation Principle – "Fill the Other Guy's Basket to the Brim. Making Money Then Becomes an Easy Proposition." This really holds a special place in my heart. I am proud that we strive to form a mutually-beneficial relationship with every single one of our vendors, because I believe that business does not have to be a zero-sum game. Someone doesn't have to lose for someone else to win. Instead, it's much better to work together so that both sides benefit in ways they couldn't have imagined.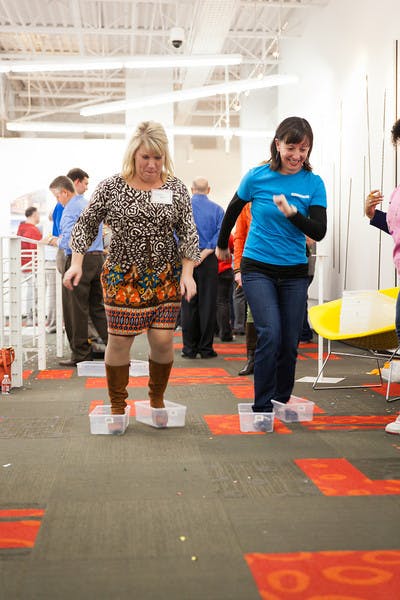 Our employee Carolyn races our IRIS USA vendor Danielle in the Shoebox Shuffle game, which featured IRIS's clear shoeboxes!
We always like to say that we're an employee-first culture. But really, we deal with our vendors in nearly the exact same way. So, it's actually very hard to tell the difference between our vendors and our employees. Our vendors are truly just a part of the family. And what was so cool about our FORTUNE celebration is that all of the vendors who came to the party were just as joyful about our #16 ranking as the people who work here. It brought tears to my eyes to see our employees so proud and happy about placing on FORTUNE's list for the 14th year in a row, and then see our vendors feeling exactly the same way.
Our vendors are a part of our company, and they conspire to assist us in reaching all of our goals. We have a common bond with ALL our stakeholders, and they really want to see us win. That is so, so special, because you don't always see that between retailers and their vendors. And this is the core of what Conscious Capitalism, and our Foundation Principles is all about. Thank you to all of our vendors who attended our FORTUNE celebration, and who support us every day. We couldn't do what we do without you!
Kip Tindell, Chairman and CEO