The BEST Selection, Service & Price - WOW what a great way to run our business! It truly captures the essence of who we are and what we do and simply put, I think we do it BEST!
I recently led one of our Foundation Days for three new employees – this is the first day of training every new employee receives when they join our company. During our training we talk about our company, our culture and most importantly our Foundation Principles that guide us through every decision we make as employees. When we got to The BEST Selection, Service & Price we talked about how it all starts with our fabulous buyers curating the absolute best products for our customers at the absolute best price.
Sharon Tindell, our Chief Merchandising Officer, spoke about value at a company gathering several years ago, saying "value – it's truly meaningful when it transforms a product into something that evokes emotion, something that makes you do a little dance…something that makes customers have to come back for more."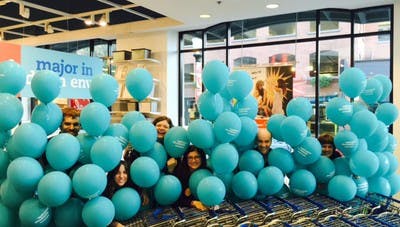 We combine this excellent collection of products with extensive training for our employees, so they can be the organization expert on the sales floor and deliver exceptional customer service!! I call that a win-win-win for us, our vendors and most importantly our customers!
This is why our customers keep coming back – they LOVE our selections, they LOVE our product samples that they can touch and feel, they LOVE our help and WE LOVE helping them create a perfectly organized solution! We build true connections and life-long relationships with our customers that are so meaningful to all of us! It brings joy to my day when I see a familiar face on the sales floor and they share a great experience they had in our store that resulted in a perfectly organized closet, garage, office, craft room, laundry, kitchen, bathroom, dorm room, locker and that list keeps growing and growing! That's how we deliver on the promise of an organized life.
I'll leave you with one final example of The BEST Selection, Service & Price – our Annual College Event. This year we had not one but TWO College Savings Weekends and boy were they a blast! We did everything in our power to ensure each student that walked through our door was all set up to go back to school in style. We had so much fun showing off our colorful and functional products and providing outstanding service as we checked off the "I need this…" lists. We know this Foundation Principle has helped us create many customers for life!