Brooklyn in 1929 was a place where flat caps, phonograph records, and craft cocktails were all the rage. It was also the place where Louis Maslow founded the Metropolitan Wire Goods Corporation. Maslow, an extremely gifted young man, had taught himself all about engineering and wire production. He took this knowledge and in his small loft apartment, developed a wide-variety of products for the food service industry, including baskets, dish racks, and egg beaters. Maslow's small company flourished, and out of its humble origins came the InterMetro Industries Corporation.
Despite a number of setbacks over the years—the Great Depression and World War II among them—InterMetro's products grew to become the gold-standard by which wire shelves are judged. Their gleaming chrome-finished shelves have been found in the kitchens and freezers of resaurants for decades, and their sleek design is matched by their incredible durability. As time went on, their product line expanded tremendously. It now includes a variety of shelves designed for medical facilities, grocery stores, and laboratories, as well as everyday households. The company relocated to Wilkes-Barre, Pennsylvania in 1957, and they are still based there today.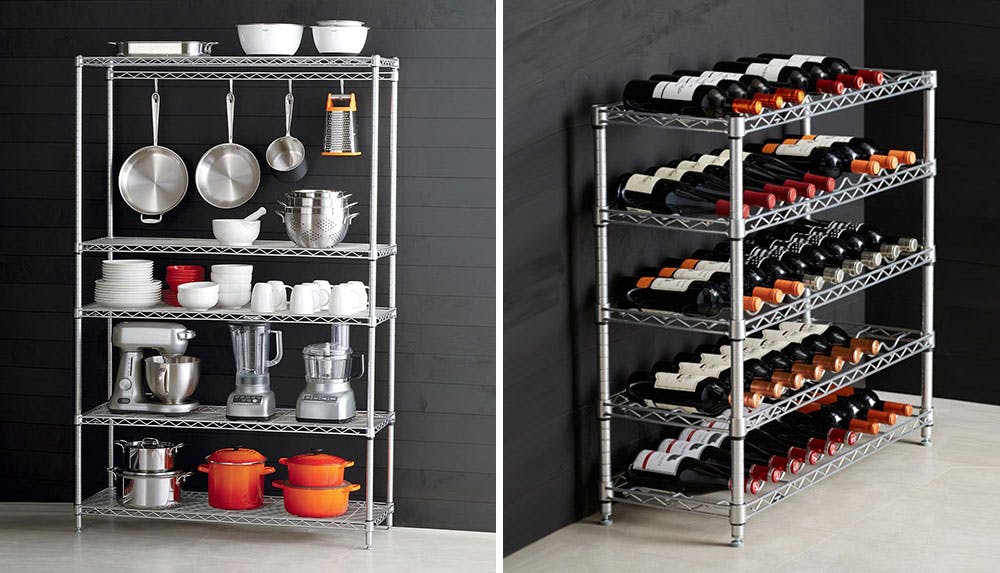 InterMetro's shelves are a staple of kitchens everywhere.
By the late 1970s, Lou Maslow's son, Dick, was the head of the company. One day, he received a call from a Dallas resident named Garrett Boone. Garrett and his business partner, Kip Tindell, had recently opened a small store dedicated solely to storage and organization products, and they were interested in offering InterMetro products to their customers. Although the concept of the store sounded a bit unusual, Dick agreed to the deal, and The Container Store became one of the first stores to sell InterMetro Shelving to the public.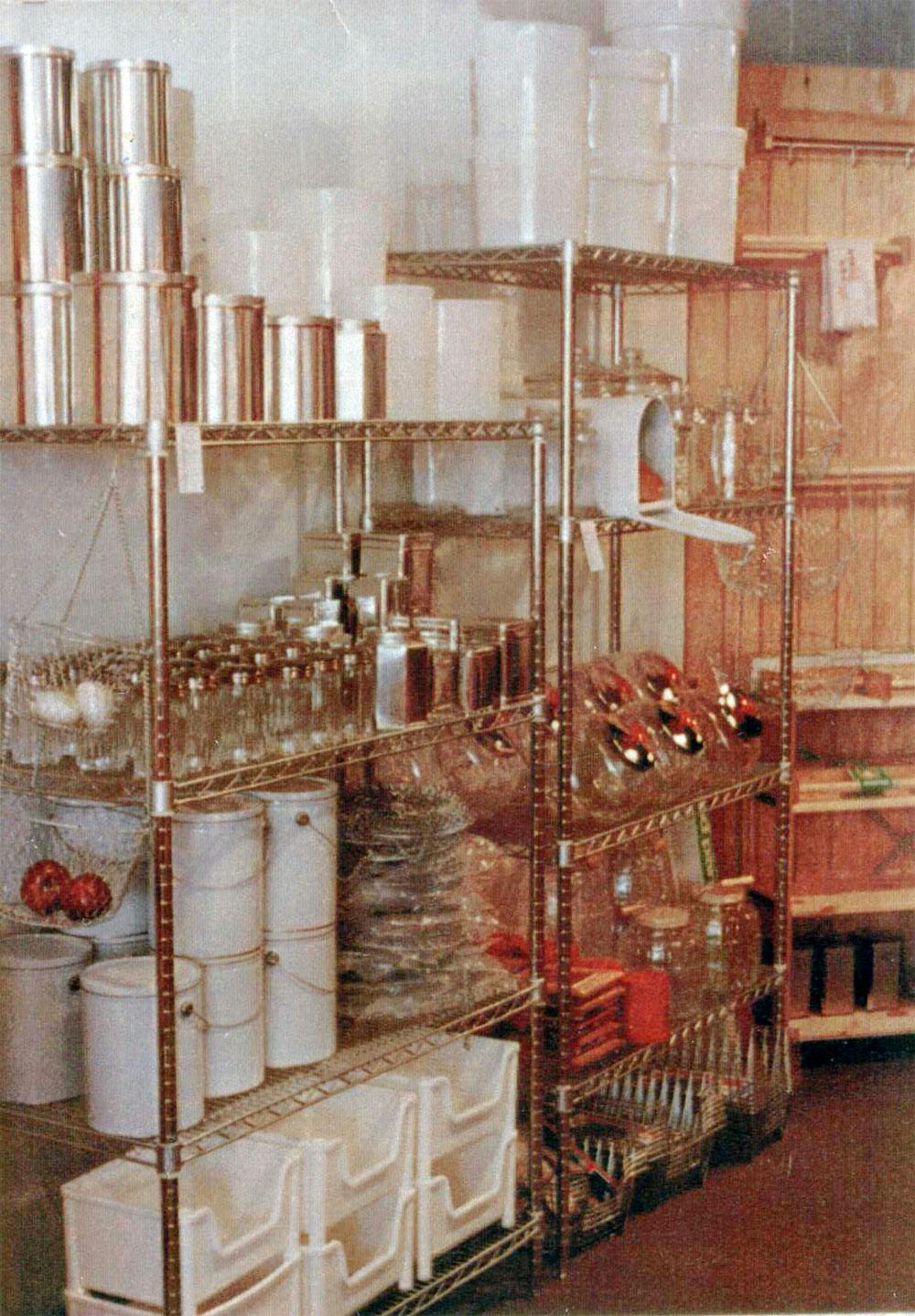 Metro Commercial shelves on display in our very first store location.
Forty years later, the bond between InterMetro and The Container Store is as strong as ever. We now offer both their consumer-grade (which we call "InterMetro") and commercial-grade shelves (which we call "Metro Commercial") to our customers, and we've watched proudly as they've transformed kitchens, garages, offices, and play rooms across the country into more functional and organized spaces. With many of these units supporting up to 500 lbs. per shelf, they are a "no-brainer" for customers looking for the best in strength and quality. "It's been a great relationship over the years," says Rob Napkori, Consumer Division National Accounts Manager at InterMetro. "The consistency in the attitudes and the professionalism of those I work with at The Container Store is amazing to me." And of course, we feel the same way about him. In fact, as one of our most trusted and beloved partners these many years, we even once threw him a birthday party!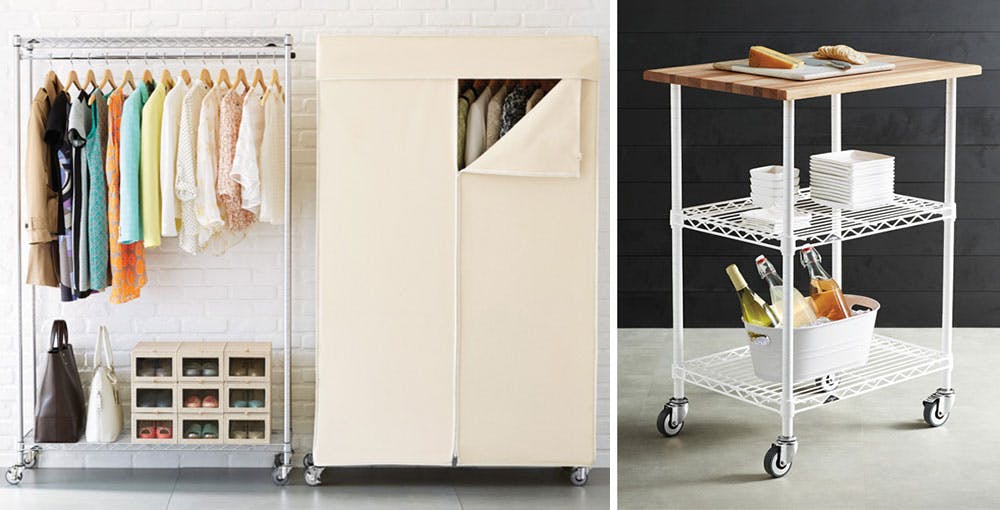 InterMetro offers a variety of mobile shelving options as well, including their Garment Rack (left) and Chef's Cart.
Flash-forward to the year 2018, and Brooklyn is a place where flat caps, records, and craft cocktails are fashionable again. (Funny how that works.) Likewise, after almost 90 years, 200 patents, and thousands of products, InterMetro is still going strong and offering some of the best and most-trusted shelving systems around. There are a few name brands out there that just seem to "sell themselves" by the strength of their reputation, and InterMetro is one of them: a classic, reliable storage solution that never goes out of style!