Of all the different brands we sell at The Container Store, Umbra may very well be the most like a "Swiss Army knife." Much like the well-known European pocketknife, Umbra has a huge variety of "tools" for many different situations. Their shoe, jewelry, and hair product organizers can make getting ready in the morning so much easier. Their products can dispense bath tissue, hand soap, napkins, or paper towels. They can also display your photographs, shelve your books, infuse your tea, hang your jackets, store your toothbrush, post your handwritten notes, hold your potted plants, tote your laundry—even prevent hair from clogging your drain! If there's a mundane, everyday task that must be accomplished, chances are Umbra has a stylish product to help make it more fun!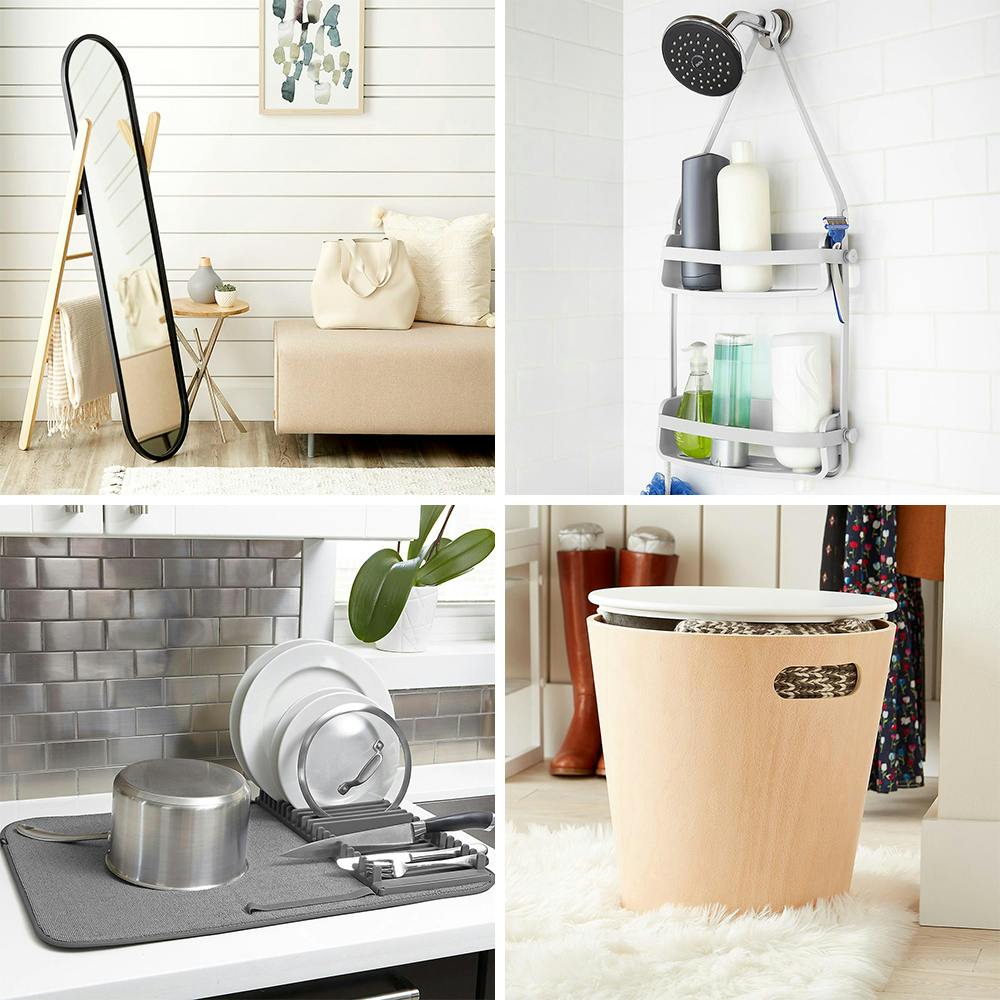 The Toronto-based Umbra was originally the brainchild of businessman Les Mandelbaum and designer Paul Rowan. They began in 1979 with the creation of a window shade, and over the subsequent years they've amazed the housewares industry with a myriad of highly-functional and award-winning products. (Fun fact: umbra is Latin for "shade.") At the heart of Umbra's brand is their love of design, which manifests itself in a number of beautiful and original forms. A great example of this is the Subway Multi-Hook Rack, a sleek and colorful coat rack whose design mimics a subway line map.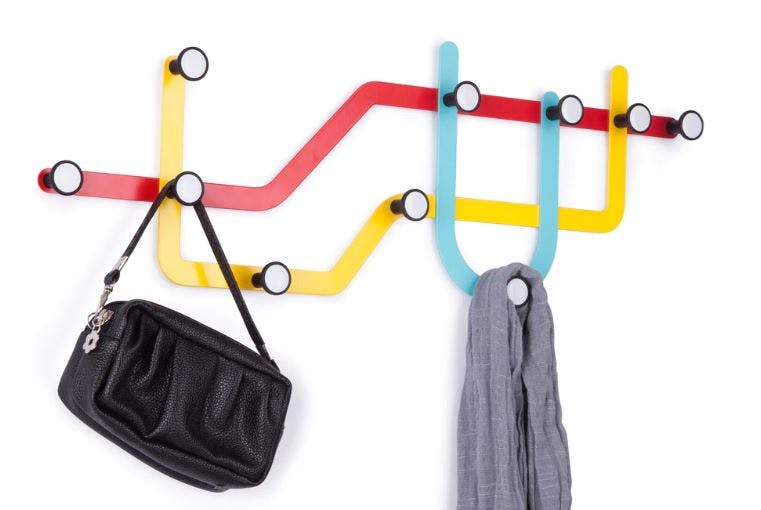 The Subway Multi-Hook Rack by Umbra.
Another classic example is their Garbino Trash Can. Designed by renowned industrial designer Karim Rashid, it's a smaller version of his famous "Garbo" trash can, whose curves are modeled on those of the eponymous Hollywood actress. Upon its release in 1996, the Garbino was hailed as iconic by the art and design worlds and, much like AMAC's clear boxes, was later added to the Modern Museum of Art's permanent collection. But the Garbino is not only nice to look at—it's also incredibly versatile, equally useful as an umbrella stand or ice bucket as it is for holding trash.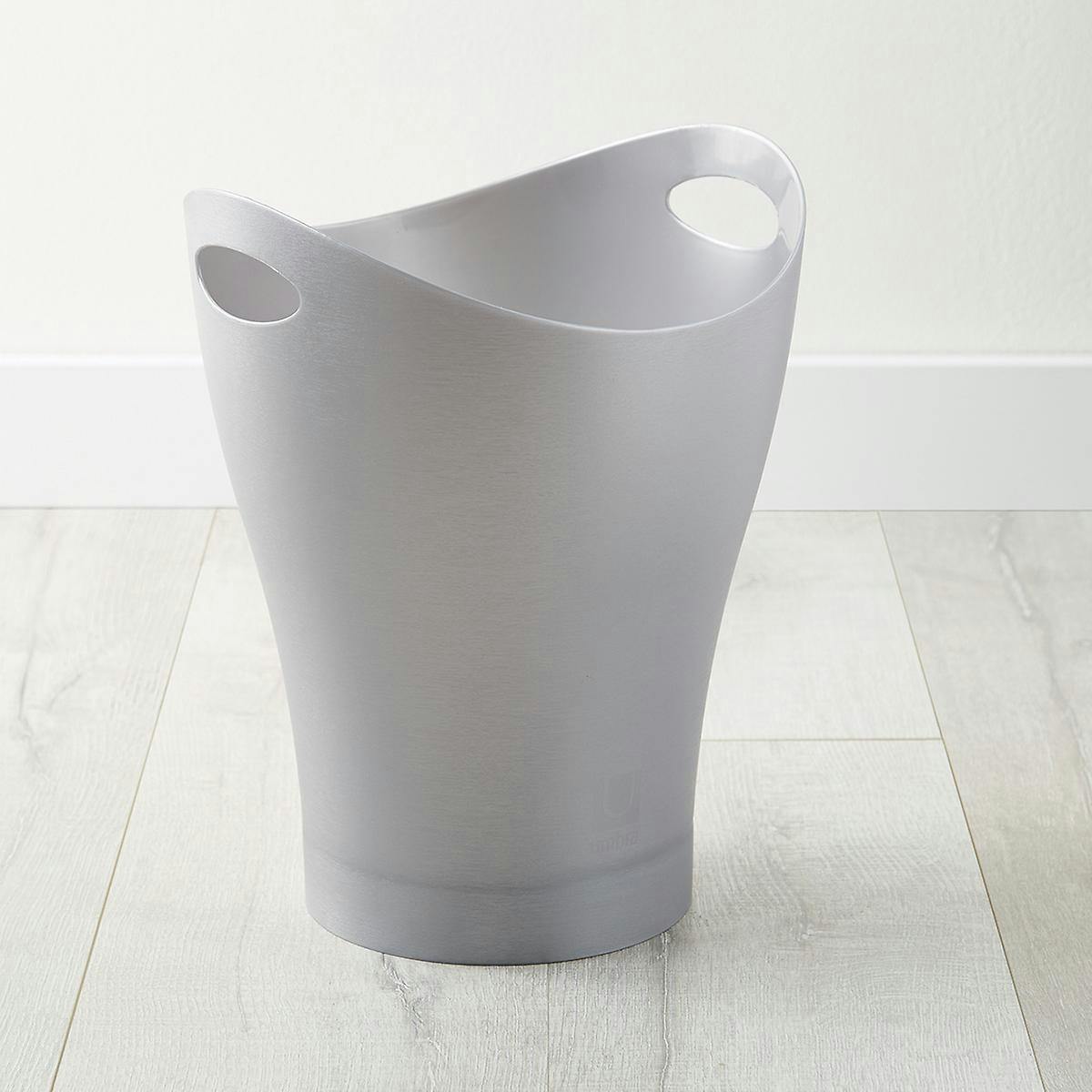 Umbra's famous Garbino Trash Can in silver.
Whether partnering with famous collaborators, design schools, or utilizing its own amazing creative team, "Umbra prides itself on being original," says Matt Carr, Umbra's VP of Design. "We have about 15 product designers—all from different backgrounds in architecture, interior design, and industrial design—working on new and original designs every day." Although that "original" approach is not always easy, he adds, they continually strive to create products that not only serve as useful household goods, but are also great gifts.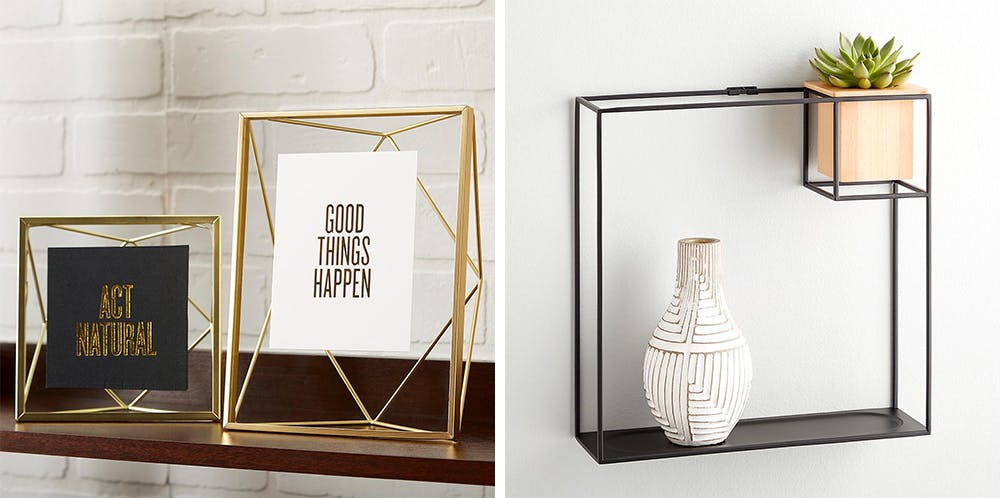 Umbra's original and modern design aesthetic can be seen in the Prisma Photo Frames (left) and Cubist Wall Shelf.
Gia Lewis, a Buyer at The Container Store, particularly loves this aspect of their products. "Umbra is such an amazing partner," she raves. "Though we consider few of their items 'stocking stuffers,' their attractive designs make many of their products incredibly giftable." The Container Store was one of the first major retailers to recognize Umbra's potential, and it's a partnership we've proudly continued for more than 30 years. The respect is mutual. "The Container Store is considered best-in-class in terms of being a customer and retail partner," Matt continues. "We develop products with them in ways that we don't do with anyone else, and we share many of the same core values." He points to Umbra's line of lightweight, collapsible Crunch Cans as an example of this collaborative relationship in action. "They're the result of a hand-in-hand partnership with The Container Store, and many of our products are exclusive to them," he says.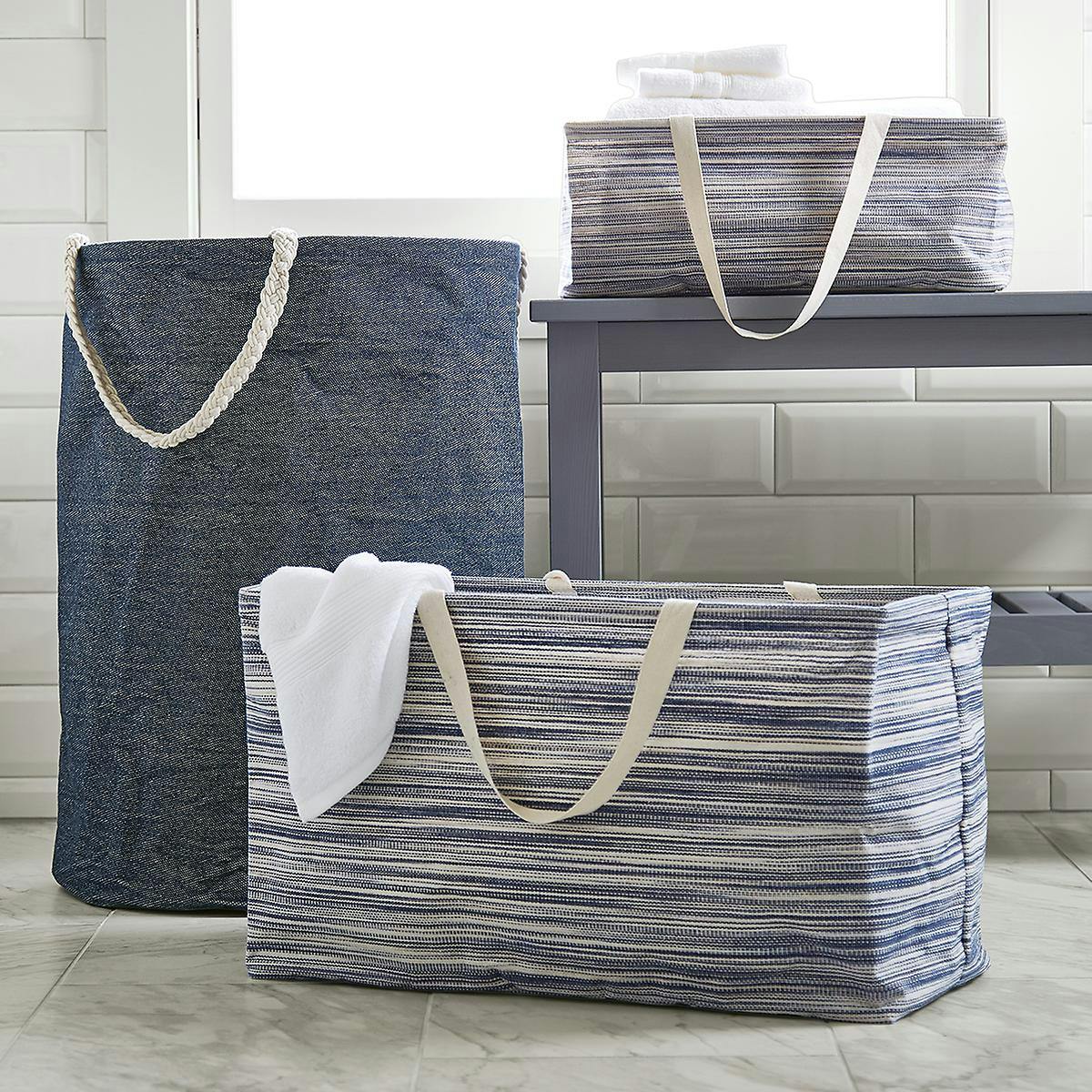 A few of our Umbra Crunch Cans and Bins.
So, what's next for Umbra? Will it be a handy kitchen gadget, an innovative desk accessory, or perhaps an attractive table lamp in the shape of a peacock? Who knows? But no matter what magical ideas these creative wizards have up their sleeves, we're prepared to be amazed!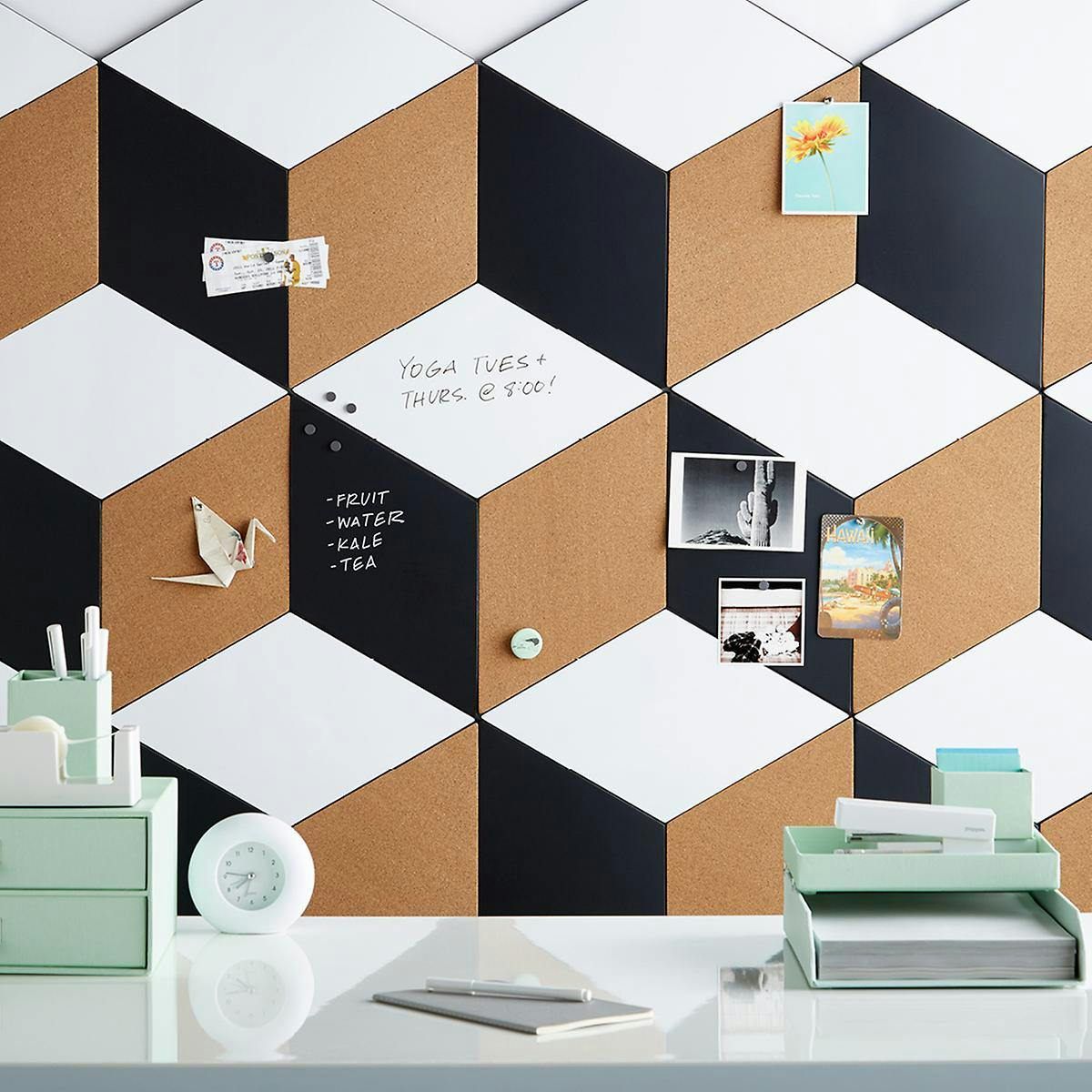 Umbra's Diamond Chalk Boards, Dry Erase Boards, and Cork Boards.