If you've shopped for a kitchen utensil within the last decade, odds are very high that you've encountered OXO products. In fact, your kitchen is probably full of them, even though you may not realize it. With their sleek designs and trademark black ergonomic handles, OXO has quietly and steadily become the gold-standard in kitchenware.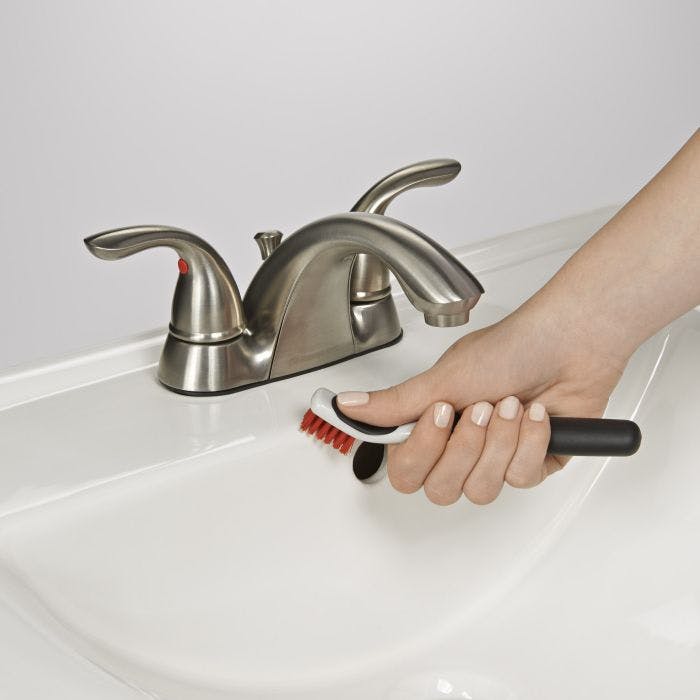 OXO's comfortable black Santoprene handles have been an integral part of many of their products for the past 30 years.
The OXO story, like many great stories of discovery, began with a simple problem. One day in the late 1980s, Betsey Farber was having difficulty with using a old-fashioned vegetable peeler—no doubt due to the arthritis in her hands—and attempted to improvise a more comfortable handle using clay. She brought this to the attention of her husband Sam, and during their conversation they were suddenly struck with an idea. "We decided we wanted to do something about the bad design throughout kitchen utensils," Sam later told the Los Angeles Times in 2000. "Why couldn't there be comfortable tools that are easy to use, not just for arthritis victims, but for everybody?"
Years before, Sam had founded and later sold a successful cookware company. At the time of his "eureka" moment he was semi-retired, but he had begun to realize how much he missed creating and selling useful household products. The more he thought about it, the more he realized the importance of this new business idea and, with the help of his wife and his son John, he soon launched OXO International.
You can check out OXO's beautiful brand video here:
At this point, you may be wondering "what's the deal with the name 'OXO'"? Aren't palindromes typically reserved for Swedish pop groups, Grateful Dead album titles, or species of Pokémon? Or is it some kind of odd chemistry reference? Strange as it may sound at first, OXO was actually a brilliant name on the part of the Farbers. After all, no matter which way the product packaging is turned—forwards, backwards, upside-down, or right-side up—it always reads the same. It was this clever marketing concept—as well as ingenious design—that differentiated OXO's products from the very beginning.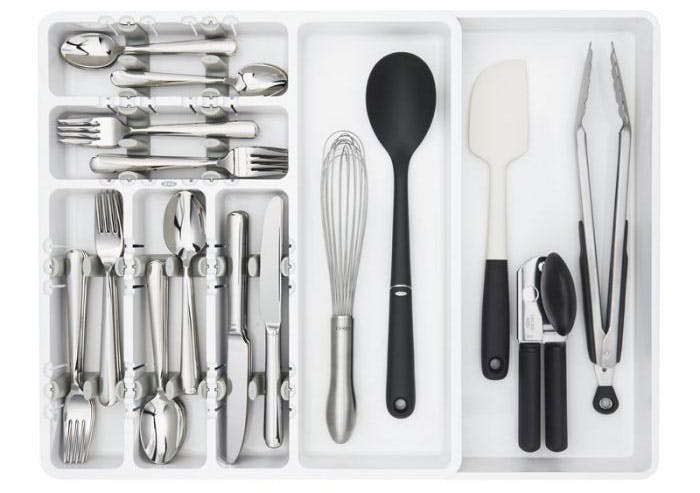 OXO's Expandable Drawer Organizers are an invaluable addition to any kitchen.
While Sam Farber came up with the name, much of the ingenious design aspect came from their collaboration with Smart Design, the highly-acclaimed industrial design company OXO enlisted for help. Together they explored the design philosophy of "universal design," which is the idea that products should be accessible to and usable by as many people as possible. Their first collaboration was, of course, to build a better vegetable peeler and although the resulting creation was not quite warmly received by the housewares industry in the beginning, buzz about this exciting new innovation slowly spread and it eventually became a huge success. Not only did it win design awards and make countless hands happier, but it was even inducted into the Modern Museum of Art's permanent collection a few years later. (Much like the AMAC Boxes we also sell. As you can probably tell by now, we clearly LOVE a well-designed product around here.)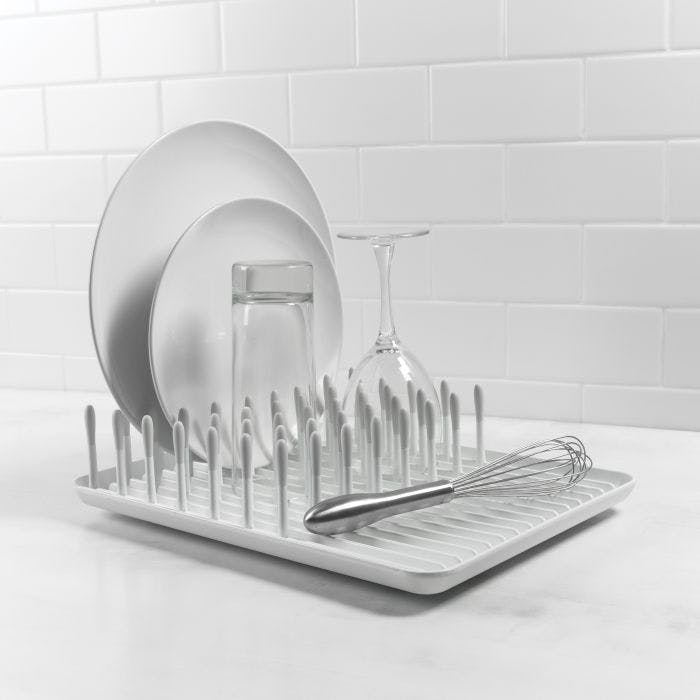 This dish rack is a great example of OXO's simple yet functional design aesthetic.
The Farbers knew better than to stop there. Through the years they continued their quest to make the everday better by creating new-and-improved versions of other tools and utensils, including measuring cups, spatulas, can openers, and oven mitts. Then, they ventured into cleaning product territory with items such as cleaning brushes, dish racks, and sink caddies. After conquering the kitchen, OXO moved on to the bathroom and laundry rooms by helping customers organize their shower areas, clean their toilets, dry their sweaters, and even remove pet fur from their clothes! And being the awesome overachievers they are, the OXO team then circled back to the kitchen and created even more products that cooks simply can't live without: pastry mats, cookie scoops, spiralizers, tea accessories, and dusting wands. Finally, millennials everywhere cheered when OXO took their avocado toast game up to a whole new level with their 3-In-1 Avocado Tool.*
Seriously—a COOKIE SCOOP. Friends, we're living in a golden age.
Among the best-known OXO products we sell at The Container Store are the POP Containers. Though airtight, they open easily at the touch of a button—again, "universal design" is key—and the crystal-clear plastic makes identifying the contents inside a cinch. And, within the last few years, OXO has also introduced greensavers Produce Keepers, which are designed help prevent produce and herbs from spoiling too quickly. These ingenious containers use all-natural enhanced carbon filters to trap and absorb ethylene gas, as well as removable inner baskets to promote airflow and help prevent moisture buildup. Both of these products are absolute must-haves for any kitchen!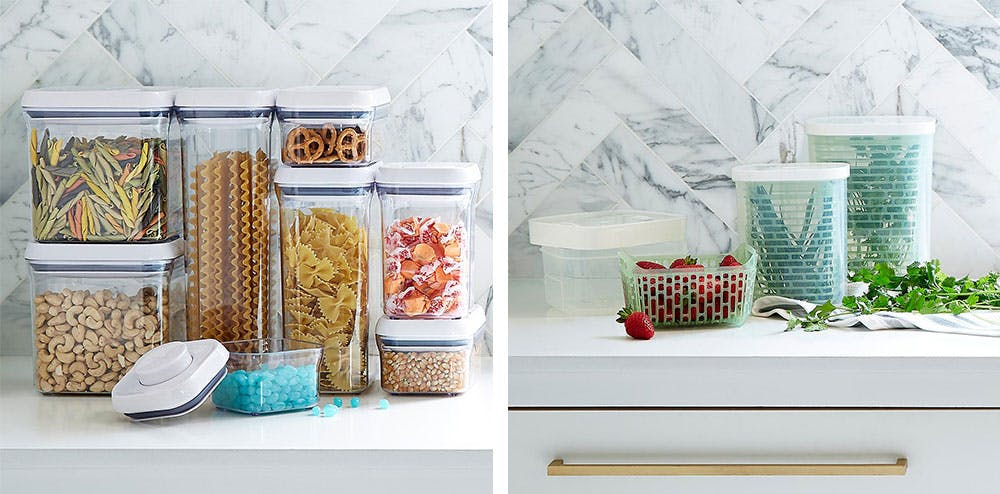 OXO's POP Canisters (left) and greensavers.
Though Sam Farber passed away in 2013 at the age of 88, he lived long enough to see his legacy of "universal design" change the housewares industry forever. Many years and hundreds of products later, OXO continues to lead the pack creating amazing, easy-to-use household products, which The Container Store is proud to offer to our customers.
*Editor's note: we sincerely apologize for that tired, hackneyed millennial avocado toast joke. We admit that it was low-hanging fruit…much like the avocado itself. Sorry for that one, too.