September is National Childhood Cancer Awareness Month, and our stores, distribution center and home office are working to fundraise for Cookies for Kids' Cancer, a national nonprofit organization committed to raising funds for research to develop new, improved treatments for pediatric cancer – the #1 disease killer of children in the U.S. They provide inspiration and support for individuals, businesses and organizations to raise funds by hosting bake sales and cookie swaps.
At The Container Store locations across the country, our teams will be hosting internal bake sales and cookie swaps to support this great organization! As an added bonus—our vendor OXO will match $1 for $1 what is raised during the entire Cookies for Kids Cancer campaign!!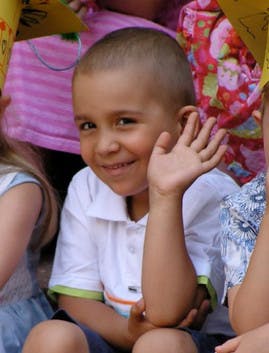 Our employees couldn't help but get involved after reading some of the stories of children affected by pediatric cancer – like Toby. When he was 31/2, Toby was diagnosed with Stage IV Neuroblastoma.
His mother said, "In the course of two hours we went from having a perfectly healthy, sweet-as-pie, joyous toddler to hearing that he had an aggressive form of cancer and might die. Cancer robbed our child of his softness, his innocence, his curls, and his endurance. It has also revealed some remarkable things. We have a little boy who says 'please' and 'thank you" as poisons drip into his bloodstream. We have a little boy who makes the hospital clowns howl with laughter. And we have a little boy who learned to read a full two years ahead of his peers, by deciphering hospital signs for 'operating room,' 'radiation,' and 'infusion complete.' Throughout 18 months of non-stop treatment, while undergoing pain that neither of his parents would be able to endure, Toby has taught us what it means to live with hope.
Before Toby was diagnosed I never gave a thought to children with cancer. My only frame of reference was the strangely bald kids who sometimes appeared in hospital advertising and I always turned my eyes away... it was too painful to think of children suffering. Your willingness to look at our children is the greatest gift I can imagine. Your support and your love give Toby a chance at life. Thank you."
Go here to support The Container Store Cookies for Kids Cancer fundraiser and help find a cure for kids like Toby, or shop Cookies for Kids' Cancer year-round to purchase cookies for a great cause!