Being a new father is a strange mixture of emotions and feelings. Happiness, self-doubt, gratitude, exhaustion, fear, and love can all coexist simultaneously in a man's mind, so it's important for new parents to have a strong support network. At The Container Store, we're proud to offer our new dads a paid two-week paternity leave to allow them settle in with their precious new baby and help Mom out when needed.
In honor of Father's Day, two of our new dads shared their recent experiences with us.
Vincent Fertitta, Director of Finance
Though any addition to a family can mean an intricate balance of home and work life, The Container Store has made it easy. When my son Louie was born (exactly on time!), I was able to completely focus on my family with no need to worry about the office. As a matter of fact, it was absolutely forbidden by my manager! The two weeks of 100% paid paternity leave that we provide new fathers is incredible. Plus, our great health benefits made the paperwork easier as well. Health Advocate helped us navigate the complicated medical bills, and then through Symetra we were even eligible for short-term disability reimbursement because of the hospital stay. I was able to focus on my son and create a bond with him that will last a lifetime.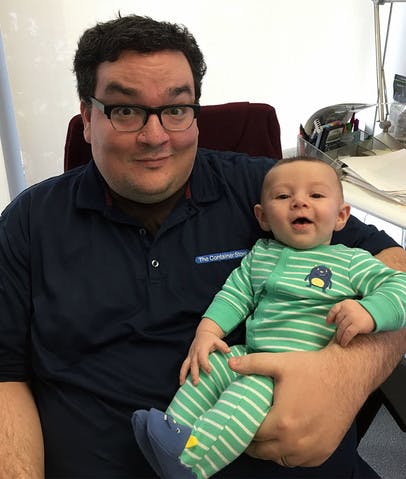 My wife and I have since gone back to work and Louie is now eight months old and partying it up at daycare, but with said parties comes all of the random coughs, sore throats, and other mild illnesses of childhood. He also recently had to have tubes in his ears to combat constant ear infections, and this brings me to our amazing insurance. The Container Store is self-insured and I always feel a sense of pride every time I speak with our benefits department regarding an issue. Whether I'm discussing health benefits or taking off early for doctor's visits, everyone here has continued to be amazingly supportive.
Of course, this wouldn't be a Container Store blog post without mentioning our amazing elfa products! We were able to design an amazing baby changing area in Louie's room out of elfa, and it's been incredible to have everything within arm's reach while trying to change the little wiggle worm!
We love our cute little bundle of joy more than we ever could have imagined. And working at an employee-first company like The Container Store has only further enriched that enjoyment!
Trent Pruett, Web Production Designer
On April 12, 2017 my daughter Lyla Jane was born, and the two weeks of paternity leave that followed felt like a dream. I'm not sure if that was due to the excitement of Lyla's arrival or to sleep deprivation, but regardless, it was the most special two weeks of my life. I had the time to learn how to be a dad and could enjoy my time with her in this early stage of life. It also made life easier for my wife, Elise, as she recovered. I am so thankful The Container Store offers paternity leave as one of their many wonderful benefits.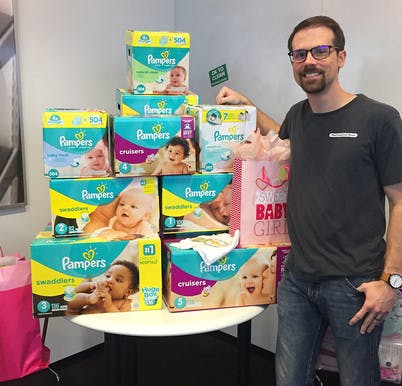 As if that wasn't enough, they also made everything that lead up to her birth very special as well. When I told my team during our celebration huddle that we were expecting, they were overjoyed and immediately began trying to guess the name. A few weeks later they surprised me with a diaper shower, complete with delicious snacks and cute baby clothes. Then, on my last day of work before paternity leave, they all sent me off with applause and cheers as I left the office.
When I can't be with my actual family during the day, I am so fortunate to work somewhere that has a family feel. You don't get that at most other companies. I am so thankful for The Container Store and for the people who make it a great place to work!