As a Buyer for The Container Store for the past 9 years, I've had the incredible opportunity to work as part of the team that has developed a long-standing, mutually-beneficial relationship with our second-largest vendor, Iris USA. Iris makes many of the fantastic products that we sell at The Container Store, including our clear shoe boxes, under bed storage drawers, translucent totes, and more!
Iris is based in Wisconsin, and has a manufacturing facility there. When the company was looking for a place to build a second facility, our business with them was growing significantly and they decided on a location near our Home Office and Distribution Center, so that we could continue to customize and streamline the large Iris orders shipped to our stores each week. Talk about an arrangement that's win-win – and ensures that all of their great products are in stores at the right time for our customers!!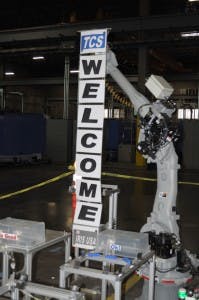 Recently, a group of 65 employees from our Merchandising department and our Distribution Center had the opportunity to visit Iris' facility here in the Dallas area – and it was amazing. They really gave us the VIP treatment, including sending two charter buses to pick us up! When we pulled up to their facility, we saw that ALL of the Iris employees were wearing "I heart The Container Store" t-shirts, and they had made them for us as well! We were so touched!
We started our visit enjoying a delicious lunch before being divided into smaller groups and given a thorough tour of the facility by various Iris employees. The purpose of the tour was to provide us with an even clearer understanding of their manufacturing, warehouse and distribution processes. After all, the more you know about someone – or a company in this case – of course the stronger your relationship can be. Knowing the ins and outs of all they do will help us creatively craft even stronger synergies and value for all. And we just loved seeing the pride and ownership each employee had – simply amazing.
Iris surprised us again by putting a fun "welcome" sign on their cool robotic machine that we passed by on the tour. It has a photo eye that provides a variety of functions, such as checking for label accuracy and quality issues on products.
We didn't think we could love the people at Iris or our long-standing partnership any more than we already did, but after this visit, I can speak for the entire group in saying that our bond is even stronger today.
Carolyn R., Buyer, 18 years