Do you love your workplace so much that you'd invite your spouse to come work with you? What about your Mom or your brother? Well, we're grateful to have many employees who have answered "yes" to that question – many, many of our employees have recruited their wonderful and talented family members to work for our company over the years, ultimately strengthening our great team.
Our CEO, Kip Tindell, always says that he encourages employees to think of their family members when we're looking for new people to join our team, because, after all, "you know who the good vs. bad cousins are," – ha! Well, this kind of starts at the top as Kip, he and his wife Sharon – our Chief Merchandising Officer – have been married for over 30 years, and have worked together nearly as long.
Lety C., a 28-year employee, who works on the Special Processing team in our Distribution Center, recently told us that she credits The Container Store for changing both her professional and personal life for the better. She met her soul mate – Greg A. – working in our Distribution Center, and the two have been together for more than 20 years! They have two beautiful children – Saul and Mayra – who (yes, you guessed it) also work for the company part-time while going to college.
When asked why her family chooses to work together at The Container Store, Lety said, "We do it because we love it! Not only do we each enjoy our individual jobs, but working at the same company allows us to spend more time together as a family. We often ride together to and from work. We all have similar schedules so we can always eat dinner together. Plus, it's neat that we all get to understand and live The Container Store's culture every day – we all work in different departments, but our teams are all similar – friendly, helpful and intent on getting the job done right. It's made us all grow closer as a family, because our values from work mirror our values at home."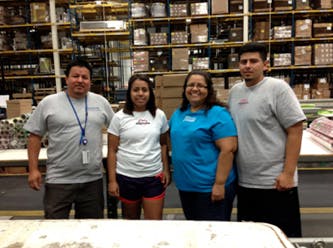 All in the Family! Lety C. and Greg. A with their children, Mayra and Saul.