Life Changing! Personalized. Space-Saving! Logical. Organized. Brilliant. Exclusive to The Container Store. Simple. Did we say Life Changing??!! Just a few of the answers we heard when we asked our customers and employees to describe elfa. The best part? It's 30% off through February 28, 2017. This month, during Our Annual elfa Sale, we'll feature stories all about elfa to give you the real scoop as to why this custom organization system can truly transform your life. We know many of you may not be familiar with this organization life-saver (yet), so we'll start simple.
What is elfa?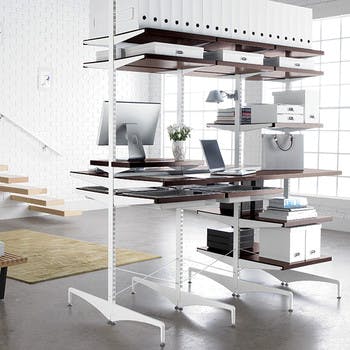 elfa freestanding unit—functional on both sides!
For the uninitiated, elfa is an ingenious, customizable shelving and drawer system that we see as the foundation of any organized space. You can choose from elfa décor, elfa classic or elfa utility. We love elfa décor for the closet, elfa classic for those small spaces and elfa utility is perfect for your garge, office or laundry room. No matter which line you choose, you'll get the flexibility to completely customize a solution (via our free design service!) featuring a variety of elfa components like drawers, shelves and utility boards. And, we love that these elements can be easily moved around or added to as your organization needs change. Any of the elfa shelving solutions can be easily installed onto a wall using a top track or, it can be designed as a freestanding solution. Did we mention elfa installation is ALSO 30% off during Our Annual elfa Sale?!
Our drawers and shelves come in different lengths, depths, widths, materials, and colors. You can select our elfa décor shelves to combine the beauty of built-ins with the flexibility only elfa provides, or choose our ventilated shelving for un-paralled strength and visibility. Need a simple way to hang a bicycle? elfa Utility has you covered. No matter the variation, you can be assured the product is matchless in quality. From the epoxy bonded steel to the warmth of the solid birch of our elfa décor, each piece is made to the highest standards.
The beauty, quality and design of elfa makes it the perfect organization solution throughout your home or office.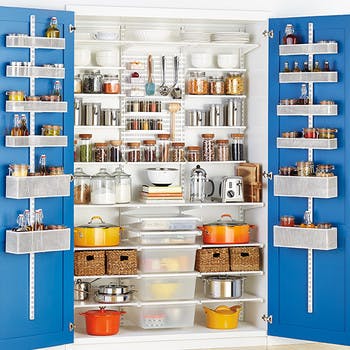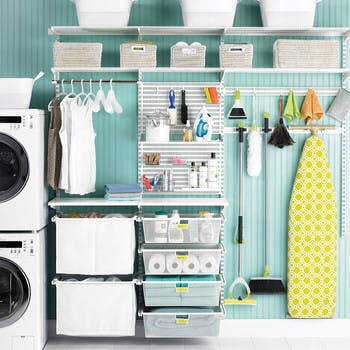 Laundry Room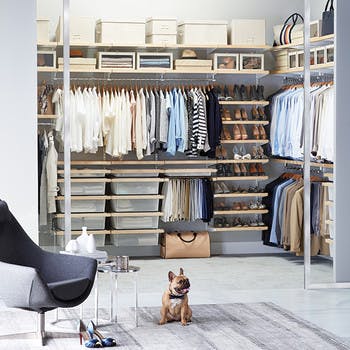 Bedroom Closet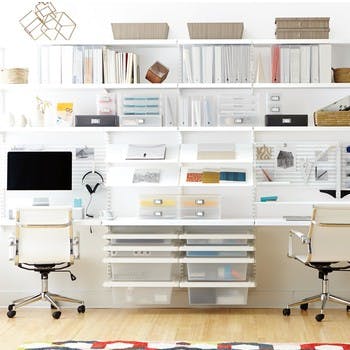 Home Office
The best way to understand the benefits of this system is to speak with our expert store employees and tour our store displays. For those of you who live too far away to easily visit, watch some of the videos on our website, or call, email or live chat with the folks in our Customer Solutions Department to get a one-on-one introduction to our favorite organization system. And don't forget to visit our lifestyle blog, Container Stories, to see some incredible space transformations! Happy organizing!