Millennials (generally considered to be those born between 1982 and 2000) are expected to make up about 75% of the workforce by the year 2025. More than any other generation before them, many of them have embraced the opportunity to either become entrepreneurs or opt for "gigs" instead of traditional jobs with companies, resulting in what's come to be known as a "gig economy."
Why is this the case? Several factors come into play. In today's Amazon-affected world, consumers demand convenience and speedy delivery, and the market has responded to that demand with the rise of service-based companies such as Instacart, Postmates, and Uber. The resulting "gig economy" provides short-term and flexible schedules to all generations, but is particularly appealing to millennials who want to "fill the gap" while looking for other employment, earn secondary income, or need the flexibility to work around other commitments (college schedules, family obligations, etc.).
Millennials were also the generation raised on phrases such as "you can be anything you want to be" and "follow your dreams." However, many older millennials saw their parents laid off from mismanaged companies (think Enron in 2001), and then many younger millennials came into the workforce at the height of an economic recession. This has caused some of them to hesitate to work for large corporations, as these businesses do not always guarantee stability. Therefore, many of this generation are choosing to create their own hours, job descriptions, and culture as an alternative.
Two such millennials are my own brother and sister. My brother, a Texas-based singer/songwriter, books his own gigs and has hired a full band to back him up. (He even managed to open for a songwriter named Willie Nelson last year!) My sister started her own online hand-lettering business right out of college, and she has found great success in designing, marketing, and selling her paper products. This increase in business has led to her also hiring a staff to manage the fulfillment of orders. Both of my siblings are following their passion, and although their careers have their high points (having enough work to hire others) and low points (not getting paid for work that was done), at the end of the day they are, in essence, creating their own brands and company cultures.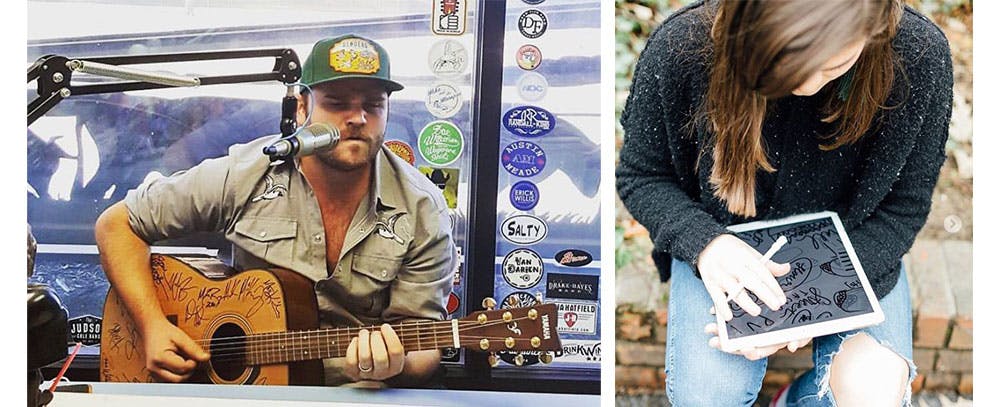 Rachel's brother John (left) and sister Sarah pursuing their creative passions.
For millennials who opt for a more traditional workplace at an established company, a strong corporate culture is a major factor in where they choose to apply. In a recent study published by Jobvite entitled "2018 Job Seeker Nation Study," it was found that:
Culture is important to most candidates — The vast majority of job seekers (88 percent) cite culture as at least of relative importance in applying to a company — and close to half (46 percent) claim it's very important.
"One of the things that most attracted me to The Container Store was its well-known culture," says Stacee Combs, our Customer Solutions Training and Quality Assurance Sales Trainer. "When you're surrounded by so many people that love and support you, it puts you in the position to do your best work." 
When fighting this "war for talent," companies must recognize that they aren't just competing with other companies—they are also competing with individual opportunities themselves! In a nation where the average rate of unemployment is 4.1%, maintaining and sharing a great company culture is vital. And as more and more millennials join the workforce, culture will become more important than ever.